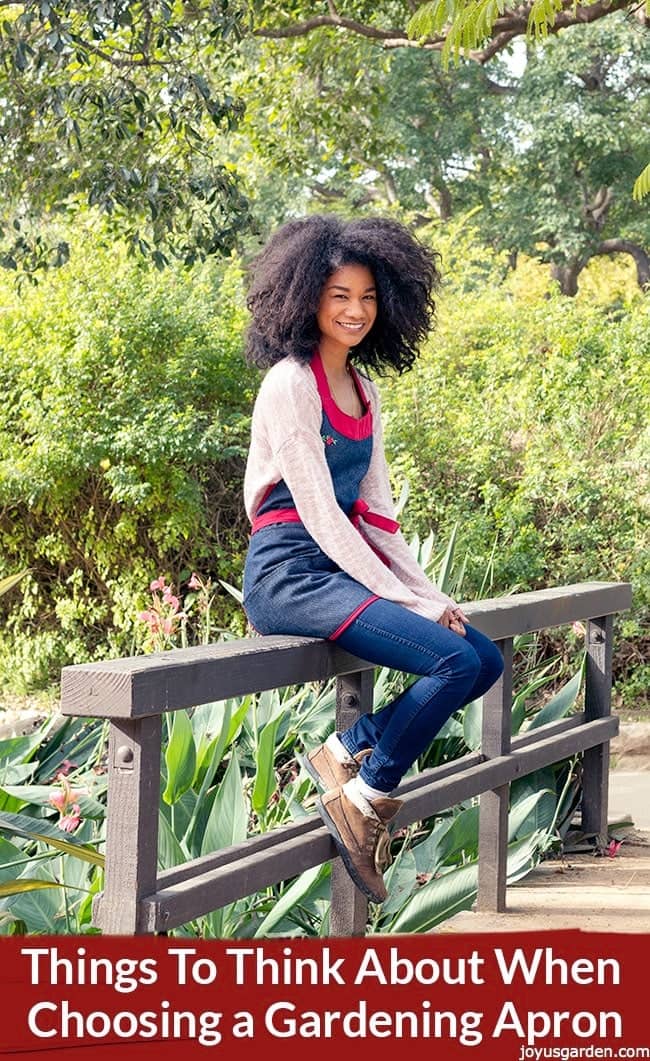 Let's be real here. Plants are flowers are wonderful but gardening can be down right dirty. Sometimes you want a bit of protection and that's how we became fanatics of aprons. Finding the one for gardening that best suits you is harder than you think. And that's why Nell decided to design two of them. These aprons are highly functional, sweetly stylish and made in America.
If you're looking for a gardening apron, make sure to read this first. Nell has been gardening for ages (over 50 years!)and has had quite a few aprons. We want to share some of the things she learned along the way to help you in making your decision.
This is the Joy Us garden waist apron which ties is the front or the back. This is Nell's favorite & I bet you've seen her wearing it in a video.
5 things to consider before buying your gardening apron:
Get a strong material
First things first, the material is almost everything. You want something strong and durable. This apron is going to receive a beating and you don't want to be buying a new one each year. At least I don't.
You'll want to get something with a little thickness. After all, your apron will likely store some sharp tools like your pruners. You don't want a thin material that's going to tear in no time.

One thing I love about the Joy Us garden full apron and the half apron is that they are made with 100% cotton, durable SAFEDenim (from Texas). SAFE Denim stands for: Sustainable, American, and Friendly to the Environment. It is high-quality denim developed and produced with minimal impact on the environment. This material make the aprons strong, durable and breathable. If it's good and tough enough for the America cowboy, then it's good and tough enough for us!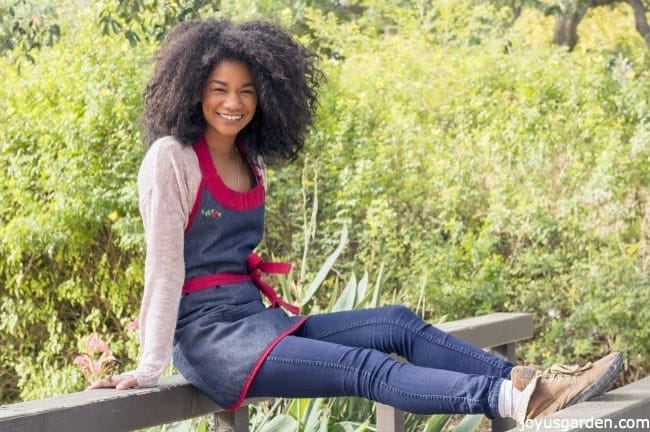 Who doesn't need an apron that is durable, has all the right pockets, and above all, is stylish & comfortable? The Joy Us garden full apron has you covered!
Choose the right color
What I love about the Joy Us garden aprons is the fact that they are made of a blue jean material with deep red details. This, believe it or not, has many benefits. First, because the color is dark the dirt won't show as much and you'll be able to go longer without needing to wash it. Second, blue jeans go with pretty much everything so this makes the aprons versatile enough to go with whatever you are wearing.
So, to keep in mind while choosing the right one for you: stay away from light colors that show stains easily. And, if you don't want to have a different apron for every outfit, stay away from patterns and prints. Keeping it simple means more time spent in the garden.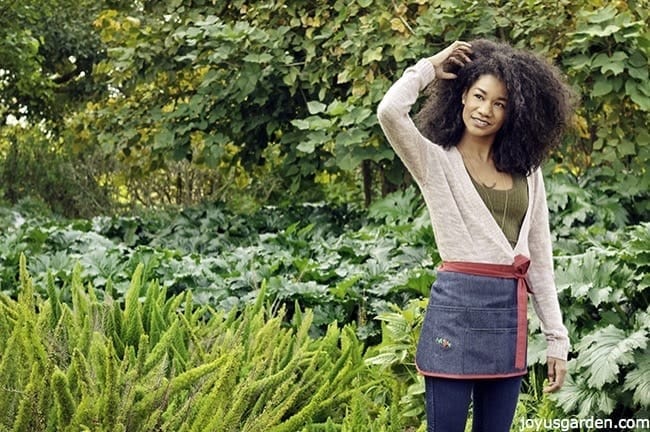 Stylish, classy, sassy and sexy! What else do you need from your apron?
Pockets are key
The ideal gardening apron has lots of different pockets, in different sizes, so everything we need is handy and organized. In one pocket we keep the cell phone (always ready to snap a pretty flower!), in another the pruners and shears, one to stuff the gloves into, one for the sunscreen and a couple to fit odd tools or materials we need for a specific gardening project.
Our full apron has 5 deep pockets and the half one has 6! What I love about them is that they have different sizes so you cane easily organize to fit all your odds and ends. The pockets in these aprons are not only plentiful but also deep enough to protect the most robust pruners or shears.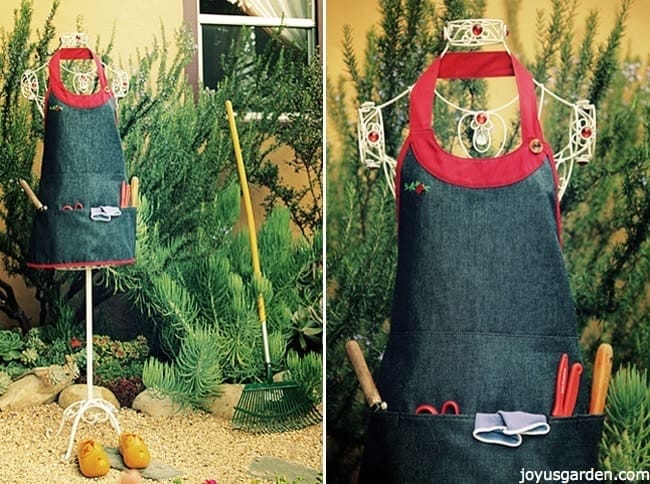 The cotton canvas waist tie and trim in a luscious, rich red brings out the color of the deep blue denim.
Be sure it's adjustable
You'll want to get an apron that you can adjust around your neck and your waist. This way the apron will fit over a wool sweater or a tank top.

Good for all seasons
You'll probably be gardening in different weather conditions and will want an apron that works in any season. Having an apron that's made of breathable material is something that helps with this. I prefer 100% cotton rather than synthetic material. The challenging part is finding one that's thick (remember, you'll want this because of your pruners) and breathable at the same time.
Our waist apron: The Vita
Our full apron: The Edna
Do you wear an apron while gardening? If so, what makes yours the best?
Happy gardening in style!
Lucy
You May Also Enjoy:

This post may contain Amazon affiliate links. You can read our policies here. Your cost for the products will be no higher but Joy Us garden receives a small commission. Thank you for helping us spread the word & make the world a more beautiful place!