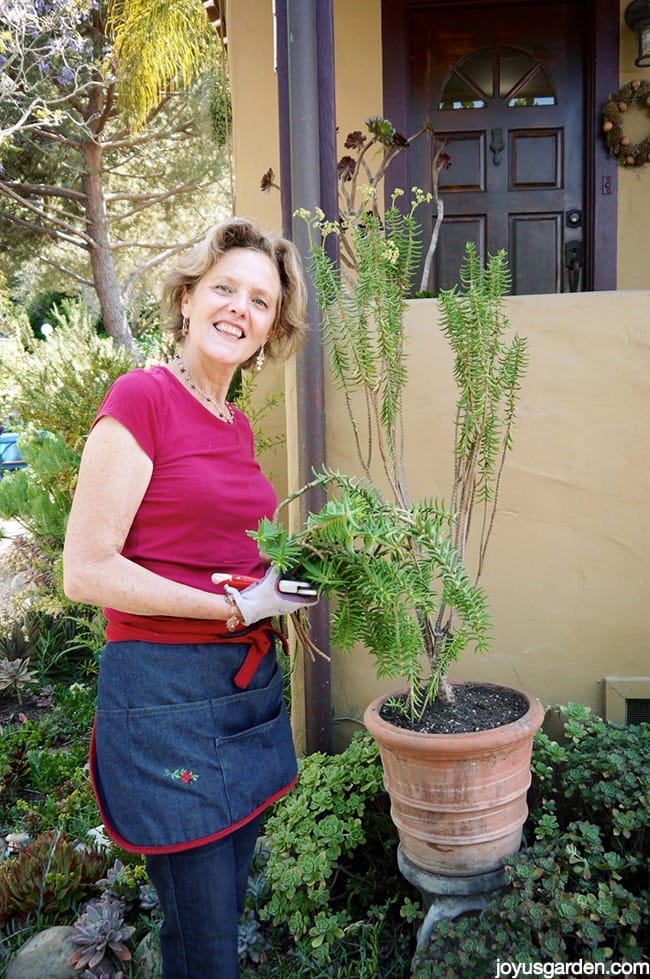 Sometimes things just don't go as planned – ya know what I mean?  In the video below I had intended to show you how to shave a root ball of a plant, in this case my Miniature Pine or Crassula tetragona because I was certain it was pot bound in a big way.  Shortly after getting into this project it turned into the never ending succulent repotting job that almost did me in.  The video below is number 19 of 20 that we'd filmed in 3 days so a couple of beers were necessary after this one!
I started by taking out the Grey Fish Hooks and the Plectranthrus which had filled in like crazy and were taking over the pot.  The Grey Fish Hooks had trailed down the side of the pot and pedestal and had rooted themselves well into the garden.  My neighbor stuck a few Plectranthus cuttings in the pot and those rooted in no time.  I wasn't crazy about the look or their scent (not at all pleasant to my nose – like pot crossed with skunk cabbage!) so out that came too.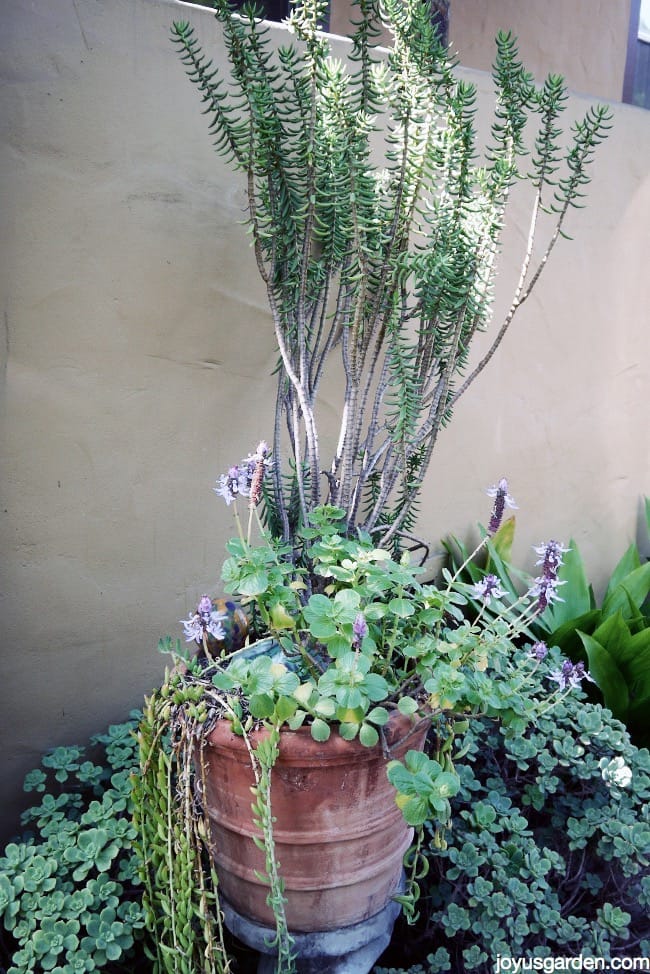 This is how the pot looked pre-repotting.
This repotting project took a good amount of time – here's the shortened version:
Then it came time to take out the Miniature Pine and show you how to shave a root ball.  Or so I thought!  I kept loosening the soil with my contractor's or ditch digger's shovel and even had Lucy, who was behind the camera, helping with the removal efforts.  In our video filming wary state, we dug and heave hoed for at least 25 minutes.  Why did I leave this video for the end for crying out loud?!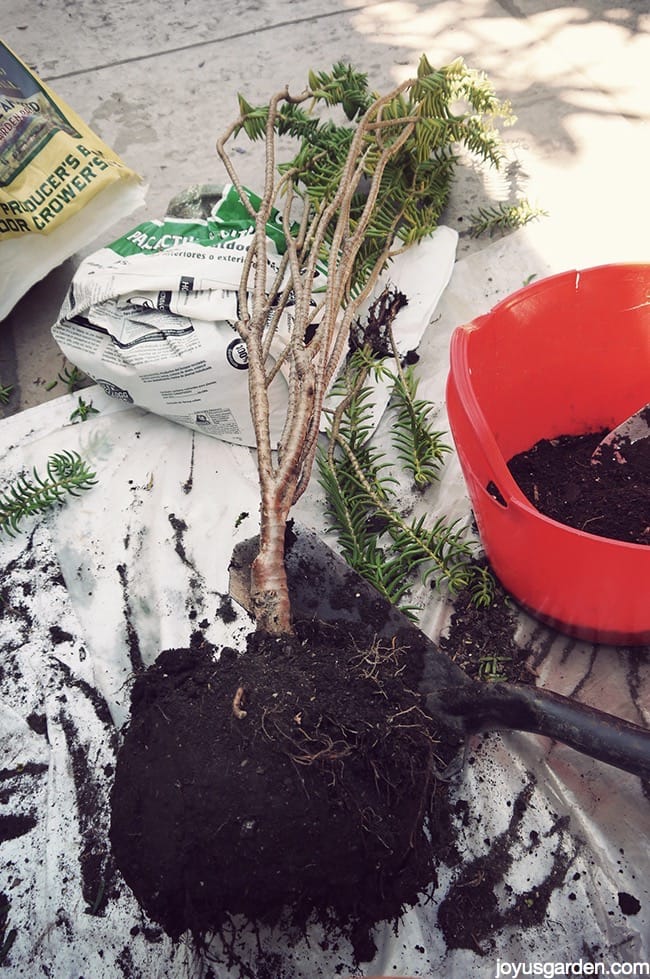 As you can see, there wasn't much root ball to shave off.  
Well, we finally got it out.  In hindsight, I remembered that my neighbor had taken my Variegated Weeping Japanese boxwood out of this pot for me a few years earlier and had left the old soil in.  It had been planted in planting mix which is much heavier than potting soil or succulent mix so it had compacted into a cement-like clump.
Fish Hooks & Plectranthus out – time for the groaning to begin!
Anyway, the Miniature Pine is happy as can be with it's fresh succulent mix and worm castings.  It's so happy, that I decided not to plant anything else in the pot with it.  Yet another succulent repotting project goes down in the records!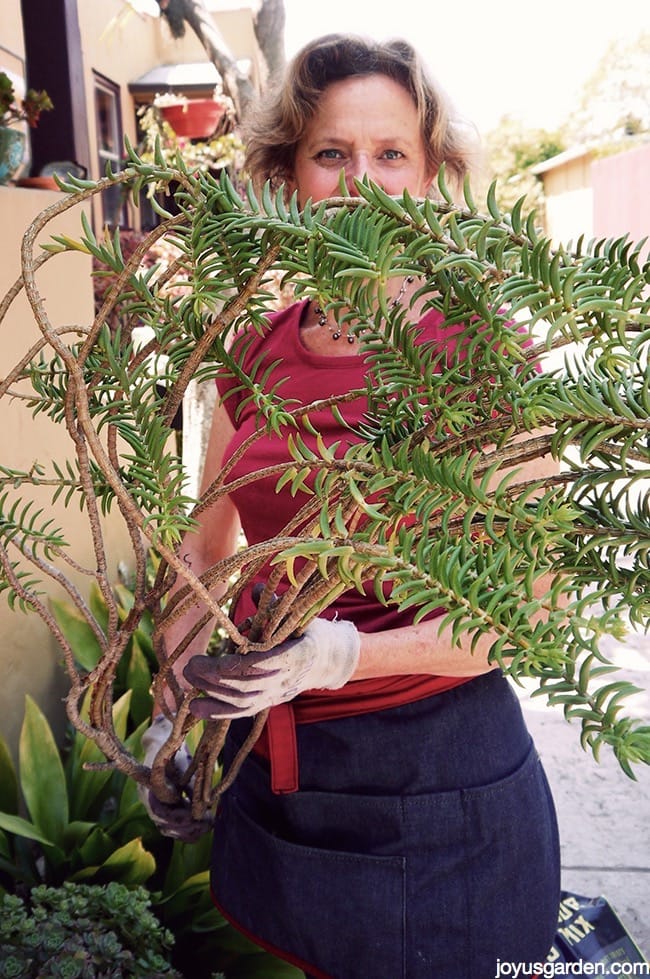 Quite a bit of the Miniature Pine broke off during this whole process.  Cuttings anyone???
Do you like the denim waist apron I'm wearing?  It's our Vita Apron made right here in California.  I love it for gardening!
Other Succulent Vlogs I've done Which Might Interest You:
2 Very Easy Ways to Propagate Succulents