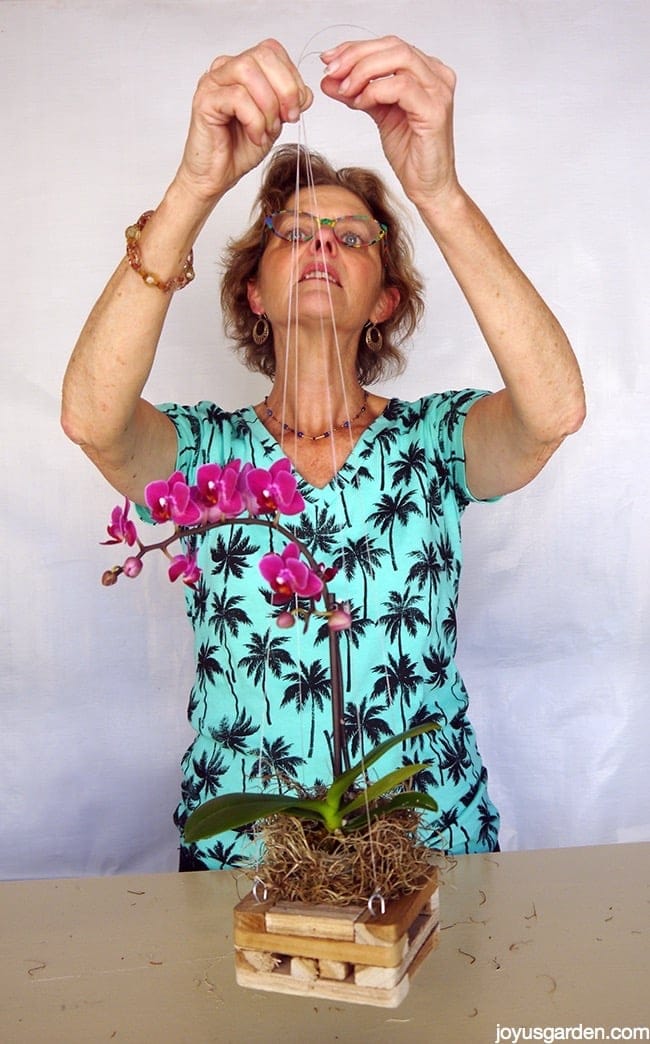 I freakin' love orchids! Alright, make that flowers period. So, it's a very good thing that I live in orchid country because I'm surrounded by them. I grow cymbidiums outdoors and phalaenopsis indoors. Heck, I even get to see orchids 2 times a week at our farmers market.
I went to the always beautiful Santa Barbara International Orchid Show in March and saw something in the marketplace I just had to buy for showing off my air plants. The little wood basket that I used for this project is meant for displaying orchids so I was thrilled when I saw a display of miniature orchids in 1 of our local grower's greenhouse. If you're ever in the Santa Barbara area, be sure to visit Westerlay Orchids – it's a treat for the eyes!
How could I resist 1 of these Darling Orchids?! It fit into the wooden basket like a charm.
You'll see me putting this piece together below – you'll be hanging your living beauties in now time flat:
Some Of Our General Houseplant Guides For Your Reference:
Believe me, this is 1 quick and easy technique. And, you only need 4 ingredients:
1) 4″ square wood orchid basket
2) 1 miniature phaleanopsis orchid
3) fishing line
4) Spanish moss
If you wanted a wilder look you could paint the basket deep yellow or teal and use chartreuse moss instead of the natural Spanish moss . Add in some jewels for sparkle and you have a whole different look. I choose the more natural route with this one – no bling for this project. The possibilities are many!
Speaking of Spanish moss, did you know that it is actually not a moss? That's right, it's a tillandsia aka an air plant which grows in large trees in areas with high humidity. It's harvested and cleaned before going on the market. Some is sold fresh and some is dried. Spanish moss hangs down to the ground and is quite the sight to see growing out in the "wild".
I took this project apart and the orchid now sits in a votive cup on a side table in my dining room. Hanging off the light right outside my front door is the wooden basket which holds 3 air plants.
I got this Darling Orchid at the end of May & in mid-August, it's still looking good.
Along with gardening, I spend quite a bit of time crafting. Some of my projects are long and drawn out so I can really get down with something quick and easy. By the way, if you have kids, this is a great orchid crafting activity to do with them. This miniature phalaenopsis orchid project came together in 15 minutes from start to finish with no hot glue or wire needed – way to go!
Happy gardening!

YOU MAY ALSO ENJOY:
15 Stunning Types Of Sunflowers
Organic Flower Gardening: Good Things To Know
How To Successfully Plant Perennials
Roses We Love for Container Gardening
Plants With Fabulous Foliage To Add Interest To Your Garden
Add A Pop Of Pizazz To Your Garden With Chartreuse Foliage Plants
This post may contain affiliate links. You can read our policies here. Your cost for the products will be no higher but Joy Us garden receives a small commission. Thank you for helping us spread the word & make the world a more beautiful place!