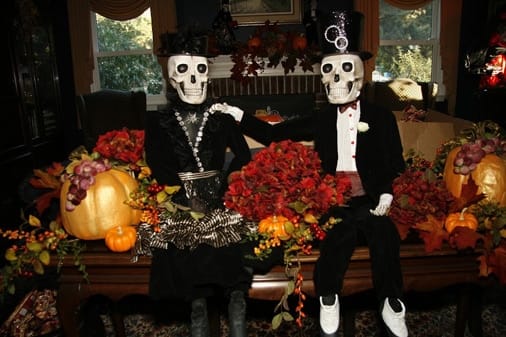 Another Halloween post in a week?!  Well, this is the same Halloween decorating project I showed you in last week's post .  Why again you ask?    The answer is simple:  I snap with a little point and shoot camera which must fit in my jean pockets or pics just don't happen.  These fabu photos which you will soon see were taken by Randie Marlow,  a professional photographer and  graphic designer – what a difference!   Halloween is just plain fun so let's get on with the show…
INTERIOR
This is the "Phantom Of The Opera" room.  The skeletons were placed at the baby grand last year and we decided to roll with it.  The mask and program are the real deal – they were actually purchased at Her Majesty's Theatre in London.  We decided red roses would set the theme (purposefully cheap to get that bright red color) and this year more skeletons were added to keep their friends company.   Red spotlights set the tone.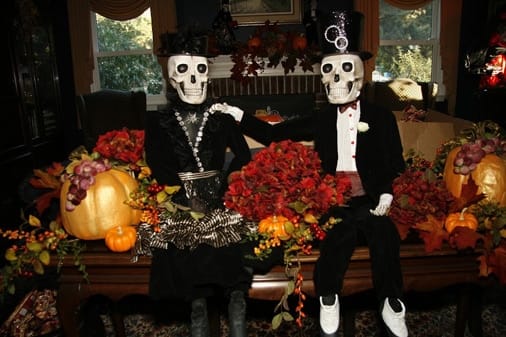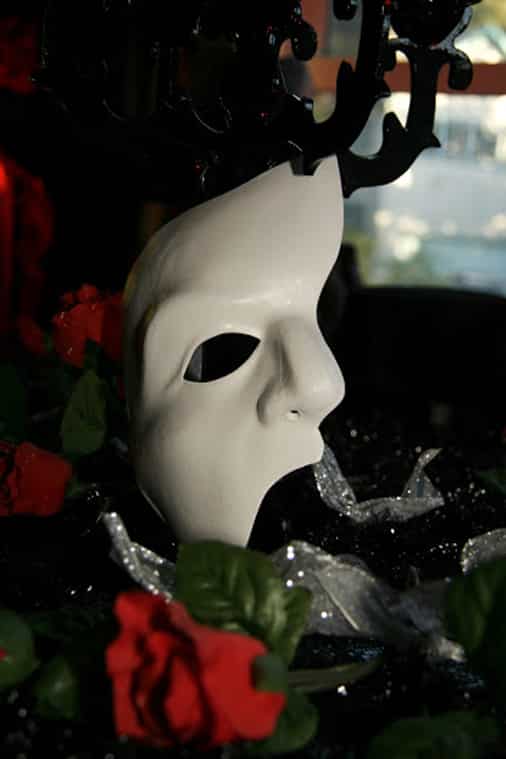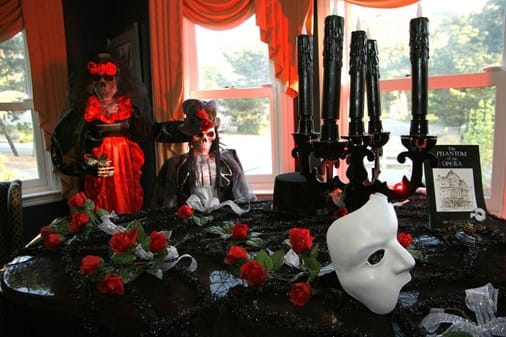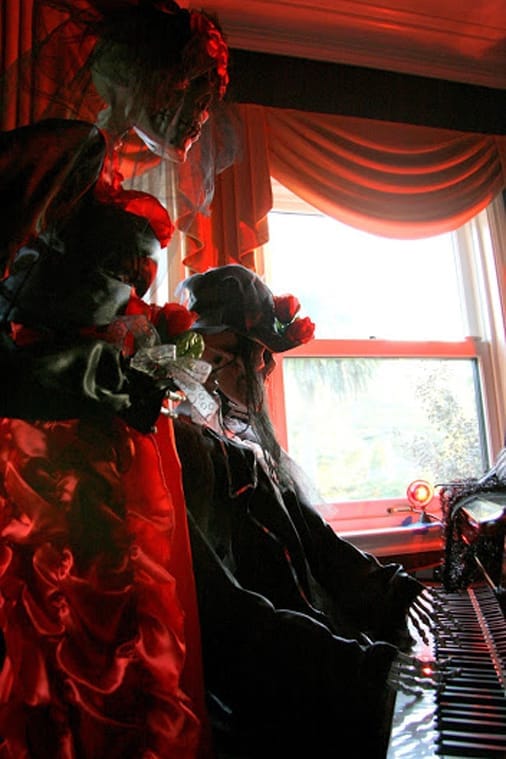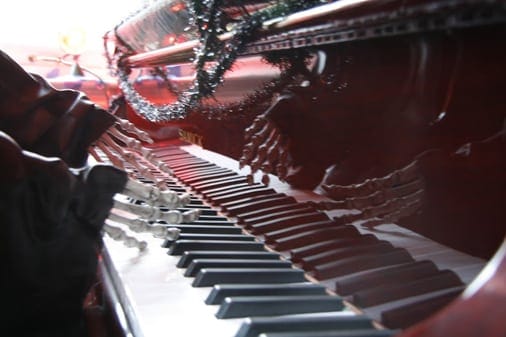 Sadie the maid has been around a while – she greets visitors as they enter in.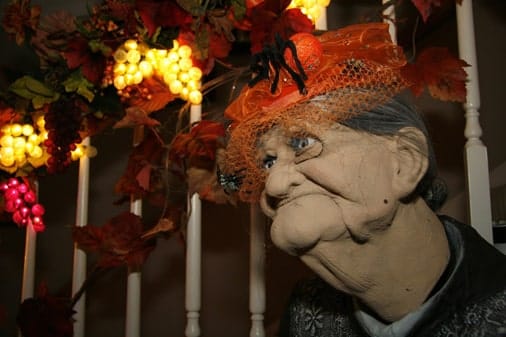 The dining room is done in red & orange.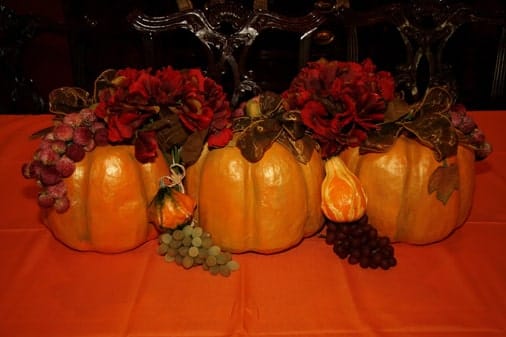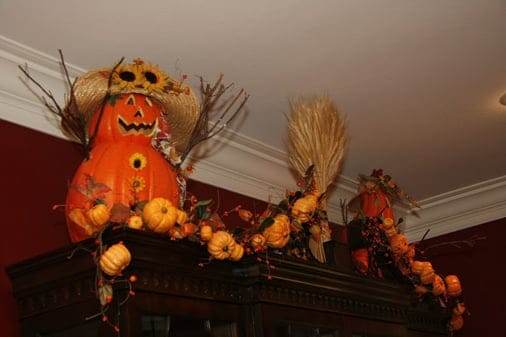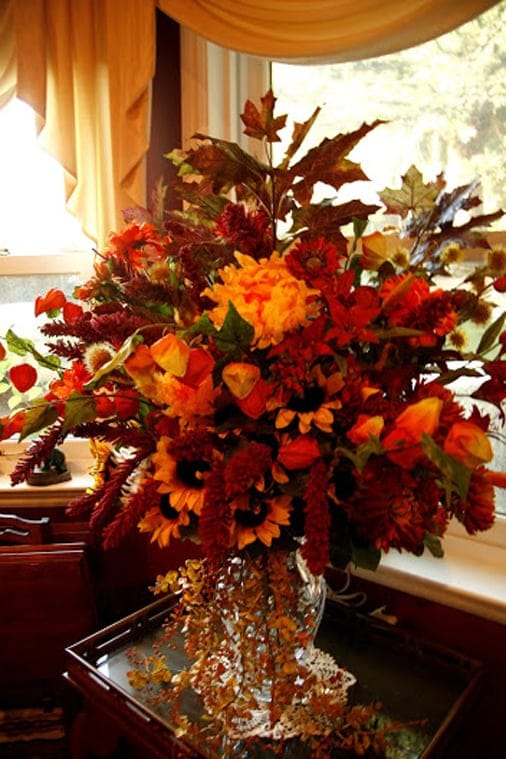 These pumpkins have been collected over the years.

EXTERIOR
Front Porch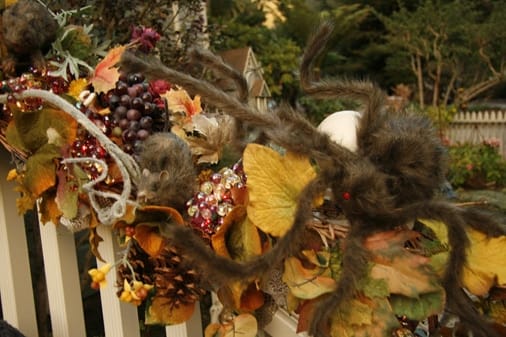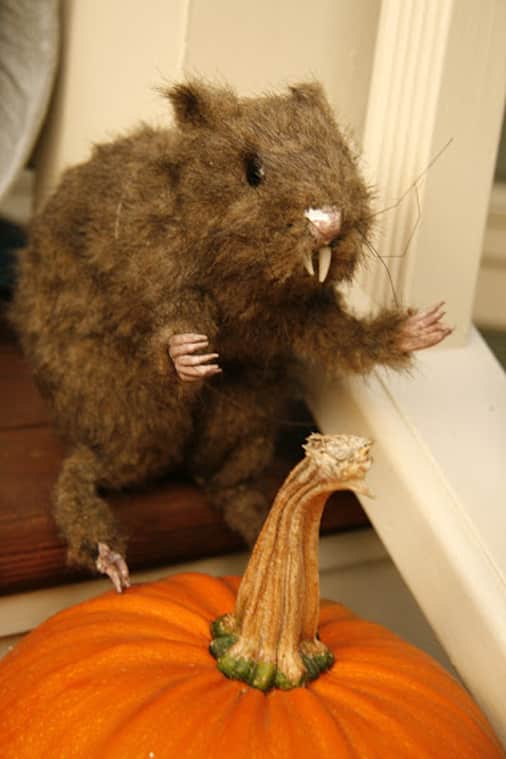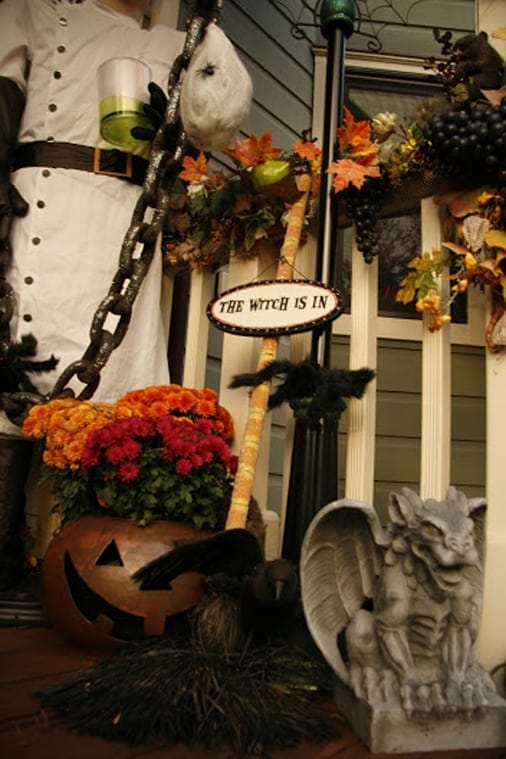 Hanging Ghouls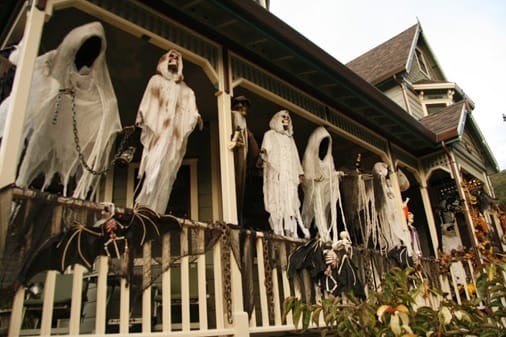 Figures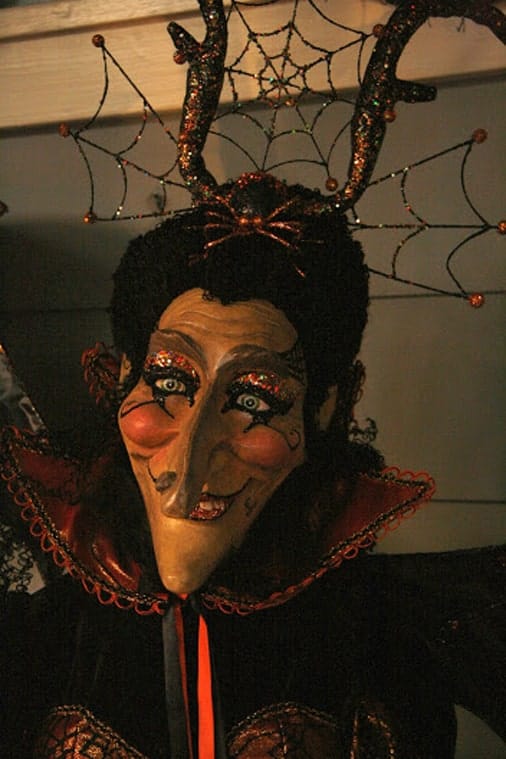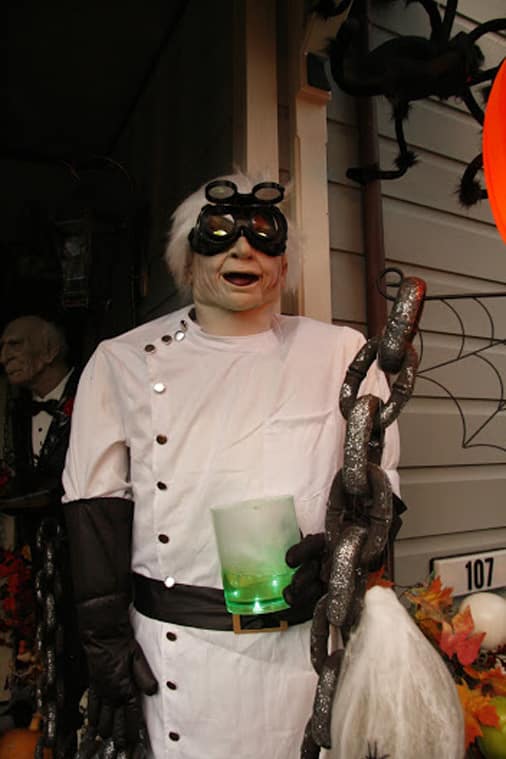 Door garland – glitter ruled!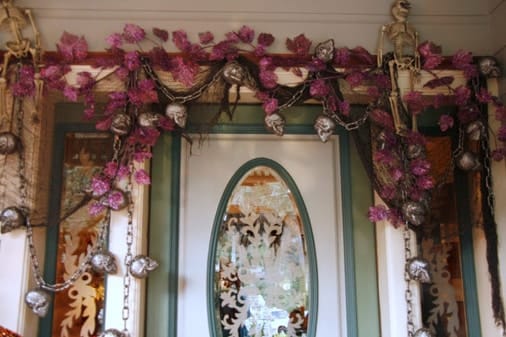 The theme on the front porch was "chain  gang"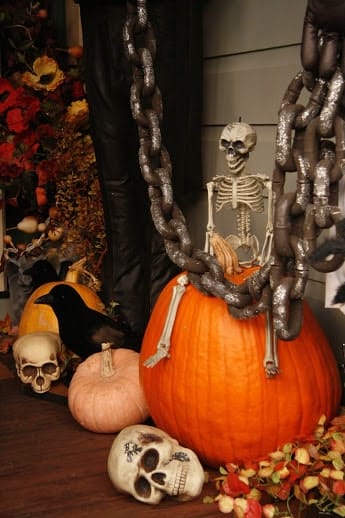 The sleigh will soon carry Santa but now …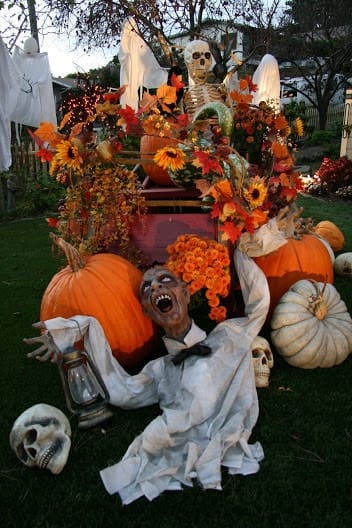 Ghosts – the more tattered the better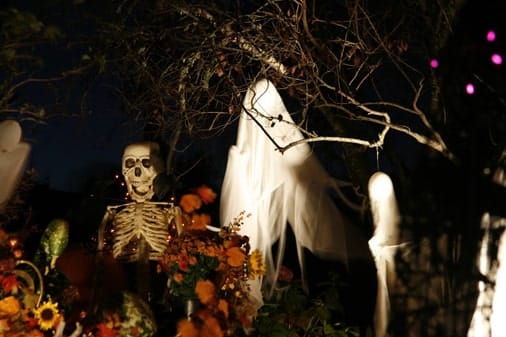 The graveyard takes a little doing because the lawn is artificial and everything must be attached to platforms.  This is a few blocks from the Pacific which means lots of wind – masses of fishing line is used for this scary vignette.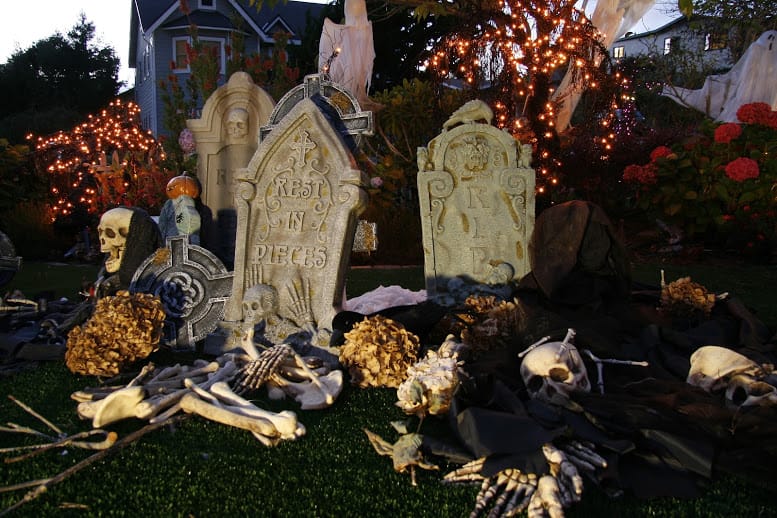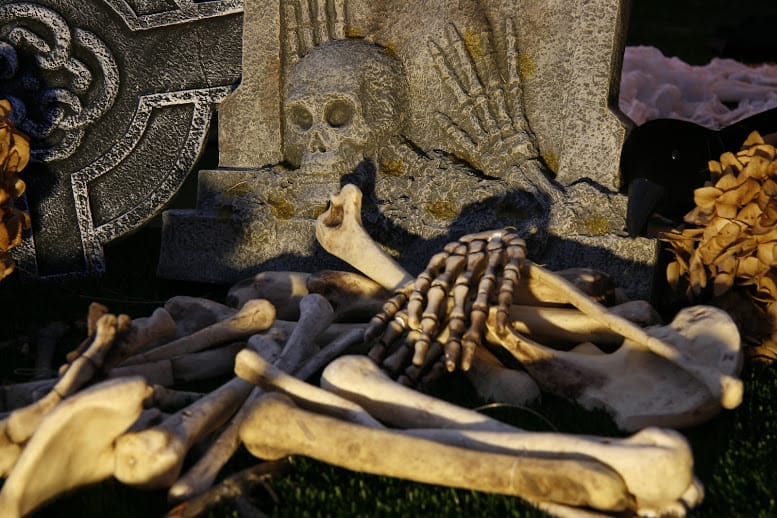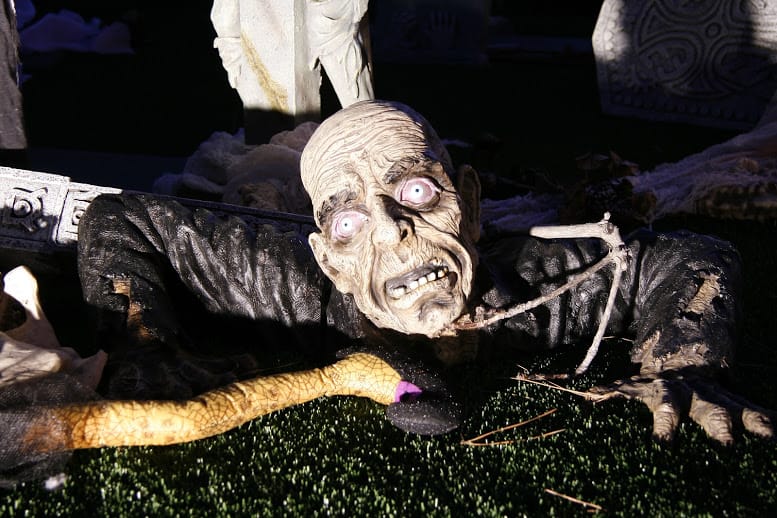 An overview of the house and front yard.  The blurs of purple you see are 6′ trees with faces whose arms move up and down.   They are not made any more so Mike carefully puts them to rest on Nov 1 so they can make an appearance next year.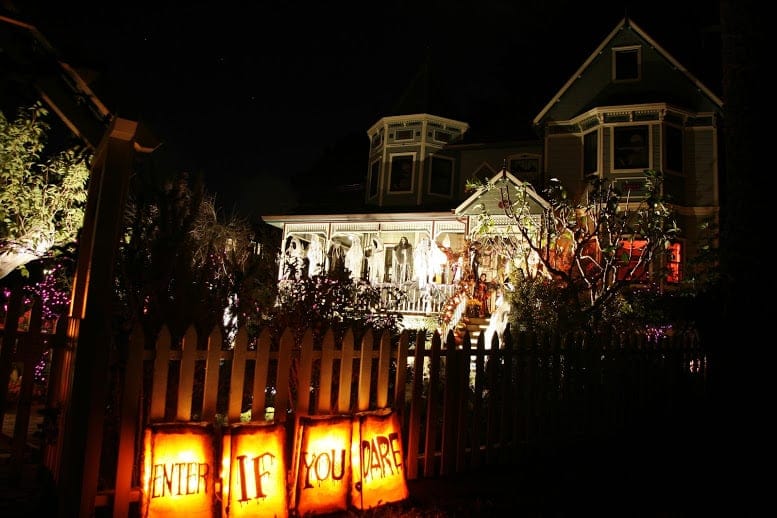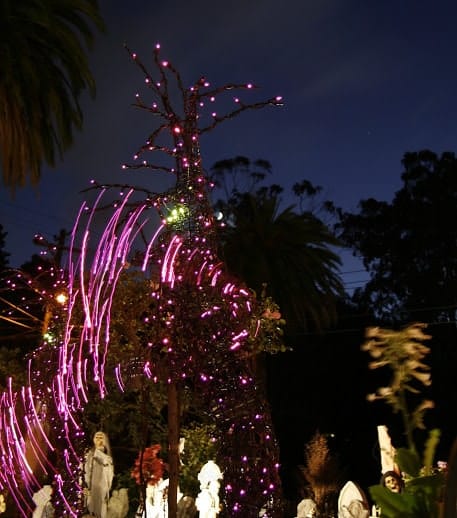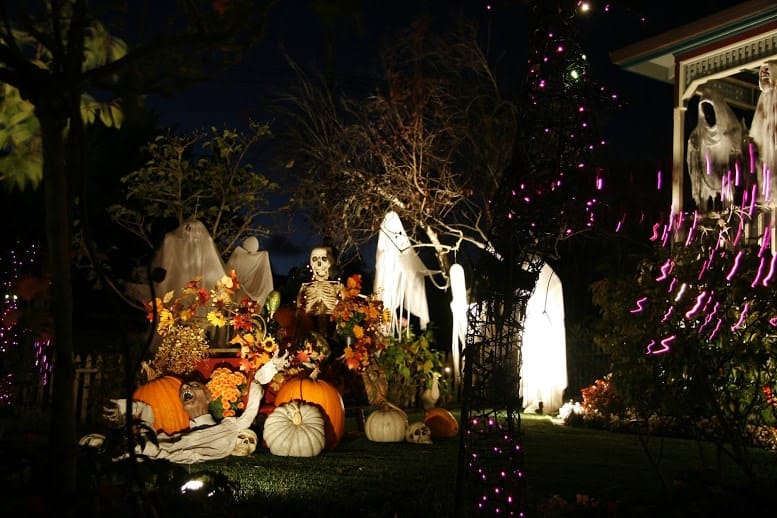 I hope you've enjoyed these professional photos (with all credit given to Randie Marlow) as much as I did.  Thanks again Mary Ellen for being a big kid when it comes to holidays.  And remember … there's no more room to plug anything in!    And here's a big shout out to my fellow decorator/installer extraordinaires:  Susie and Mike.  Rest up because Christmas is coming soon!
If you haven't checked it already, here's the link to Halloween Decorating Extravaganza! complete with tips should you attempt to do spooky, scary in your very own home and yard.   Enjoy the video and have a festive and fun Halloween!