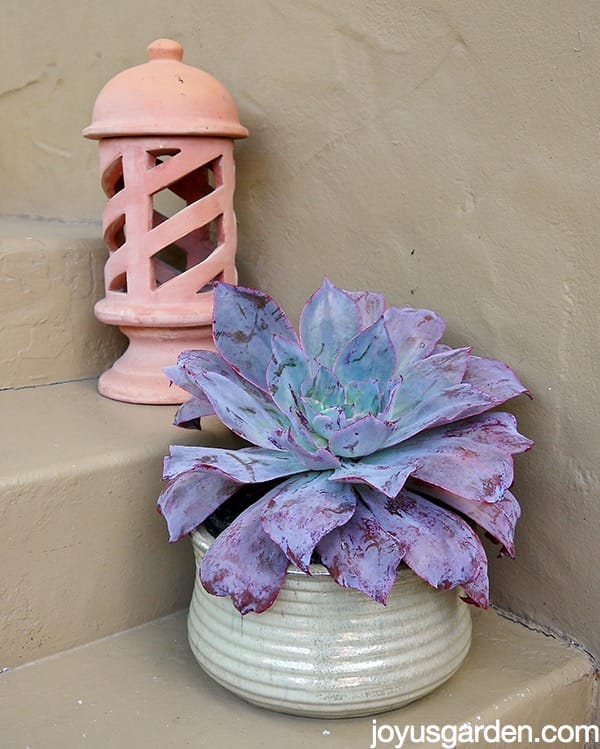 My gorgeous Echeveria Afterglow was purchased on a garden/nursery road trip throughout Southern California. There it was, in all it's glory, waiting for me to snatch it up at Roger's Gardens (a wonderland for us plant aficionados) a couple of years ago.
I planted it in a terra cotta pot which I had jazzed up a bit with paints and glass chips. I never gave the pot much thought. Then I spied a new, gorgeous pot, and it all changed.
My favorite place to stop when on route from San Francisco to Santa Barbara is Garden Accents, a sheer delight for those who are crazy nuts for pottery as much as I am.
There was the aforementioned pot in a display along with others on sale. Yes, it was too good to be true. Not only did I love it, but it was marked down. It's a creamy, iridescent pearl color with tiny specks of pink and gold in at – the pot glistens in the sunlight.
Check out this video where you'll see me at my work table potting up this awesome combo which now graces my front garden:
I'm big on mixed succulent plantings (how many succulents can I cram in a pot?!). However, sometimes a plant just needs to stand alone. The plant and pot are both beautiful in their own rights. When cohabiting together, it's an out of this world combo.
Succulents don't have an extensive root system and don't need repotting too often so they can stay in the same pots for at least a few years. For this reason, I don't mind spending more on pots for these fleshy beauties or for cacti.
A plant can make a pot stand out and a pot can make a plant stand out.
Have you ever found a gorgeous pot which just makes a gorgeous plant shine?
Happy gardening & thanks for stopping by,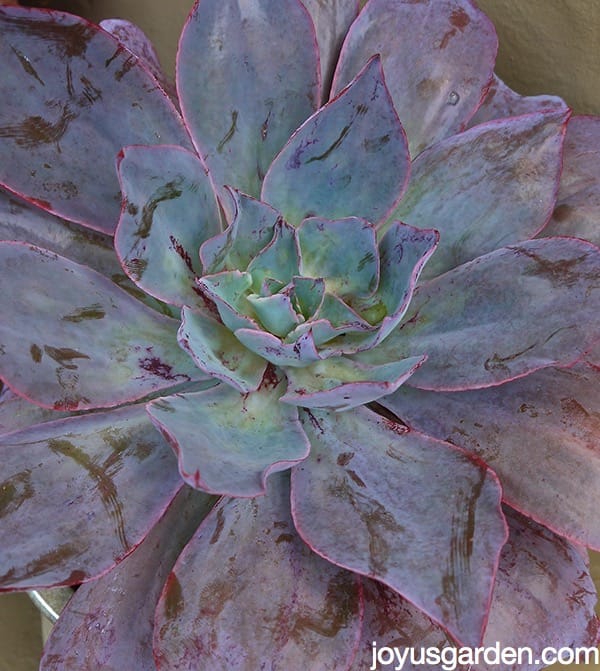 This post may contain affiliate links. You can read our policies here. Your cost for the products will be no higher but Joy Us garden receives a small commission. Thank you for helping us spread the word & make the world a more beautiful place!
Enjoy more succulents!