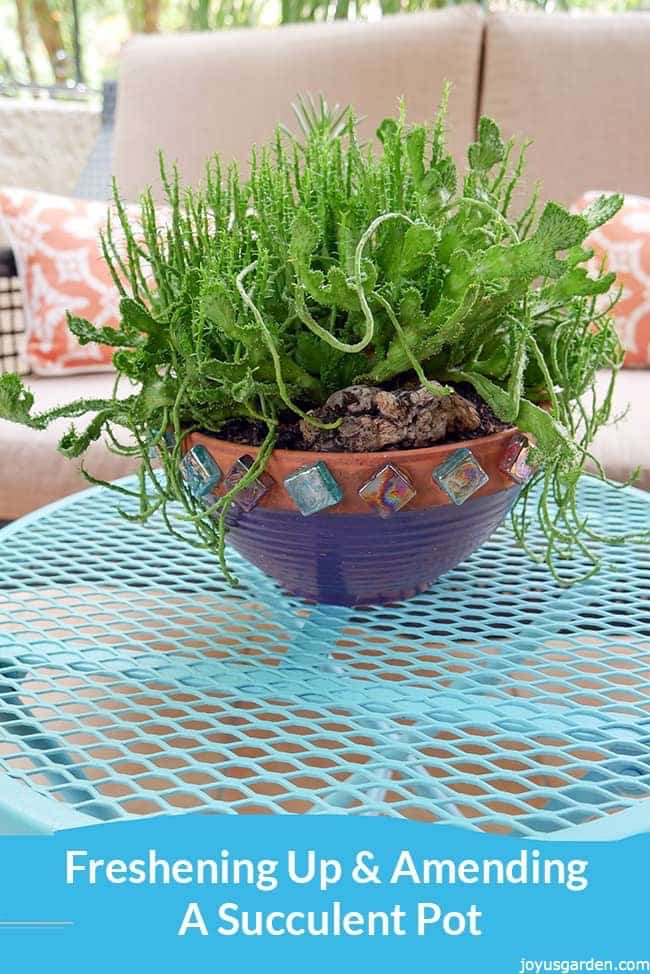 I had a garden full of them in Santa Barbara but since I've moved to Tucson, I grow my fleshy succulents in containers. Most of them I brought as cuttings but this is 1 of 2 plants which made in to my new home. It was high time for freshening up and amending this succulent pot to give it a new lease on life.
I love this crested euphorbia because of the twisting, every which way that it grows. There were a few odds and ends of smaller succulents that I wanted to take out because this crazy euphorbia had grown so much. It deserved to be the star of the show and have the pot all to itself. Plus, it would greatly benefit from new mix and a few of handfuls of amendments.
Freshening up and amending a succulent pot:
Materials used:
Succulent & cactus mix. I use 1 which is produced locally – this one is good too. Succulents need a loose mix so the water can thoroughly drain out & they don't rot.
Potting Soil. I'm partial to Happy Frog because of its high quality ingredients. It's great for container planting, including houseplants.
Note: I add in a bit of potting soil to my fleshy succulent plantings here in the desert because it keeps me from having to water every few days in this hot, sunny climate. You can skip the potting soil if you're not in a similar climate.
Compost. I use Tank's local compost. Give Dr. Earth's a try if you can't find any where you live. Both enrich the soil naturally so the roots are healthy & the plants grow stronger.
Worm Compost. This is my favorite amendment, which I use sparingly because it's rich. I'm currently using Worm Gold Plus. Here's why I like it so much.
Here you can see that the root ball, with most of the old mix knocked off, isn't all that big.
Steps taken:
This euphorbia, bought in a tiny 3″ pot, had been planted in this bowl for almost 5 years. Succulents don't have an extensive root system. It didn't need a larger pot yet, just a freshening up.
1- Remove the odd & ends of smaller succulents along with any dead growth.
2- Loosen the root ball of the euphorbia from the sides & bottom of the pot using a dull knife.
3- Knock off as much of the old mix as possible.
4- Wipe the insides of the pot clean.
6- This is a terra cotta bowl I painted & decorated. A few of the glass chips had fallen off so they got glued them back on.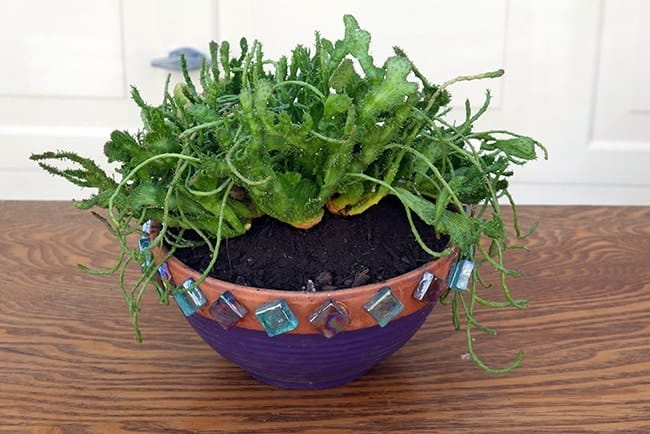 The succulent right after the repotting.
7- Cover the drain hole with a piece of coffee filter to prevent the new loose mix from falling out with the 1st few waterings.
8- Place 3″ of the mix & potting soil in the bottom of the pot – enough to raise the rootball up to just below the rim. The euphorbia & its root ball are heavier than the light mix so the plant will sink down a bit.
9- Fill in around the rootball with mix & potting soil. Sprinkle in a handful of compost every now & then.
10- Continue until the root ball is covered.
11- Top with a 1/2″ layer of worm compost.
12- Let settle in & water thoroughly after 5-8 days.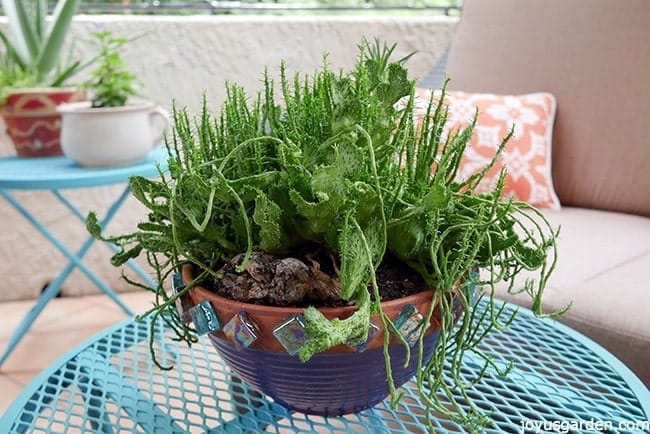 The proof is in the pudding. 5 weeks after the freshening up this succulent pot is lookin' good. It's putting out lots of beautiful new growth!
I love how this plant looks in this pot – it's a winning combo. It sits on a table on the patio off my living room and I see it through the sliding glass doors many times a day. It'll be fine in this pot for a year or 2 more and then it'll be time for a bigger pot. Do you have a succulent/pot combo that you just love?
Happy gardening,

You May Also Enjoy:
How Much Sun Do Succulents Need?
Succulent And Cactus Soil Mix For Pots
How To Transplant Succulents Into Pots
Aloe Vera 101: A Round Up of Aloe Vera Plant Care Guides
How Often Should You Water Succulents?

This post may contain affiliate links. You can read our policies here. Your cost for the products will be no higher but Joy Us garden receives a small commission. Thank you for helping us spread the word & make the world a more beautiful place!
About the Author
Latest Posts
Nell, the founder of Joy Us garden, was born into a gardening family and grew up in Connecticut's countryside. After living in Boston, New York, San Francisco, & Santa Barbara, she now calls the Arizona desert home. She studied horticulture & garden design, working in the field all her life. Nell is a gardener, designer, blogger, Youtube creator, & author. She's been gardening for a very long time & wants to share what she's learned with you.