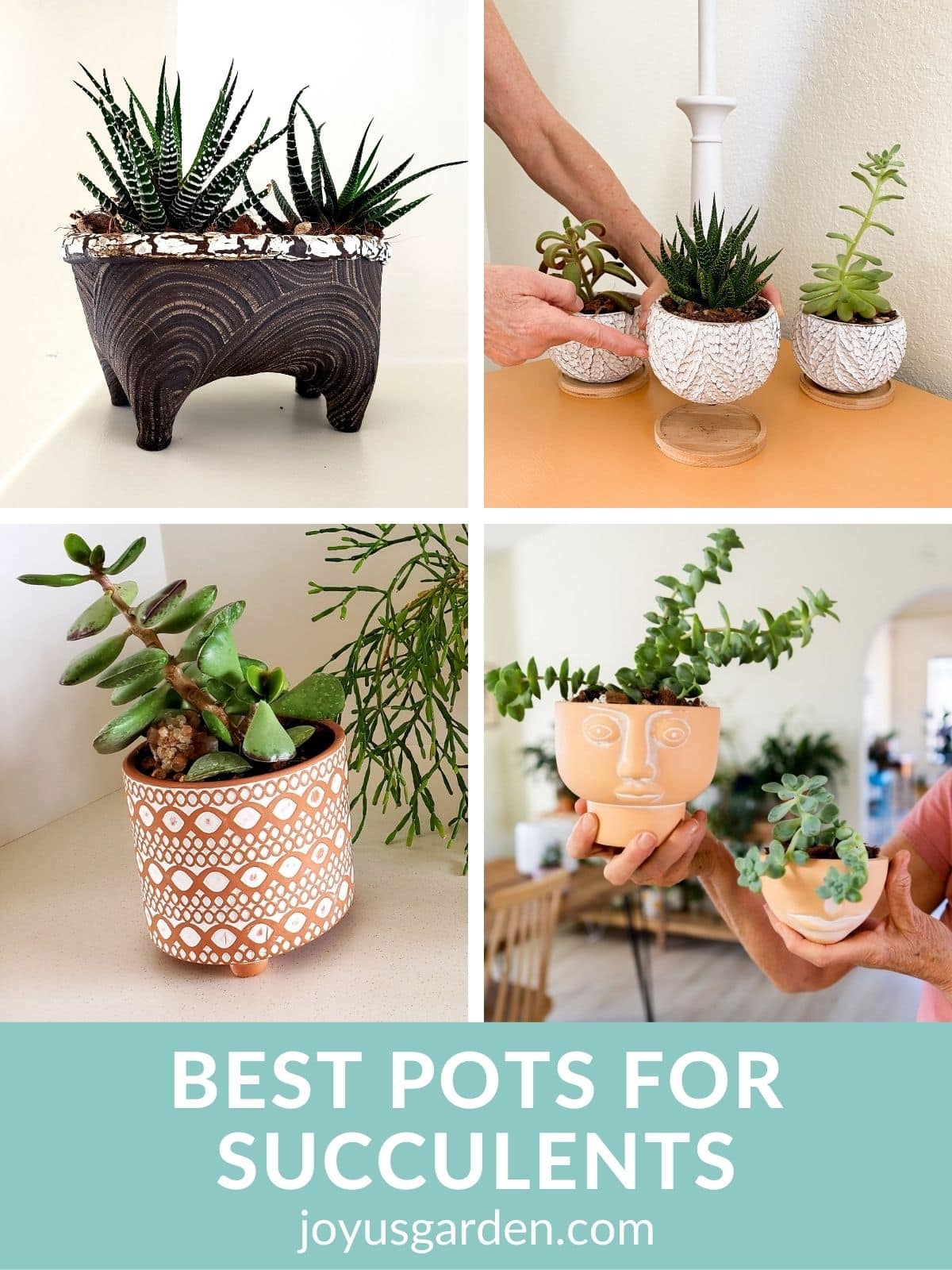 What's cuter than fleshy succulents? Cute pots for succulents. This would be a good starting point.
We thought it would be fun to start a series listing the top 5 things we're currently loving each month. Sometimes it'll be all one category like this, & sometimes a mixture.
We've done quite a few gift guides each listing a number of items you can buy online. Sometimes just a handful is easier to choose from and less confusing than 20.
Below you'll find small pots for succulents, fun pots for succulents, and cute pots for succulents. These are all succulent pots you can find on Amazon or Etsy.
We hope you find this series to be helpful and be sure to come back next month for more favs!
Want to learn more about how to care for succulents indoors? Check out these guides!
Our Top 5 Decorative Pots for Succulents
These coordinating cement face pots are super cute and trendy. Although they don't have a drain hole in them, it is easy to drill one in (trust us, we tried!) We love how each succulent looks like hair once planted. We planted a String of Buttons succulent and a Sedum in these.
Why only have one cute succulent pot when you can have two? These matching modern planters are great for medium-sized succulents and look so good together. They would also look great styled on a shelf with other terracotta or white pots. We love the mini legs on these too for that added height. We planted a Calico Heart in the smaller one and a Dancing Bones plant in the larger one.
This succulent pot is a one-of-a-kind piece of art. It's handmade by a local artist here in Tucson named Sid Henderson. Prickled Pink Plants on Etsy sells some of his gorgeous work, along with some fun plants and cacti. The exact pot pictured here is no longer available, but there are other color combinations to choose from on Etsy. I love how this looks with 2 Haworthias planted inside.
These 4-inch cement succulent pots are great for displaying a group of small succulents. They look great grouped together on a shelf, or you can keep one and gift the other two! They come with bamboo trays to hold overflowing water and to help keep your furniture clean. The abstract leaf print adds some texture and character to these little pots. We planted Panda Plant, a Haworthia, and a Sedum.
Nell also has these 3 handmade pots from Mori Ceramics on Etsy. These exact three are not available anymore, but there are similar pots still for sale. We love the nature-inspired design on these small pots for succulents. Although they are all sold separately, they will look beautiful together sitting on a shelf. (Yes, that is real 22k gold!)
We hope you enjoyed this list of our favorite small pots for succulents. These are all tried and true in our home, so you are sure to love them just as much as we do.
Be sure to come back next month for more favorites!
Happy Gardening,
Brielle
This post may contain affiliate links. You can read our policies here. Your cost for the products will be no higher but Joy Us garden receives a small commission. Thank you for helping us spread the word & make the world a more beautiful place!