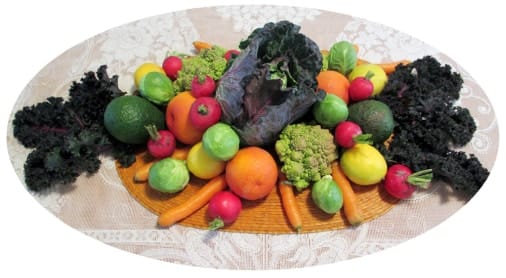 I wanted to share this "Hello Spring Farmers Market Centerpiece" (see it in magazine form by clicking the link) with all of you. I made one of these for Fall –I Ate My Thanksgiving Centerpiece– so when Spring came around it was time to create another one to celebrate the season of budding and blossoming.
Everything used in this harvested work of art was bought at our Santa Barbara Farmers Market or plucked from my garden. These culinary tablescapes are great if you want a unique centerpiece for your dining table or buffet.
My Twitter buddy Debra Hempe contributed a Springtime pasta recipe to this post which I have tried – yum! You have all that you need here to make something beautiful for your table and something delicious for your taste buds.
And, the best part is, all ingredients used are local and organic. You will find a video at the very end which I did for eHow.com showing this piece on a round plate which I take apart and redo in this long and low fashion.
All the produce is laid out on the coffee table all set to go
The "pretties", statice, cymbidium orchids & deep purple kale.
The kale draws the piece out & brussel sprouts, carrots & radishes find their place.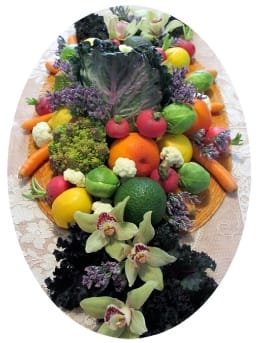 Next the cymbidiums, statice & cauliflower are placed in.
And the final touch, a few glittered butterflies.
You can make something similar to this using things which grow in your area. It is low enough to be used as a centerpiece yet is so attractive enough to be the focal point on a buffet or hall table. And the best part is … you can eat it (most of it anyway) after it's served as an adornment!
Springtime Zucchini Spaghetti
Winter has turned to spring here in California and my thoughts begin to turn from rich hearty stews to light seasonal springtime fare. Our local farmers markets overflow with fresh vegetables and like old friends I am overjoyed to see them appear again.
Zucchini is one of the first crops to arrive and it is one of the most versatile. As my mind shuffles through countless recipe ideas I fall back on to one of my most basic and satisfying spring dishes. I use zucchini in place of pasta noodles to create veggie spaghetti
The beauty of this dish is that you can add a variety of ingredients making the most of what is in season. It is a very forgiving and adaptable recipe so if you love garlic add more or if you just purchased fresh juicy roma tomatoes, use them. Once you try this recipe you will turn to it time and time again when you crave a fresh delicious meal you can cook up in minutes.
Gather
1-2 tablespoons extra virgin olive oil
1/4 yellow onion sliced into thin half-moon shaped slices
2-3 medium zucchini
¼ cup of spring peas
1/2 pint grape tomatoes halved
(I often I use them fresh from the stand but I love roasting them first)
1 big garlic clove
1/4 cup grated parmesan cheese
Salt and Pepper to taste
Fresh basil chiffonade (to top dish)
Prep
Cut your zucchini into spaghetti
There are a few easy ways to do this
Use your mandoline
Use a julienne veggie peeler (a wonderful useful kitchen tool)
Slice your zucchini lengthwise into long flat thin slices then stack them and cut into rustic spaghetti
Once zucchini is cut set it aside.
Slice a half pint of cherry or grape tomatoes in half and set aside
Heat a large frying pan on low to medium heat.
Add the extra virgin olive oil.
Add the 1/4 yellow onion to the pan and cook for 3 minutes till almost translucent.
The thin slices will cook quickly. Don't allow them to brown.
Add the zucchini and stir to combine with onion.
After 2 minutes add the peas and tomatoes toss to combine.
Add the garlic toss to combine.
Add half of the cheese salt and pepper and toss again.
After a minute you are ready to serve.
Top with the remaining cheese and basil.
ABOUT DEBRA
Debra Hempe and I met through the virtual gardening world on Twitter and have since become fast friends. As it turns out, we also share a love for travel and food. We both cook using the freshest local ingredients possible which are organic or have been grown without the use of pesticides. Supporting the local farmers and reducing the carbon footprint and as well as waste are very important to use. And, we are in total agreement that fresh food simply tastes better.
Debbi creates beautiful and yummy food which she posts on her Facebook page and every time I see the pictures, I drool. I asked her if she would share some recipes with us and was thrilled when she said yes. I plan on making every recipe which she'll share monthly and hope you will too.
This post may contain Amazon affiliate links. You can read our policies here. Your cost for the products will be no higher but Joy Us garden receives a small commission. Thank you for helping us spread the word & make the world a more beautiful place!