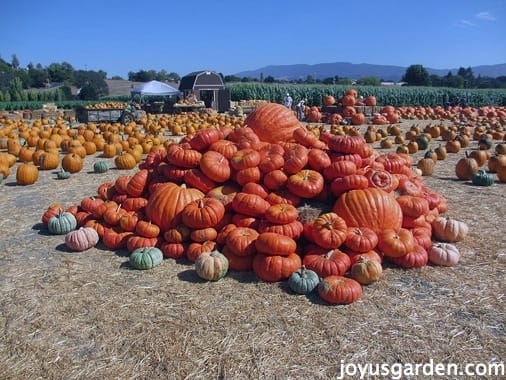 Oh, the lovely Santa Ynez Valley – how close you are but yet so seemingly far away!   We took the short 30 minute drive over the scenic San Marcos Pass leaving Santa Barbara, its beaches, palm trees and red tiled roofs in the distance.  When you descend from the pass and hit the valley you are entering into a different world and landscape surrounded by ranches, vineyards, oak trees and sagebrush.
This area came into the spotlight when the movie "Sideways" exploded into a huge hit.  That wacky, lewd and endearing comedy following Jack and Miles on their romp through this beautiful countryside is still on playlists everywhere!   It sent the sales of Pinot Noir skyrocketing and made this valley a destination.  To this day people still visit to find those very spots where the movie was filmed.  You may have also heard of this area due to the publicity from a very public figure and his "playground" estate – Michael Jackson and his once beloved Neverland Ranch.
My friend Emily and I played hooky on the last friday of September and motored to this valley full of wineries and tasting rooms with a totally different agenda – the Figueroa Mountain Brewery  in Buelton for a flight of beer tastings. Good cold brews after a very warm and sunny  afternoon of touring with the top down and Earth, Wind and Fire blasting on the stereo – a fine way to pass the hours!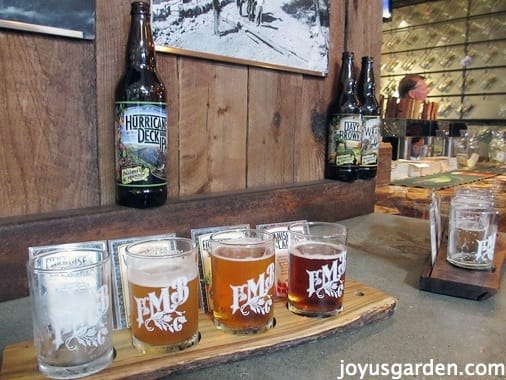 Our first stop was the lovely town of Los Olivos which has a population of only 1500 and over 27 tasting rooms.  We parked the car and walked through this town full of victorian-style buildings to window shop, pop into stores to take a lookey loo and finally to have lunch.  Below you will see images that caught my fancy.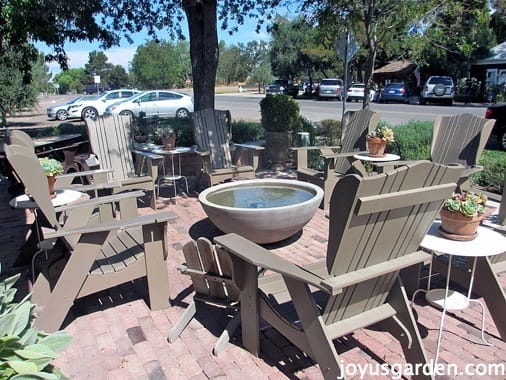 outdoor seating are at Sarloos & Sons tasting room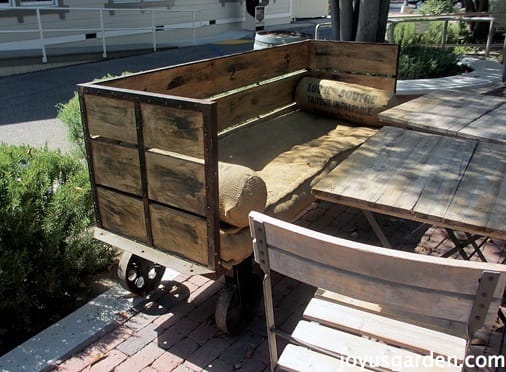 also at Sarloos & Sons – love this rustic wheeled "loveseat"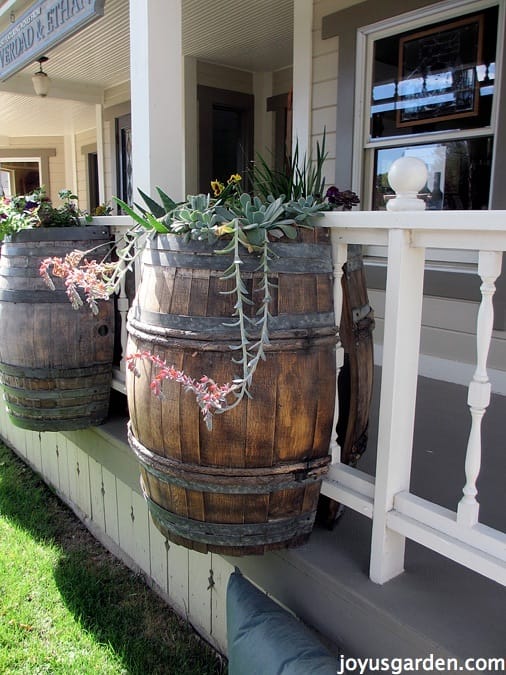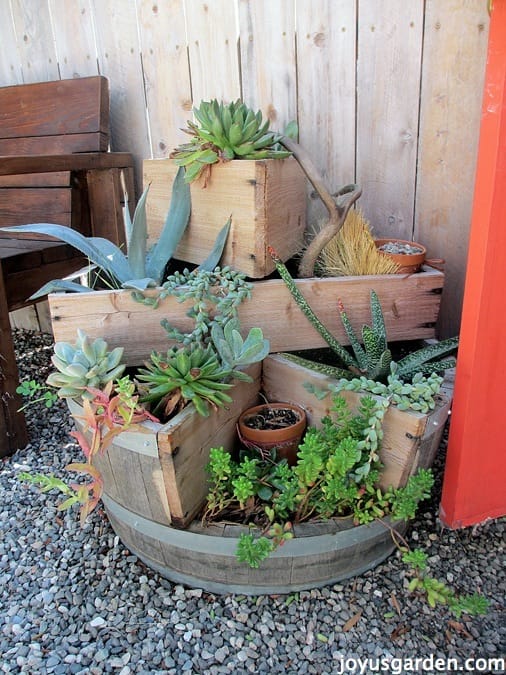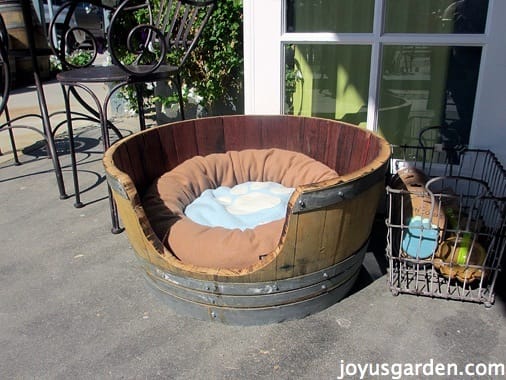 what they do with wine barrels these days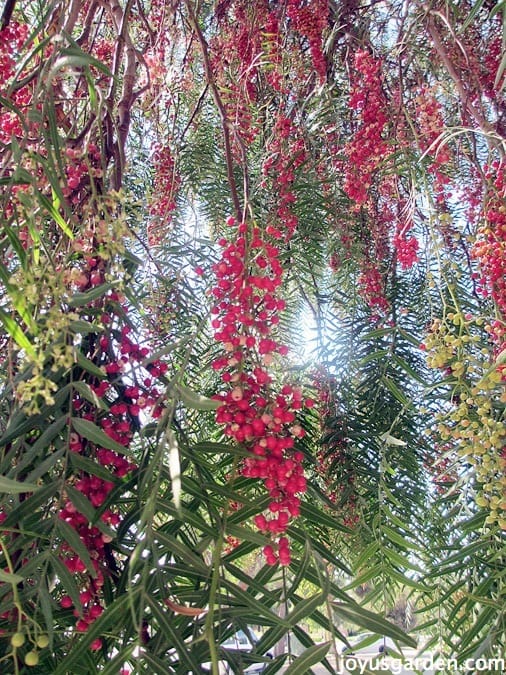 my favorite tree – the California Pepper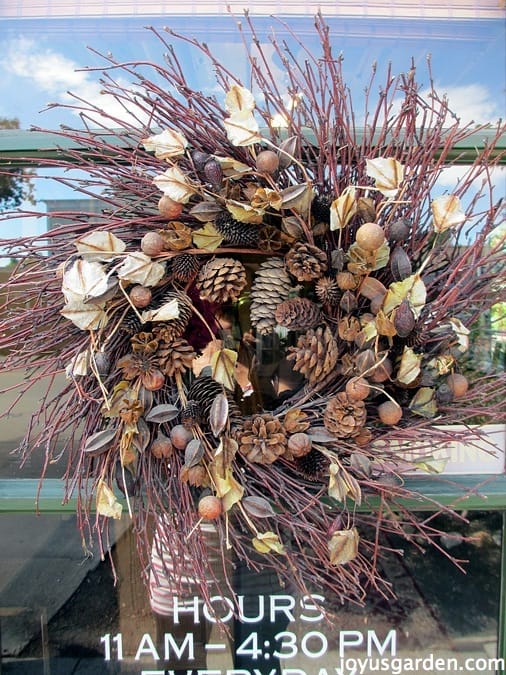 a very natural wreath adorns a tasting room door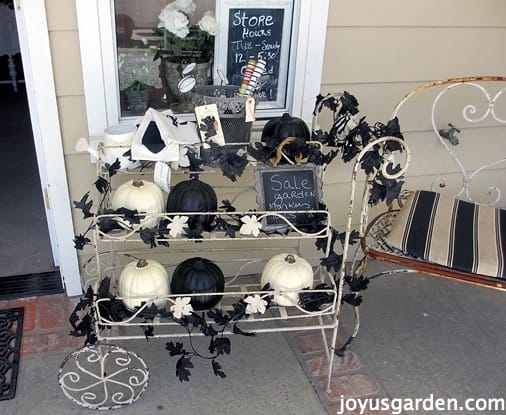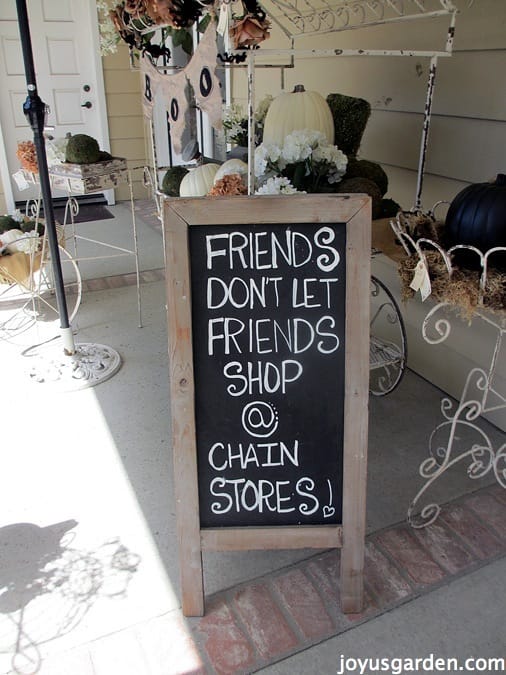 black & white fall display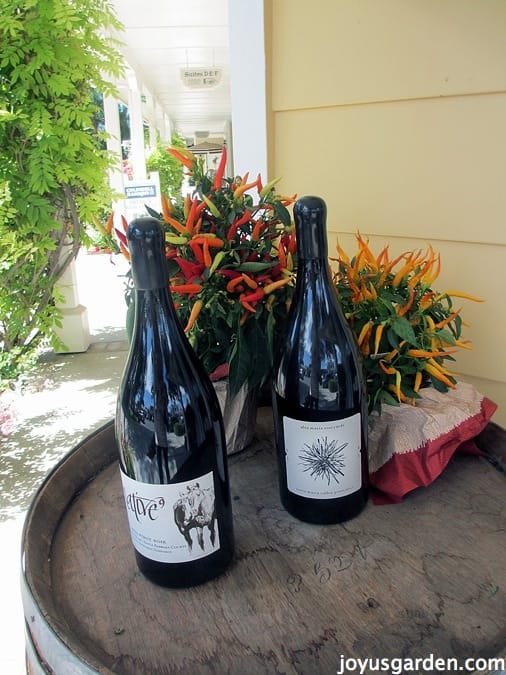 peppers & wine atop a wine barrel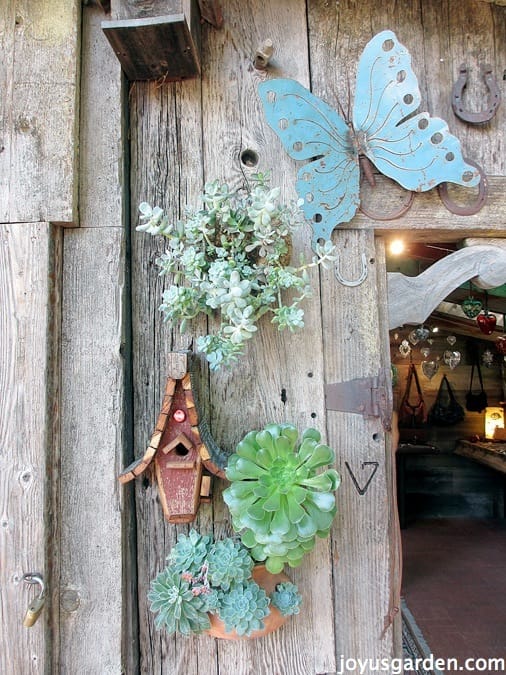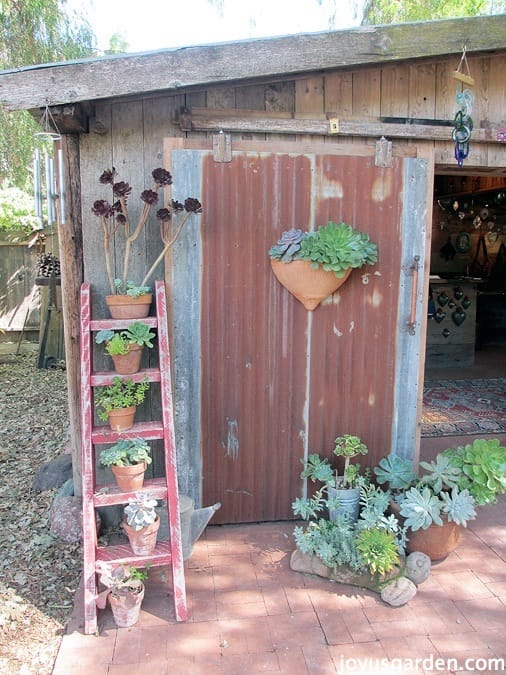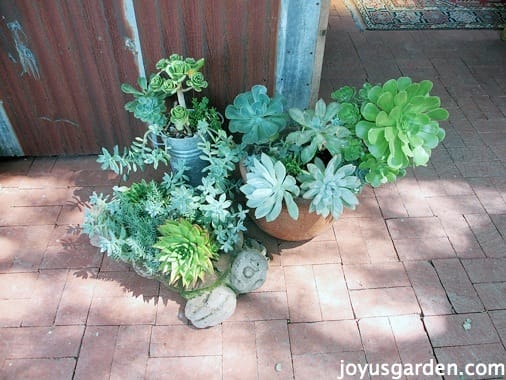 succulents everywhere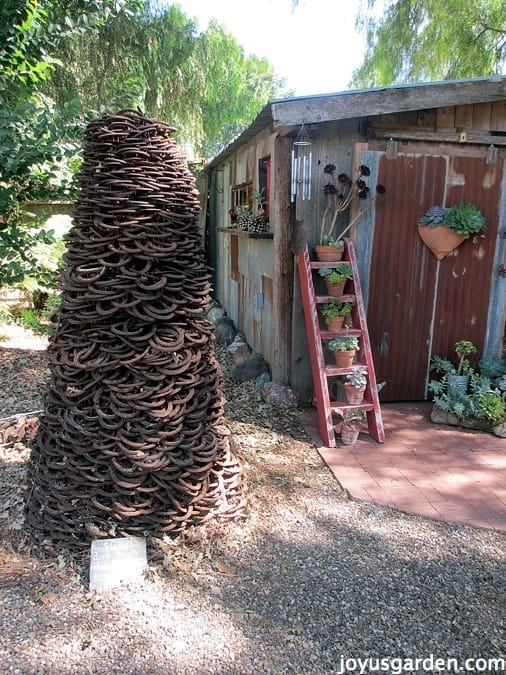 horseshoe tree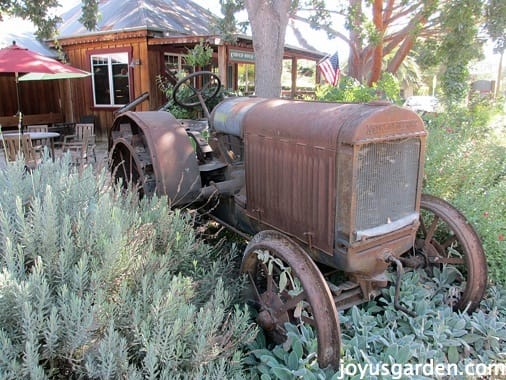 old tractor in a bed of lavender, salvia & lamb's ears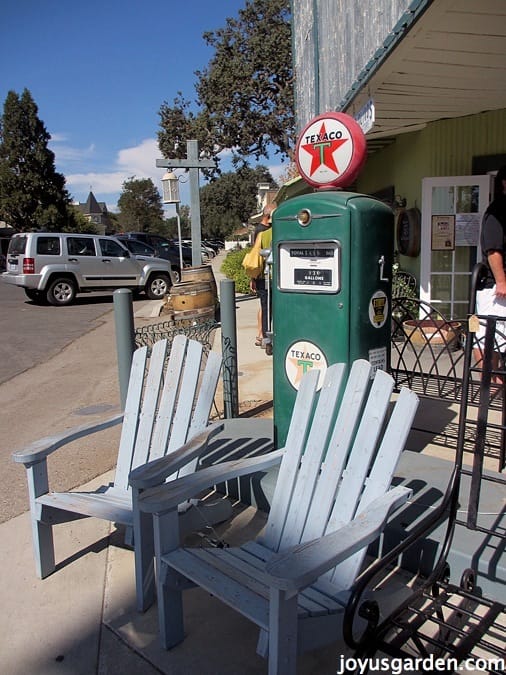 old gas pump becomes a focal point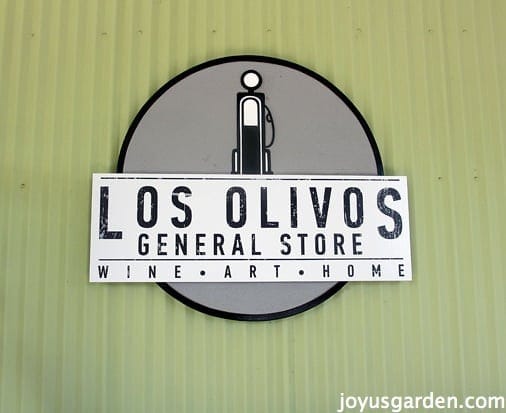 Emily said "what you find in a general store is all relative"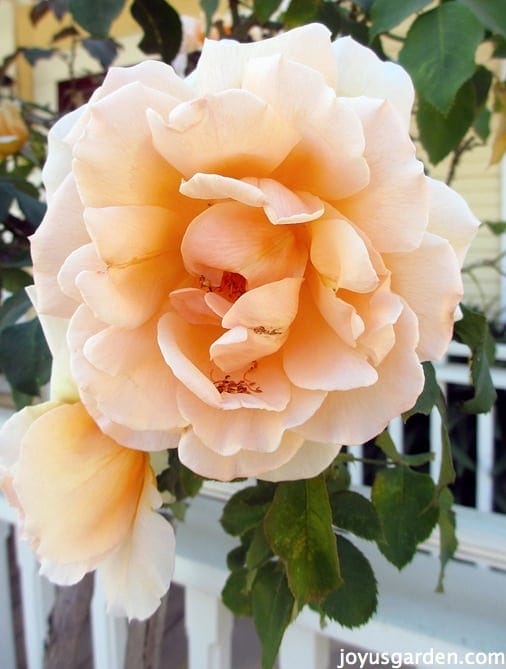 love!
We left Los Olivos after a yummy lunch and headed on our way to the brewing company a couple of towns away.   A sighting of pumpkins for days with a cornfield and mountains in the back drop warranted a second look.  We turned the car around and headed back because this fall offering was too good not to take pictures of!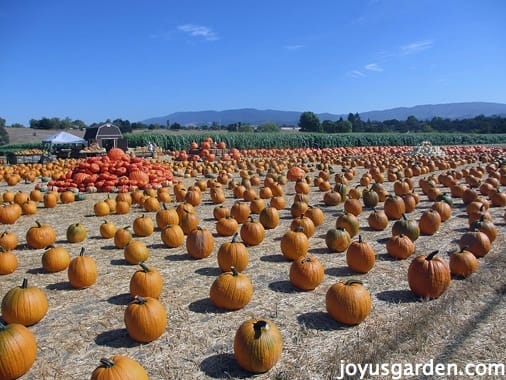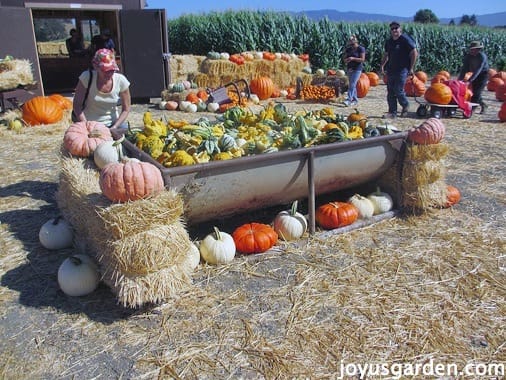 trough full of gourds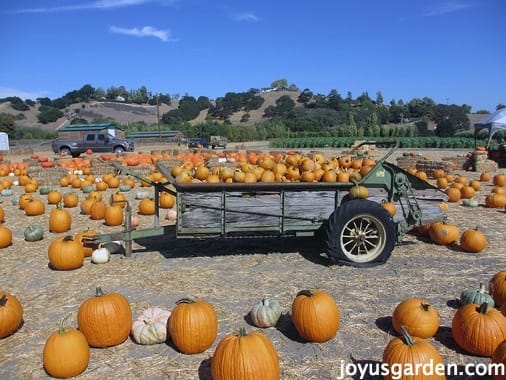 great use for an old hay bailer
I plan on going back very soon to visit the apple farm and J. Woeste, a lauded nursery featuring "home and garden treasures and succulents".   How the heck did a garden hound like myself miss that one?!   From our pumpkin patch to yours … Happy Fall!