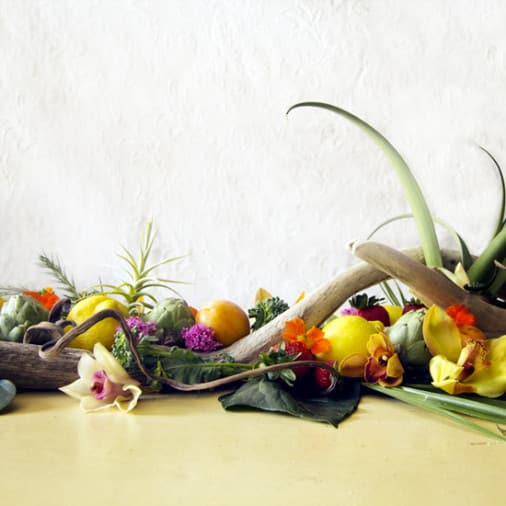 A table arrangement that's nice to look at, and, you can eat!
Simply put, I love to make these (mostly) edible centerpieces. They come together in no time flat and really add a touch of nature to your table like nobody's business. For this one I used fruits, vegetables, driftwood, succulents and flowers. There's a video at the end where you'll see me making this arrangement on the crafting table in my garage.
A sampling of the ingredients used minus the wacky sea sticks, valerian & nasturtiums.
This is a truly local centerpiece because the fruits, vegetables and cymbidium orchids came from our farmers market. I love to walk on our long Santa Barbara beaches which is where I collected the pieces of driftwood and the "wacky sea sticks". The succulents, nasturtiums and valerian came from my garden. My neighbor has a bank of algerian ivy so I have an endless supply of that just a stone's throw away.
I finished the piece & thought it was lacking a bit of pizazz so headed out to my garden to see what I could find. Nasturtiums & valerian caught my eye
The unveiling of the finished piece.

Another view. Your guests will see it from all angles after all.
There are a few other of these types of centerpieces (arrangements or tablescapes if you care to call them that) I'd love to have you check out. I've got the seasons covered: Summer, Fall, Christmas and Spring. A thought just popped into my head – I need to do one of these centerpieces for the Fourth of July this year!

The spider agave is the tallest component in this piece but doesn't block the view across the table.

A good view of those wacky, squiggly sea sticks.


I use these baby artichokes during all the seasons. I didn't eat them all fast enough & a few of them dried up. I'll spray paint or gild for a future project.
Oops, I forgot that I tucked a few pieces of rosemary in here & there too. I have a 7′ x 9′ shrub in my front yard so the rosemary supply won't run out.
I've said this before and I'll say it again … yes, you can have your centerpiece and eat it too. Make one of these and you'll have your guests oohing and awing long after the party's over!
Do you want some air plants of your very own? Check out the selection we offer HERE.
This post may contain affiliate links. You can read our policies here. Your cost for the products will be no higher but Joy Us garden receives a small commission. Thank you for helping us spread the word & make the world a more beautiful place!