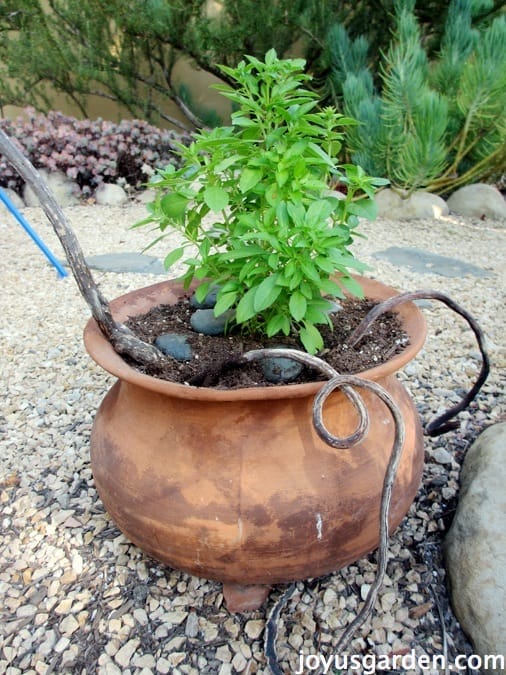 Oh basil; just the smell of it conjures up visions of summer. I love this herb and grew the large leafed Genovese Basil last year (which is great for pesto by the way!) but wanted a smaller one this season. Enter Fino Verde, a dwarf basil that's great in pots.
The smallish, urn/bowl shaped pot that was holding lobelia which pooped out after year two needed some new green finery to grace it. Flowers are great but because of our drought, I thought, why not plant something else I can eat? This compact Fino Verde is not only edible but it looks good in the garden as well. A double winner.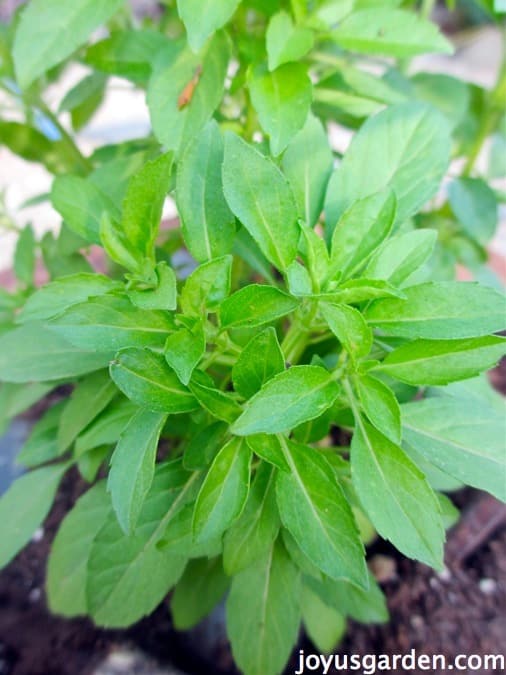 this is how densely this basil grows. lots of leaves for picking!
I have a raised herb bed in the back garden with parsley, chives, sweet marjoram, thyme and Greek oregano. A large pot full of mints (my favorite herb in case you're interested) sits along the side walkway. Because I work from home and eat almost every meal en casa, I decided to keep the pot with the dwarf basil in the front garden. This way, it's handy to nip off for my midday, ginormous salad extravaganzas. These are not side salads by any means!
I picked up this plant at our farmers market a couple of weeks and decided to do a video and blog post about it simply because it's worth a big shout out.
Here's what you need to know about this fragrant, delicious little beauty:
* Like other basils, Fino Verde is an annual. It likes warm weather so wait until the days are longer & the weather is milder before planting. Here in Santa Barbara that is mid to late Spring but you may have to wait until summer arrives if you live in a colder climate.

* A full sun exposure is ideal but because this basil is smaller,it will tolerate partial shade. It just won't grow as large.

* This plant like regular watering. For me, I'll water it once a week when our temps are in the usual mid to high 70's; more often if we get a hot spell. For you, how often you water depends on your summer temps & how much rain you get. Just don't this dwarf basil dry out.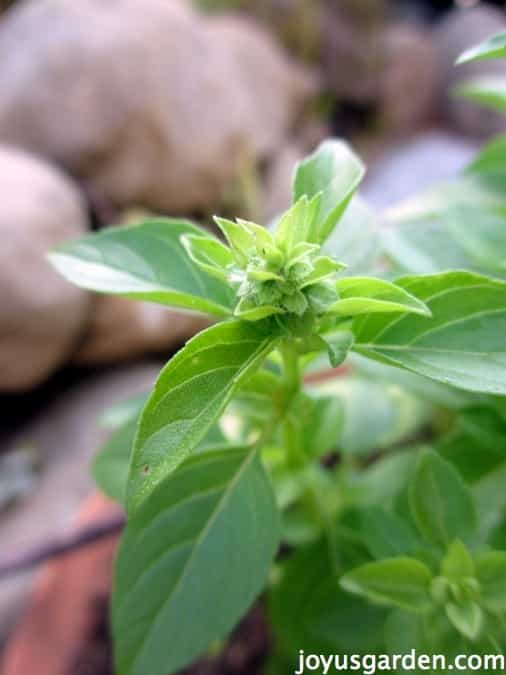 here are the flowers starting to emerge. refer to the next pic for how to cut them off.
* It needs a rich soil with good drainage. I used 60% potting soil, 35% grower's mix (this is loaded with good stuff like coco coir, forest humus, bat guano, kelp meal & lots more) & 5% worm compost: all organic. I top dressed it with some local compost for further nourishment & to help retain some of the moisture.

* Basils can get aphids so if yours does, simply spray them off with the garden hose. Gently please!

* It has a taste similar to the Italian or Sweet Basils but has more of a spicy kick. Another plus is that when you chiffonade or cut it, it won't bruise like those softer leafed basils. I use the leaves whole or just tear them in half. I find it well suited for salads, soups, sauces & bruschetta.

* Because of its small size, Fino Verde works great as a houseplant herb. Best to grow it on a sunny spot in your kitchen.

* Head's up on this: cut the flowers off as soon as they appear. If you don't, your Fino Verde, like all other basils, will bolt & go to seed. See the pic below to see how far down you cut it.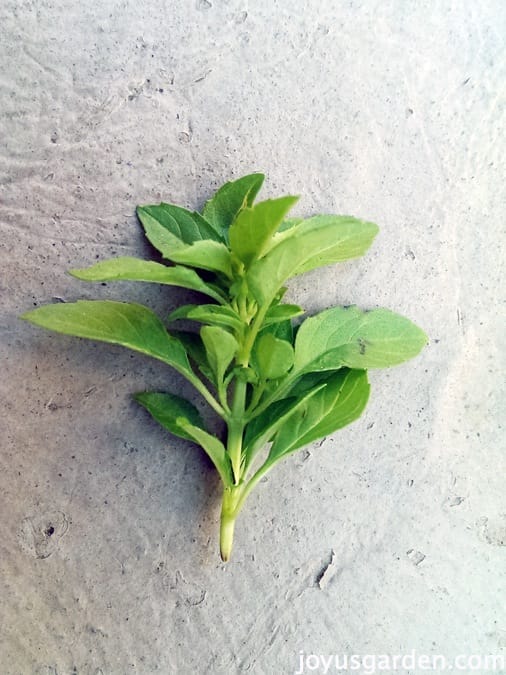 this is how far down you cut after the flowers have started to appear
Fino Verde stays nice and compact and grows in an rounded almost dome-like form. It is so attractive in the garden and this is a basil which is ideal for growing in containers. And, because it stays on the smaller side and is an annual, you don't need a huge pot. As you can see in the pic below, the terra cotta urn/bowl I planted it in is not that big. The pot measures 8″ tall by 11″ across.
This dwarf basil is great if you don't have a lot of room in the garden. I like it because I don't have to buy a huge bunch of basil which I only use half of unless I'm making pesto. All this "basil talk" has made me hungry! What's your favorite basil?
This post may contain affiliate links. You can read our policies here. Your cost for the products will be no higher but Joy Us garden receives a small commission. Thank you for helping us spread the word & make the world a more beautiful place!