I love to dabble with paint.  It is important to me to keep things out of the landfill any and every opportunity I get.  Paint can totally transform something old, plain and blah into a focal piece.  I use paints leftover from exterior and interior house projects – just as is or mixed together to create a new color.  Always on hand in my work shop is a large selection of Metallic Masters which I use on wood, metal, fiberglass, plaster and terra cotta.   Most of my container plants are succulents so I like the pot itself to provide the color.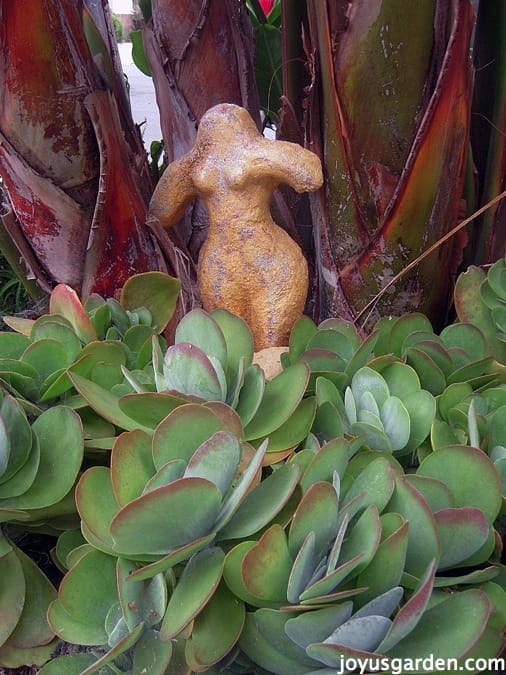 I also accessorize my gardens with pieces of found art.  It gives me something to look at besides my myriad of plants.  It is much easier to change out or move around a pot or statuette rather than a shrub or tree for a different look in the garden.   Easy on the eyes … and the back!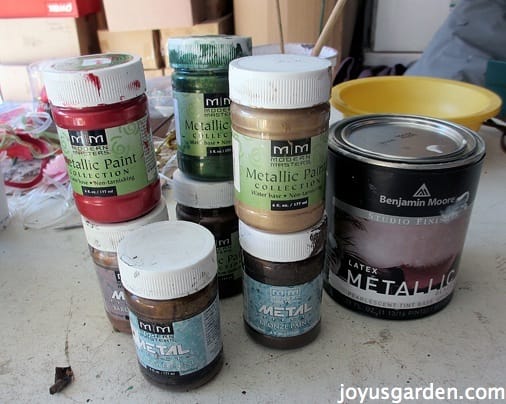 My stash of Metallic Masters & the Benjamin Moore pearlescent metallic glaze I used on my bathroom ceiling.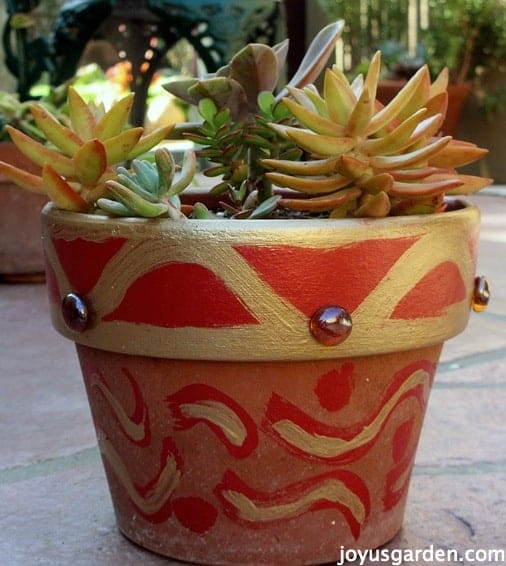 A quick 10 minute brushing with a few glass chips glued on & this plain terra cotta pot has pizzaz.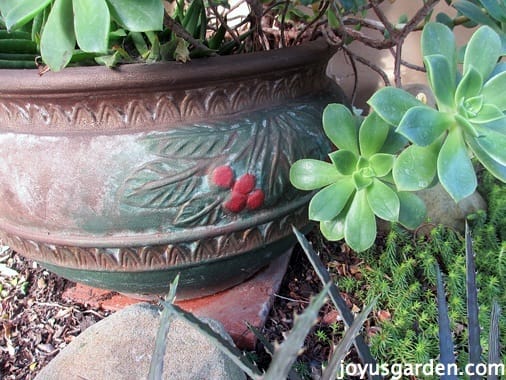 The grey plastic pot my client was giving away is not plain anymore.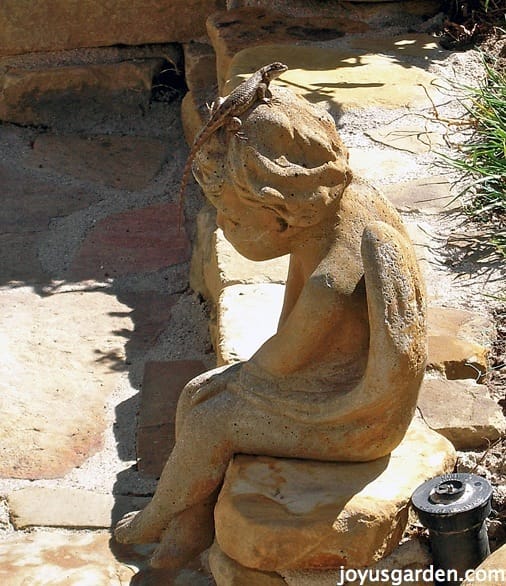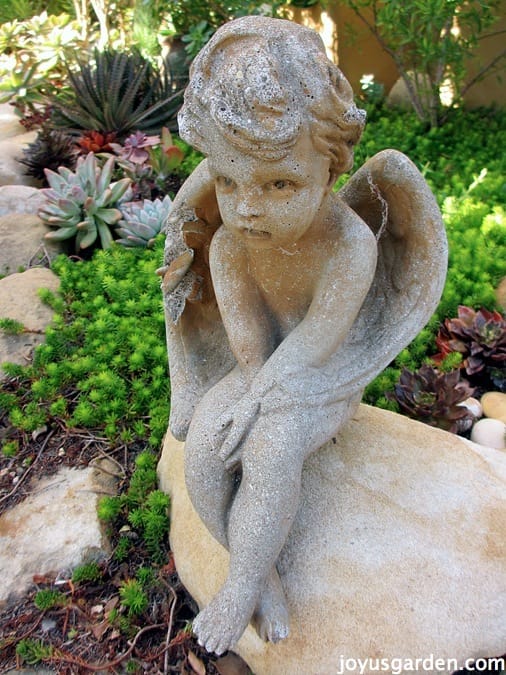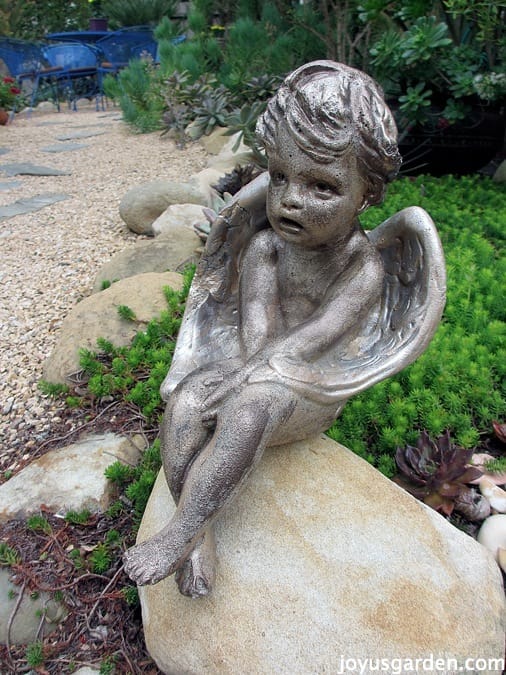 The stain had worn off this concrete cherub so I decided a little sprucing up was in order – now it glows.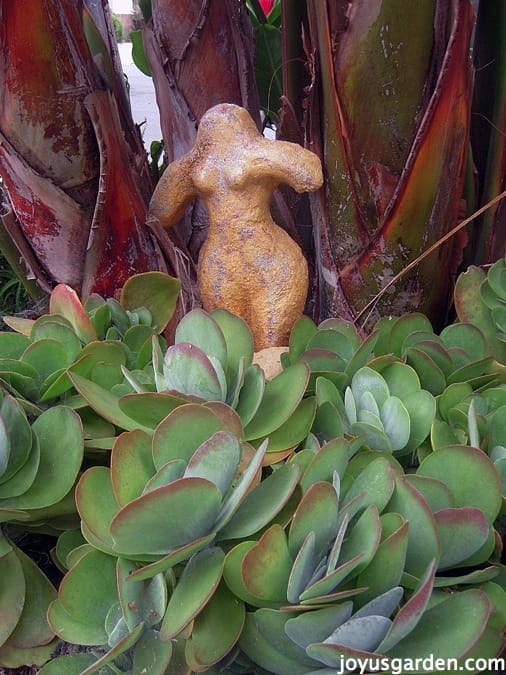 My neighbor had given me this plaster figure which was starting to crumble.  A little paint, glitter & sealant makes her ready to be queen of the Kalanchoes.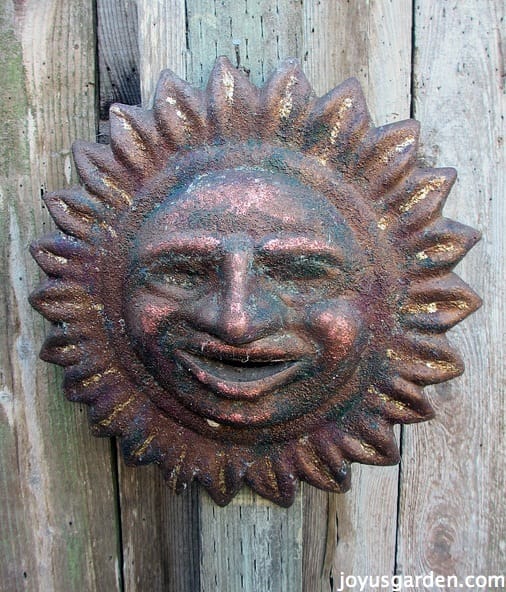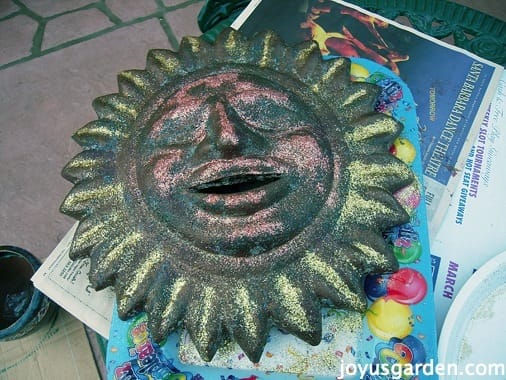 This happy sun was a blah blue & grey.  A bit of paint & glitter & now it's shining  away.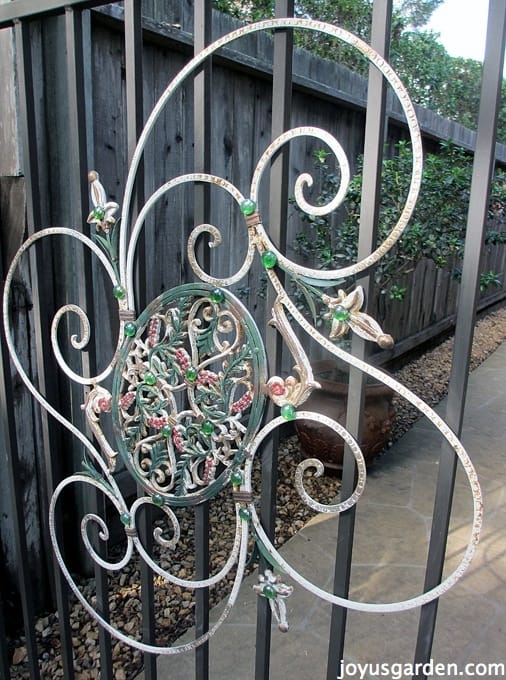 My plain gate is made special with an $11 wall medallion from Ross which I painted & glued glass disks onto.
The hummingbird globe was losing all it's color.  A brush with pearlescent glaze & touch of glitter & its good to go.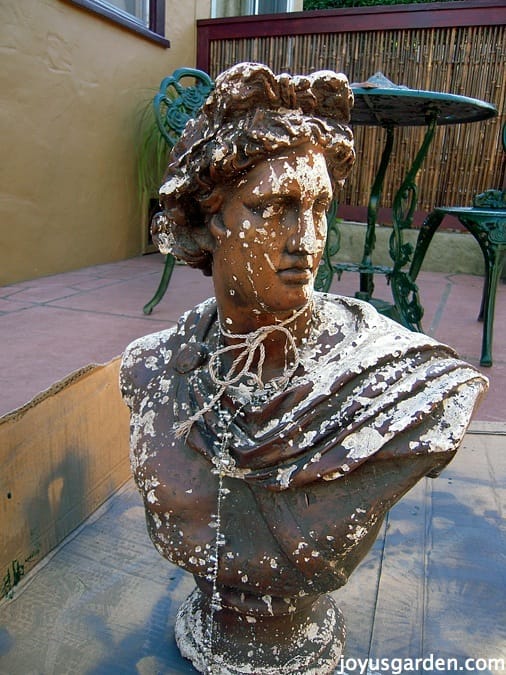 Apollo, who many years ago graced the Podesta Baldocchi showroom on Grant Avenue in San Francisco,  now has a home on my front porch.  I did an entire blog post on his transformation – you can see it HERE.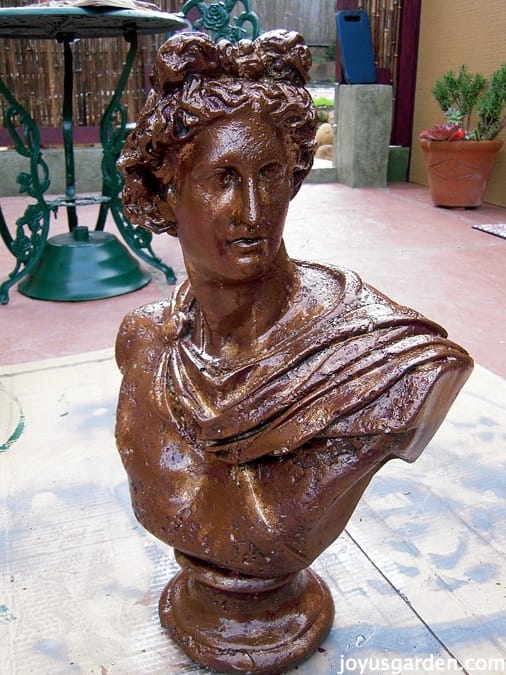 Oh Apollo, god of the sun, you are a ray of light!
My client and I have collected beautiful figures from many different sources for her manger scene in the front yard.   The camels were new in 2011 and this year was time for their embellishment.  I used Metallic Masters in pale gold, hunter green, baroque and bronze and applied them with a dry brush method.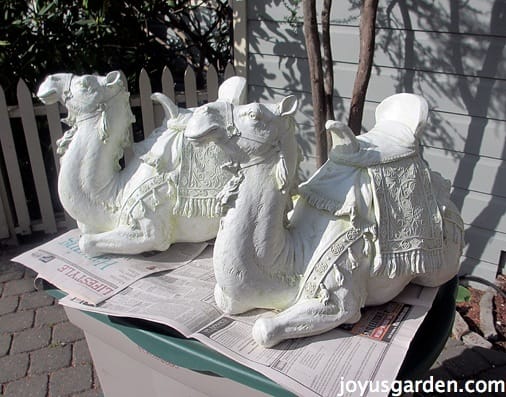 2 of 3 camels waiting for the paint brush to touch down.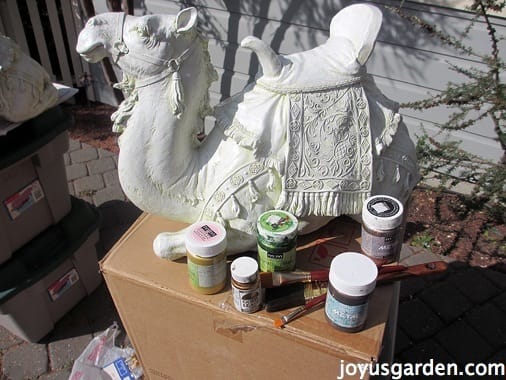 Paints gathered & set to go.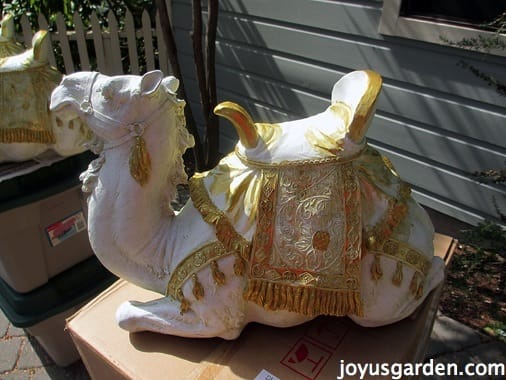 Pale gold was the 1st paint I used.  I wasn't fussy – no painting within the lines.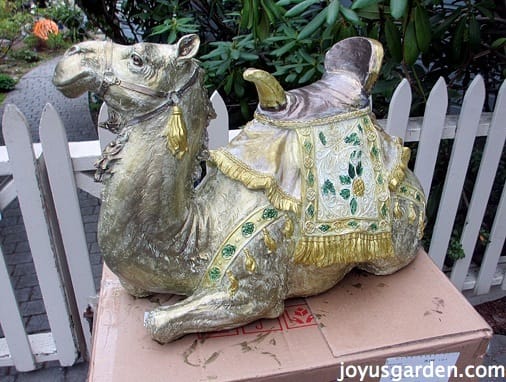 Next came hunter green, then bronze, then baroque.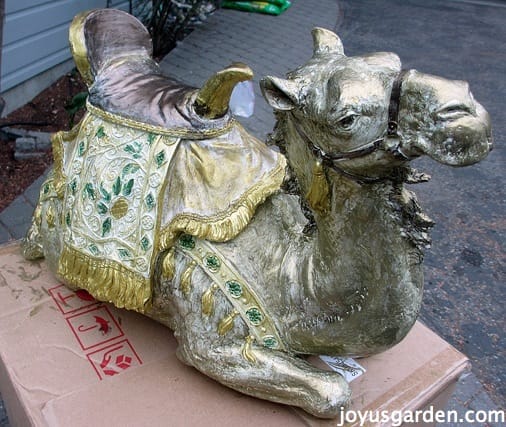 A head shot – all ready to join the Wise Men.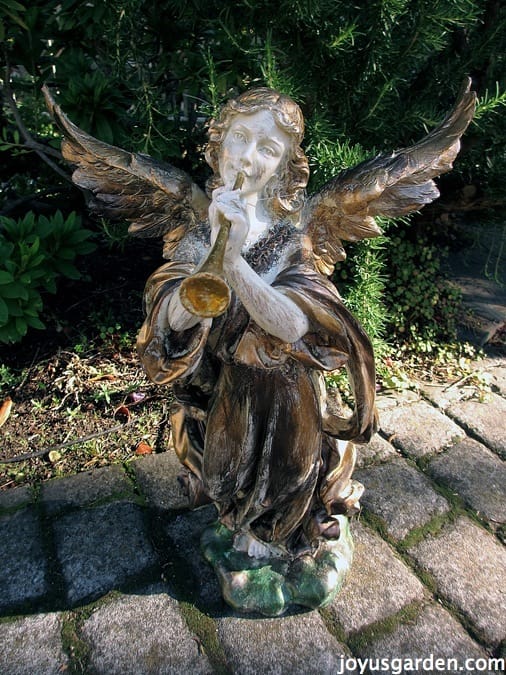 Plain white resin angel all snazzed up & ready to adorn the manger.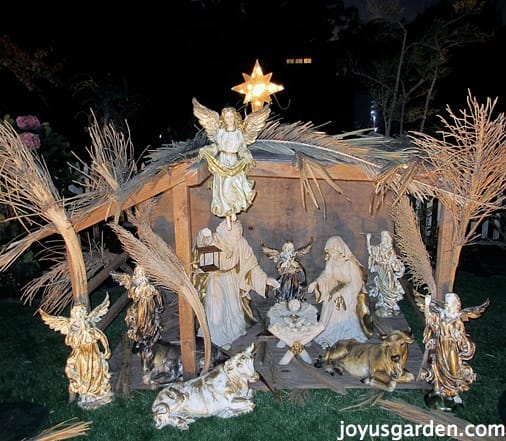 The manger scene which the camels will be part of in just a week or so. So, it's time to gather your paints, brushes and sponges and get your creative groove on.  I am a glitter freak and have quite the assortment in a variety of colors and sizes which I use whenever I get the opportunity.  For the garden or for the holidays … make the ordinary something that stands out!
Let Us Inspire You. Just Sign Up For Our Free Newsletter And You'll Get:
*  Tips you can use in the garden
*   Ideas for crafting and DIY
*   Promotions on our merchandise