These days pumpkins and gourds come in all sorts of shapes, colors, sizes, variegations, and textures. Now that you're not limited to a traditional orange color palette, the decorating possibilities endless. This post is all about decorating a yellow pumpkin. And, because of the unusual color, I decided to pair it with unusual elements also: air plants, statice, and seeded eucalyptus.
I know the elaborate look of the finished product makes this DIY seem hard but you'd be surprised how easy it is to make. It takes only 4 steps and 15 minutes to put together. This piece will last the entire season and be a switcheroo from the traditional fall/Thanksgiving colors.

Ingredients:
– yellow pumpkin. spray, paint or sponge an orange or white pumpkin yellow if you can't find 1 like this.
– dried statice. I bought this at our farmer's market & dried it in my garage. strawflowers or any dried flowers in a color or colors you love would work just fine.
– preserved sheet moss. this comes in a variety of colors if you want to jazz it up a bit.
– a variety of air plants. you can check the ones we sell here on our website – they come straight from the grower.
– seeded eucalyptus. I collected this on 1 of my walks & dried it in my garage.
– skillet. I use a large electric skillet which I've had for years because I do a lot of crafting. This small one might work for you. If you have a glue gun, then that'll work just fine too.
Decorating a Yellow Pumpkin
Step 1
Glue the sheet moss to the top of the pumpkin.
I bunched the sheet moss a bit while gluing so that it would look a bit more natural. Sheet moss is very flat & it's nice to give it some volume. By gluing it this way, the moss looks like it's growing on top of the pumpkin.
The sheet moss is the base all the ingredients will attach to. Make sure you enough glue to keep it in place!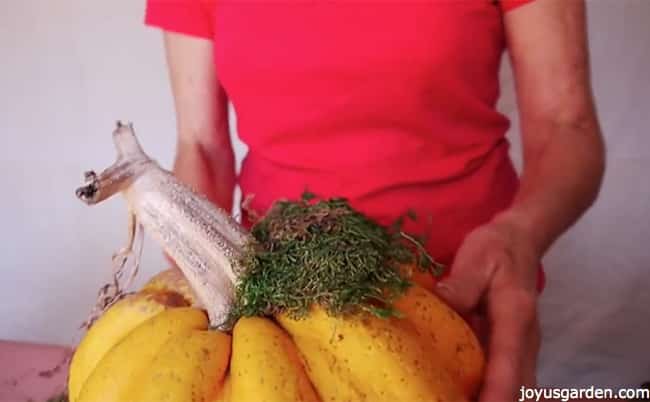 Step 2
Glue the seeded eucalyptus to the moss.
I glued it all around to add that ethereal look but left some room for the next ingredients to be added in.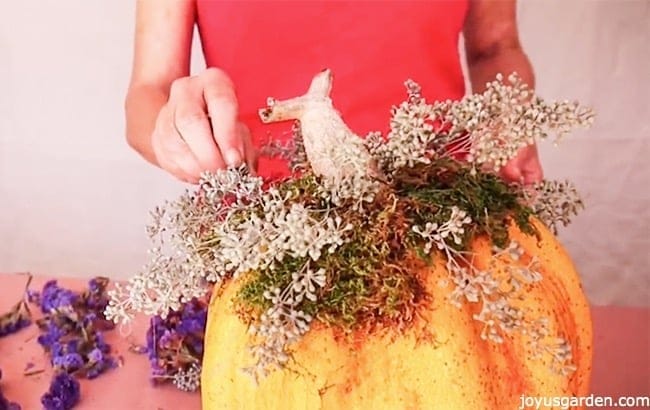 Step 3
Glue the dried statice to the moss.
I made small bunches with some of the statice flowers & also used some individual flowers here & there. I dried the statice in my garage but fresh would work the same way. Statice eventually dries on its own yet retains color.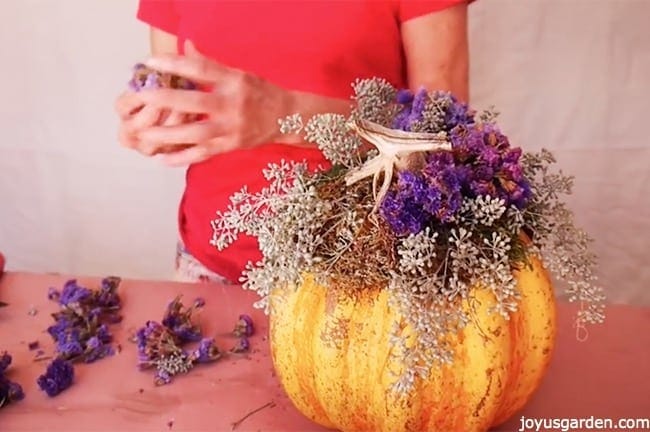 Step 4
Time to glue in the air plants aka tillandsias!
When doing this make sure you cool the glue a little bit so that you don't burn the plants.
I also recommend to go easy with the glue – just a dab'll do you. That way you'll be able to easily remove the air plants & reuse them later.
That's it – all done and ready to brighten up your home in under 15 minutes.
To maintain this piece, make sure to spray it once or twice a week. You want the air plants get the water they need. It would be better not to wet the other ingredients if you can help it.
If this look is a bit too bright for you and earthy tones are more your thing, then check out this "Simple, Non-Traditional Pumpkin DIY In Natural Tones".
Happy fall decorating!

You May Also Enjoy:
Autumn Decorating Ideas For A Festive Fall Season
The Best Plants That Will Make Your Home Festive For Fall
5 Porches That'll Welcome Fall To Your Home
Fall Readymade Natural Wreaths 
Thanksgiving Centerpiece Ideas With Natural Elements 
This post may contain affiliate links. You can read our policies here. Your cost for the products will be no higher but Joy Us garden receives a small commission. Thank you for helping us spread the word & make the world a more beautiful place!