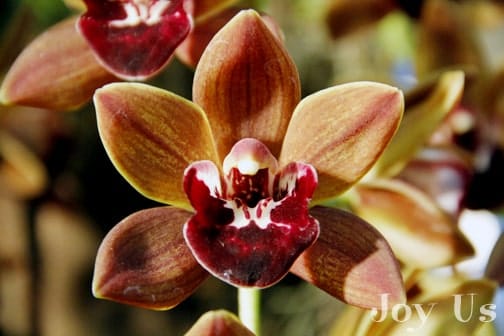 Here at Joy Us garden, we have been busy working on our new website and switching our URL over, subsequently missing over 2 weeks of blogging. Garden Gluttony is coming back with 3 or 4 posts on the Santa Barbara International Orchid Show which took place this last weekend. Over 900 photos were taken so I decided to break it down as to avoid "picture overload." Today … it's a Cymbidium fest! And be sure to scroll down a bit for a few tips on their care.
The Santa Barbara region, part of the California Orchid Trail, produces more orchids than any other in our country. These easy-care Cymbidiums are even found at our farmer's markets both as plants and cut flowers. I live very close to the ocean and mine sit in the partial sun all day long and seem to enjoy their bright outdoor location. If they are in too much shade … no blooms. Too much sun … burn. The same applies if you have yours indoors and because our houses are kept warmer in winter, the blooms will be shorter lived.
The ideal temps for these orchids would be summer days around 70 degrees with no prolonged periods below 32 degrees in the winter. They like even watering with the soil not getting too wet or too dry. Be sure to let the water run through the plant and thoroughly drain out otherwise they'll get salt damaged and the tips will brown. I never feed mine (but then again I live in an ideal area for growing these orchids outdoors) and they bloom like crazy but a balanced fertilizer, something like 13-13-13, throughout the year would be the easiest way to do it if you desire.
Many are now grown in tall, skinny pots as they like to be tight and a bit pot bound. If the pot is a lot bigger than their root system … far less blooms. Repot them every 3 years or so with a Cymbidium planting mix (quite convenient for the hobby orchidist) and only go up a size or 2 on the pot.
Cym Satin Dragon "Joanne"
Cym Cali Nights
Be sure to visit Garden Gluttony soon for another post from the Santa Barbara International Orchid Show … Phalaenopsis perhaps? So many photos it's hard to decide right now!