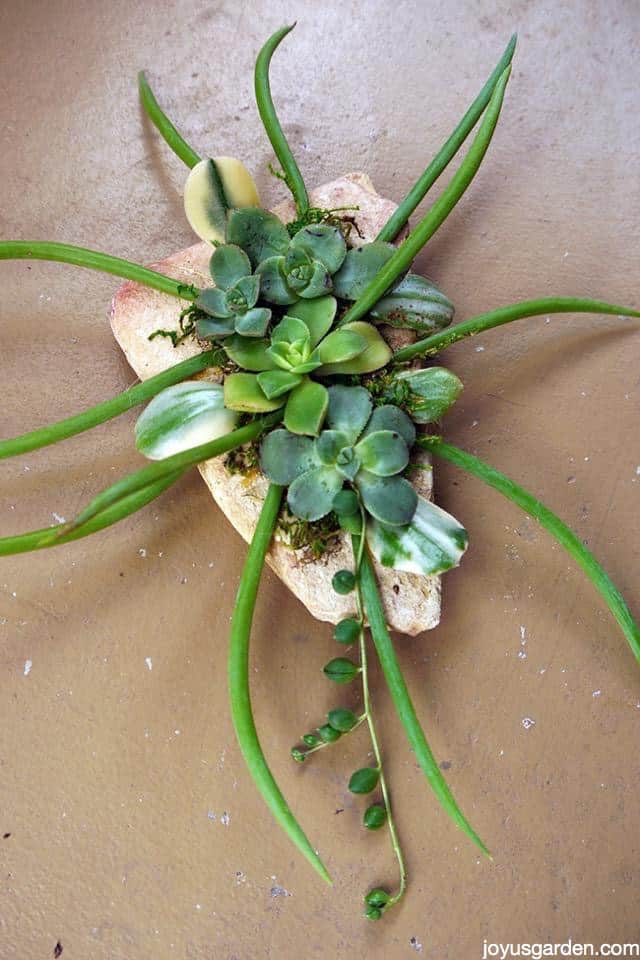 I was inspired to try this project after making a succulent wreath and many of the leaves fell off in the process. That's just how it goes with succulents. As usual I had odds and ends of smaller cuttings lying around in a box top in my utility room and thought this would be a good way to put them to use along with all those leaves. Plus, I'm old school from New England so to say I'm frugal is an understatement! This succulent craft is easy to make and very easy on the wallet.
I call these succulent mosaics mainly because I can't think of anything else to call them!
Rocks have always fascinated me because I grew up in a small town with abandoned granite mines and we would find lots of garnets in the dirt roads. I collected the rocks used for this project on the beach in Santa Barbara because I liked their shapes and colors. The sand had worn them nicely so their surfaces were flat which made them ideal for this craft.
The Ingredients I Used:
Succulent leaves – variegated jade, miniature jade, narrowleaf chalksticks, lavender scallops kalanchoe. Succulents cuttings – aeoniums, string of pearls, coppertone sedum. Preserved sheet moss. Hot glue. 2 Rocks.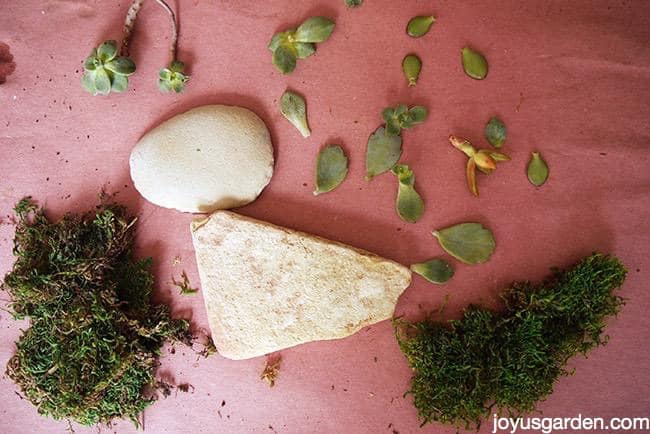 Some of the ingredients laid out & ready to go.
The Steps I Took:
I brushed off the sand from the rocks & washed them.
After they were dry, I glued the moss onto the rocks. The moss gives the succulents a base to adhere to. Plus, I've found it helps them to last longer because it gives them a substance to "grow" into.
I like to have some of the beautiful rocks showing through so I don't completely cover them with the moss.
I laid out the leaves & cuttings in a manner which was pleasing to me.
I glued them on the moss starting at the center & worked my way out & around.
I held the completed living masterpiece at arm's length & marveled at how speedy it was to make!
Here's the smaller mosaic. It takes only a few bits & bobs to make it look good.

How To Keep Them Alive:
The care is really simple – just give them a spray every 5 to 14 days depending on how hot & dry your environment is. You don't want the foliage to stay too damp for too long. Keep them in bright light but out of direct sun. They'll stay looking good for at least a month, and if all is in their favor, much longer.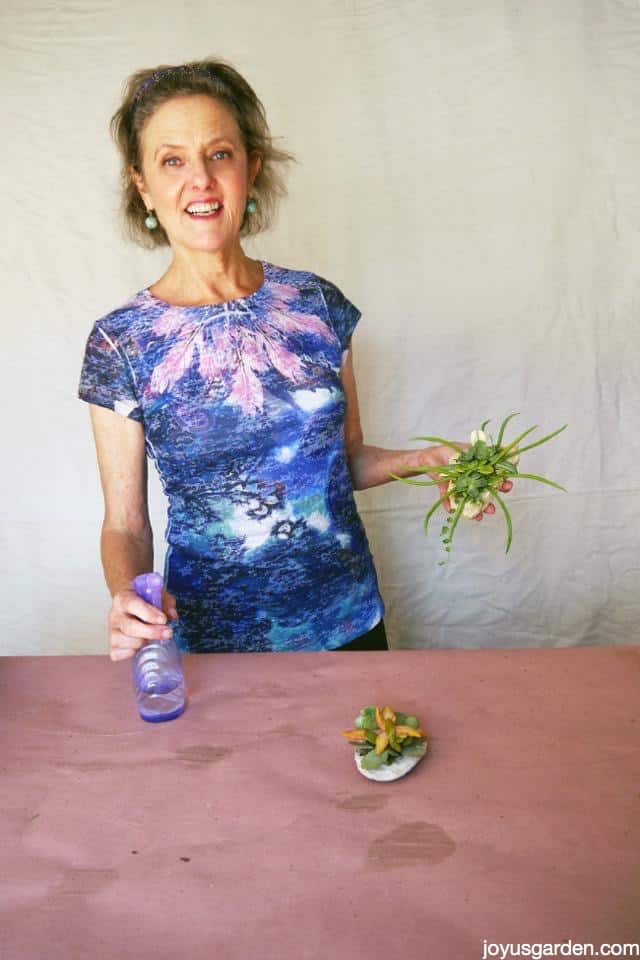 Spray bottle in hand ready to spritz the mosaics.
The Bottom Line Cost:
The succulent leaves & cuttings were by products of plants in my garden & ones I used for the wreath. The rocks were free. I probably used about 25 cents worth of moss so that would be the grand total. Sweet!
This would be a really fun project to do with kids. I can only imagine how their mosaics would turn out. If you wanted to make special dinner, party or wedding favors then consider giving these a go. It's a succulent gift idea that's bound to get rave reviews!
Happy creating,

YOU MAY ALSO ENJOY:
10 Ideas For What To Do With Broken Plant Pots
Updating A Decorative Plant Pot With Painting
One Easy Way To Jazz Up A Plain Plastic Flower Pot
A Summer Centerpiece, Beachy Style
This post may contain Amazon affiliate links. You can read our policies here. Your cost for the products will be no higher but Joy Us garden receives a small commission. Thank you for helping us spread the word & make the world a more beautiful place!