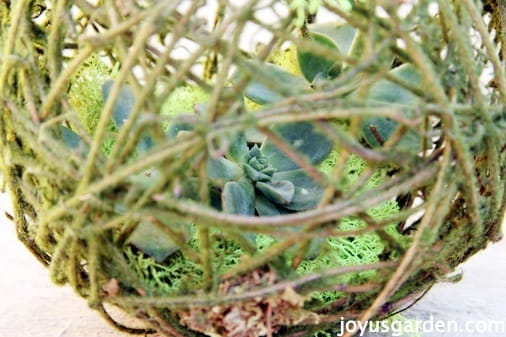 Kissing balls are like year-round mistletoe. If you see one, pucker up! This ages old tradition has been reincarnated in many different ways with different decor and different embellishments. They're not just for Christmas anymore. I have a garden full of succulents to use for my plant crafting projects but you may not. Today I'm showing you another way to do a succulent kissing ball using just a few succulent cuttings.
I'm sure you've seen topiary balls completely covered in succulents. They can all be the same type or a mixture of different ones in different colors and textures. When I saw this vine ball covered in moss at one of the orchid grower's greenhouses, it literally jumped in my shopping basket. Here's a similar one, but without the moss covering.
A project was in order. I liked the ball as is so much that I didn't want to completely cover it. I wanted a good portion of it to show.
I snipped away some of the vine so more of what was inside the ball would be visible. I carefully folded the leaves of 3 Aeoniums inward and eased them through the largest opening in the vine structure on top of a bed of preserved reindeer moss. They had gone all cattywampus so I uprighted and put them in place with a long,pointed floral stake. You could use a chopstick or knitting needle for this.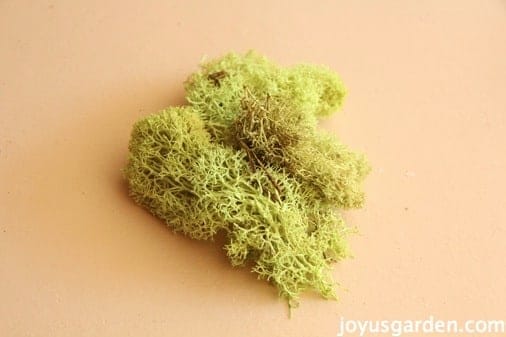 Here's a close up of the preserved reindeer moss. I used the spring green color but in comes in an array of others if that one doesn't catch your fancy. A word of warning: this moss is great to work with but it has an odor when you first open the package. It does go away however once it's been exposed to the outside world.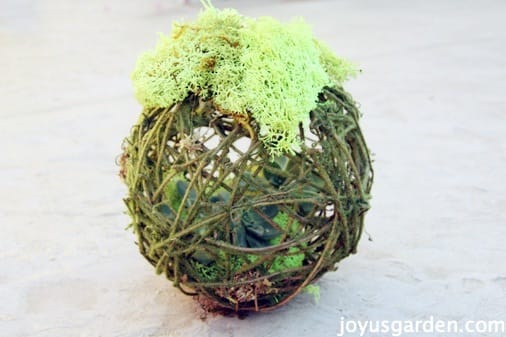 I attached the hanger to the top of the ball. For this I used a foot of ball chain which I bought at our local hardware store. I took clumps of the reindeer moss and hot glued them all the way around the ball.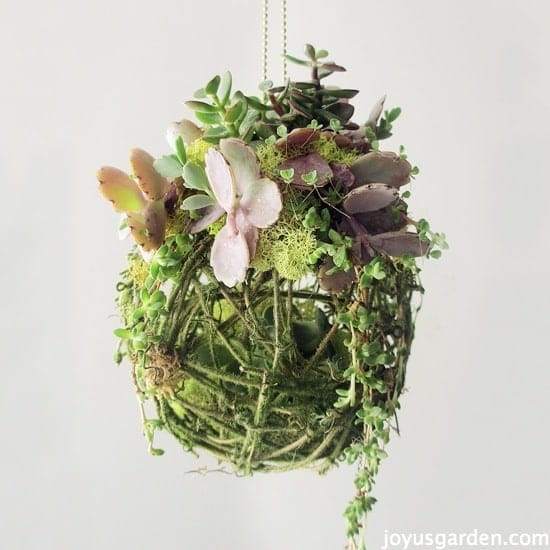 I snipped little pieces of miniature jade plant and lavender scallop kalanchoe to glue in around the very top. This succulent kissing ball was made over a month ago. If you look close, you can see that little baby plants are appearing at the top of the lavender scallop leaves. Delosperma, a hardy little ice plant, is what you see trailing down over the sides.
This ball now graces my front porch. Whether you hang it or use it sitting on a table, it will add a touch of nature to your home!
Watch how I made it:
More Succulent Projects:
A Succulent & Flower Arrangement in a Bird Bath
Tip: If you don't have a garden full of succulents like me then you can buy the cuttings on Etsy, eBay or Amazon. You wouldn't need that many for a project like this.
This post may contain affiliate links. You can read our policies here. Your cost for the products will be no higher but Joy Us garden receives a small commission. Thank you for helping us spread the word & make the world a more beautiful place!
I'm a life-long gardener who still to this day gets giddy at the thought of a trip to one of the local nurseries. Yes, I actually studied landscape and environmental horticulture and the practical experience I have garnered through the years has served me well. Childhood memories of chicken manure "tea" still float through my olfactory senses to this day. I have always been an organic gardener and always will be. From the Earth … To the Earth. I was born and raised in rural, bucolic Litchfield County, Connecticut and now joyfully live a few blocks from the ocean in beautiful Santa Barbara, California.