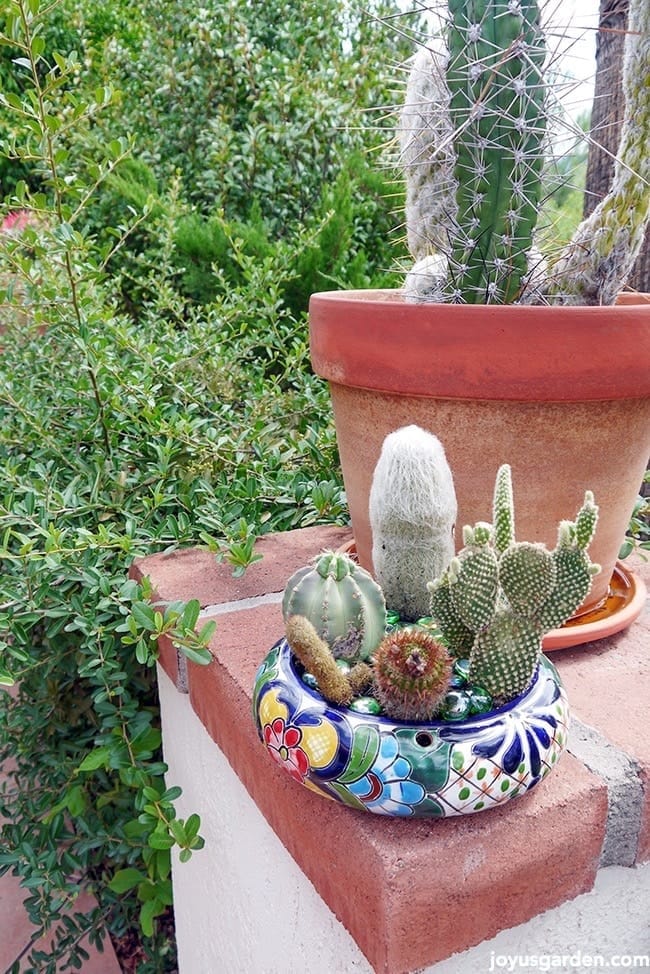 My cactus dish garden graced the bistro table on the patio off my shed (aka "the office") in Santa Barbara and was doing beautifully. I moved to the Arizona desert a couple of months ago and brought quite a few plants and cuttings with me.  The planting in the Talavera bowl found a spot on the table off of my kitchen and looked great for a few weeks.  By the end of June, signs of burn started to show and I knew it was time to spring into action with my secret weapon for planting cactus.
A new environment meant time for a couple of cactus garden makeovers.
I love cactus and and now that I live in the desert I'll be using more and more of them.  They're definitely not a soft and fuzzy look but I find them fascinating.  A big plus: less watering and less maintenance with no pruning required had me at hello!
This is how the bowl looked before it's makeover. 
The Purple Living Stone aka Lithops in the bowl had completely turned pale green and was starting to burn. I wanted to save it and knew I had to move it to a shady spot in my new garden.  I had a few small cacti growing in my pumice stone planter so I pulled a switcheroo – out of 1 planter and into the other.
Here's how I did it:
The Ruby Ball Cactus was also burning so out it came. I had planted the Bunny Ear Cactus in my succulent bowl  (which also needs a makeover soon – stay tuned for that!) just before moving so it found a new home with its other cactus buddies in the Talavera bowl.
Here's another great thing about these smaller cacti: they transplant beautifully.
The area for planting is very small in this pumice stone planter so I just added in a succulent cutting. The amber glass chips add a nice touch & the planting is now happily living in the bright shade next to my Aloe vera.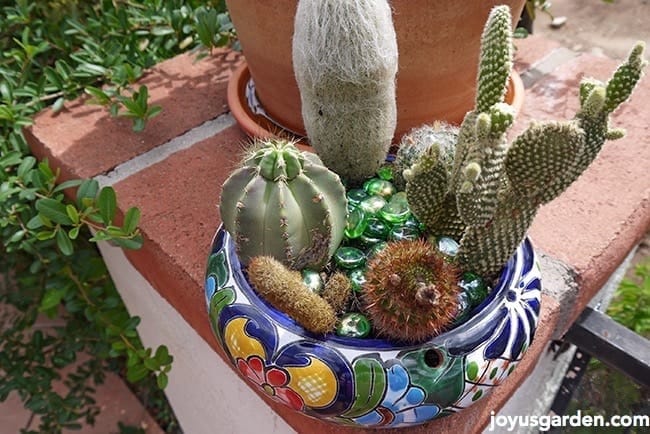 I used green chips to add the final bada bing to this cactus dish garden. They sparkle like jewels in the sun!
I used succulent and cactus mix and then top dressed both of the plantings with worm castings and then the chips. This is an easy project but it does require a lot of caution and a bit of finesse when working with these spiny little beauties. I'll be working with a lot more cacti now that I live in the desert so I best get used to working with them. Time to invest in a pair of welding gloves!
Happy gardening,

My Echinocereus had 2 blooms on it this past June. They don't last very long at all but they sure are beautiful!
YOU MAY ALSO ENJOY:
How Much Sun Do Succulents Need?
How Often Should You Water Succulents? 
Succulent and Cactus Soil Mix for Pots
How to Transplant Succulents into Pots
Aloe Vera 101: A Round Up of Aloe Vera Plant Care Guides
This post may contain Amazon affiliate links. You can read our policies here. Your cost for the products will be no higher but Joy Us garden receives a small commission. Thank you for helping us spread the word & make the world a more beautiful place!