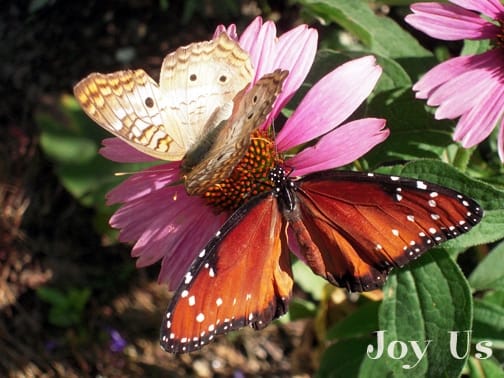 "If nothing ever changed, they'd be no butterflies"
– author unknown
Want to walk intimately amongst 1,000 live, fluttering, feasting butterflies? Then come to The Santa Barbara Museum Of Natural History where this interactive butterfly exhibit takes place every 2 years. A large, netted pavillion (a permanent structure) houses the flowers, plants, water features, butterfly houses and plates of fresh fruits the butterflies need to thrive and survive. The 10's of 1,000's of adoring fans who walk shoulder to wing in with these beautiful creatures – well we're just frosting on the cake!
Have you ever seen a butterfly house? Check out the photo below.
There's no place like home
Two White Peacocks having a great time at the Rudbekia
White Peacock and Queen sharing Echinacea
God save the Queen
Swallowtail enjoying Agapanthus
Shy Monarch

Painted Lady with nothing to hide
Butterfly Gluttony
Pond's favorite Water Lily
Best friends in the garden
This exhibit runs through September 11 at the Santa Barbara Museum of Natural History
– "What's a butterfly garden with no butterflies?"– Roy Rogers
Our gardens here at Joy Us are full of flowers that butterflies love. The backyard is full of Monarch catepillars getting bigger every day – here's a close-up of one munching on the Asclepias.
This post may contain affiliate links. You can read our policies here. Your cost for the products will be no higher but Joy Us garden receives a small commission. Thank you for helping us spread the word & make the world a more beautiful place!