This Plant Must Be Powered By the Energizer Bunny! I bet this is the toughest Begonia on the market along with being one of the most popular. It is a shrublike Begonia which flowers non-stop here and definitely benefits from a cut-back to give it a little rest. Its pinky-red flowers are a kick for the eyeballs as every plant I've seen is in full bloom. the one pictured in a large terra cotta pot sits outside of Santa Barbara's City Hall. This picture was taken on May 27, 2011.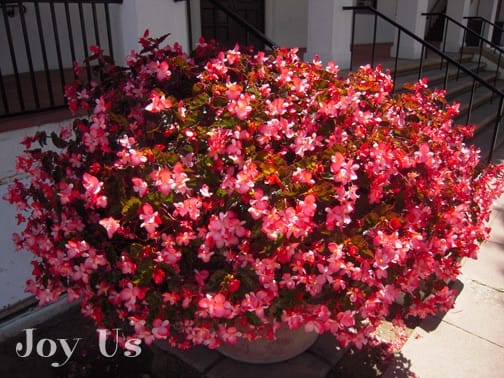 This is the very same plant on February 1, 2011.
I wish I had taken its picture in January when it was cut way back … which was 6-8″ out of the pot. As you can see, this plant loves a good haircut … think buzz cut! The foliage can "funk" out a bit in the cool weather and rains so don't be timid when it comes to shearing this floriferous Begonia. And, it will be flowering in no time flat.
This is also a tale of pruning … it will turn back into a mounded blob of flowers practically no matter what you do!
Let Us Inspire You. Just Sign Up For Our Free Newsletter And You'll Get:
*  Tips you can use in the garden
*   Ideas for crafting and DIY
*   Promotions on our merchandise