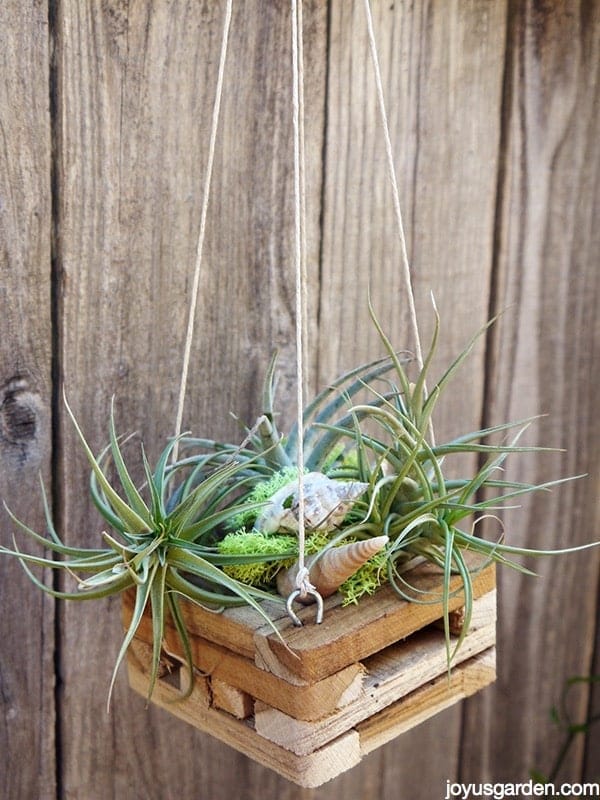 I have air plants in pots on my front porch (sans soil of course), on a shelf in my house and hanging in my loquat tree. I did a post on ways to hang air plants last year and am always looking for a new way to display them. I went to the always beautiful Santa Barbara International Orchid Show in March and saw something in the marketplace I just had to buy for showing off my tillys.
The little wood basket is meant for displaying orchids but I bought it with another purpose in mind. So here you have it, another easy way to hang air plants with minimal effort involved. How you position the air plants and what adornment you add in, if any, is up to you.
You'll see me making the piece in the video below – you'll be hanging your living beauties in now time flat:
Believe me, this is 1 quick and easy technique The ingredients you'll need are:
1) 4″ square wood orchid basket
2) 3 small air plants
3) jute twine
4) colored reindeer moss, available in many colors but I used chartreuse
5) 4 shells
If you wanted a wilder look you could paint the basket teal and use hot pink moss. Add in some jewels for sparkle and you have a whole different look. I choose the more natural route with this one. The possibilities are many!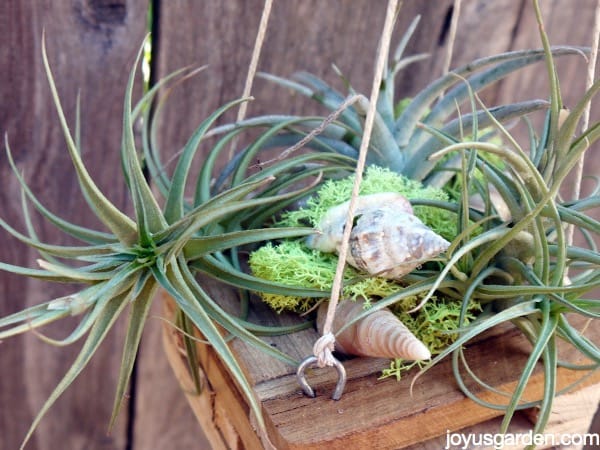 Air plants make great houseplants. If you want keep this piece alive and looking good, them simply spray the air plants once a week, maybe twice if the air is really dry where you are. They like bright light but be sure to keep them out of direct sun otherwise they'll burn in no time.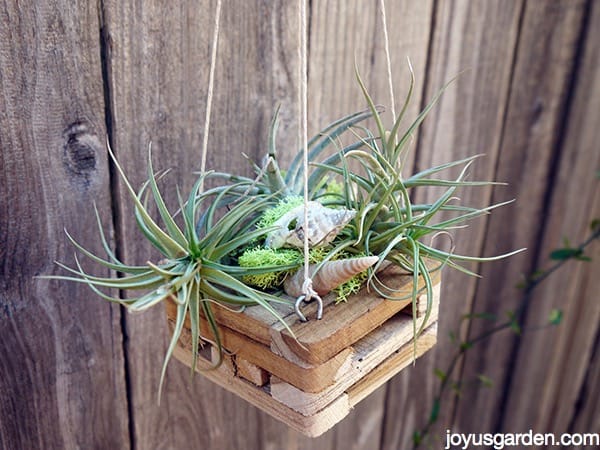 Along with gardening, I spend quite a bit of time crafting. Some of my projects are long and drawn out so I can really get down with something quick and easy. 15 minutes from start to finish with no hot glue or wire needed – way to go!
Check out our book, Keep Your Houseplants Alive, for more info on air plants.
This post may contain affiliate links. You can read our policies here. Your cost for the products will be no higher but Joy Us garden receives a small commission. Thank you for helping us spread the word & make the world a more beautiful place!
About the Author
Latest Posts
Nell, the founder of Joy Us garden, was born into a gardening family and grew up in Connecticut's countryside. After living in Boston, New York, San Francisco, & Santa Barbara, she now calls the Arizona desert home. She studied horticulture & garden design, working in the field all her life. Nell is a gardener, designer, blogger, Youtube creator, & author. She's been gardening for a very long time & wants to share what she's learned with you.