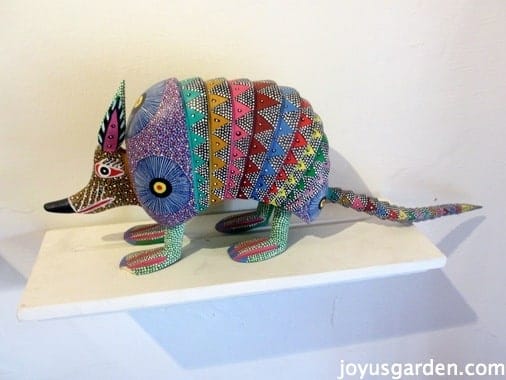 I had ridden my zippy purple beach cruiser by Casa Dolores here in Santa Barbara quite a few times but never stopped in. There's a wall that surrounds the property and the gate was sometimes open but honestly I was never sure what the place was.
Then, during our August First Thursday celebration, Casa Dolores was one of the galleries on the venue. What a hidden gem! If you have any interest in Mexican art, this is the place for you. I love it because it's small enough to enjoy in an hour or so and everything is so colorful – the place makes your eyes dance.
Not only is the house full of bits and pieces that make you want to explore every room but, bingo, there's a garden too. Our video, Inspiration For A Mexican Style Garden, was shot here a week after my first visit. Obviously, it has not been my last.
There's the LadyBug Bag resting in the hot summer sun under the Apple Cactus.
Here's a little bit of history for you. The house was built in 1843 and it is the only two-story adobe in Santa Barbara. Casa Dolores was designated a historical landmark in 1971.
It is now owned by Linda Cathcart who purchased it to house her own personal collection of Mexican art.
Thanks, Linda – I love all the media in paper, clay, wood, leather, glass, textile, ceramic and tin which span centuries. And, the collection revolves so something new appears on a regular basis. To add to its festive nature, workshops are offered, events take place and the property can be rented out. And, admission is free. yes, I said free!
Let's start with garden. You'll see plants, pottery, a fountain and garden art just like you would find surrounding a typical Mexican home.
The Front Courtyard
Lucy at the entrance ready to go
Cereus peruvianus in bloom
The Back Garden
The LadyBug ToolPouch is ready to jump into action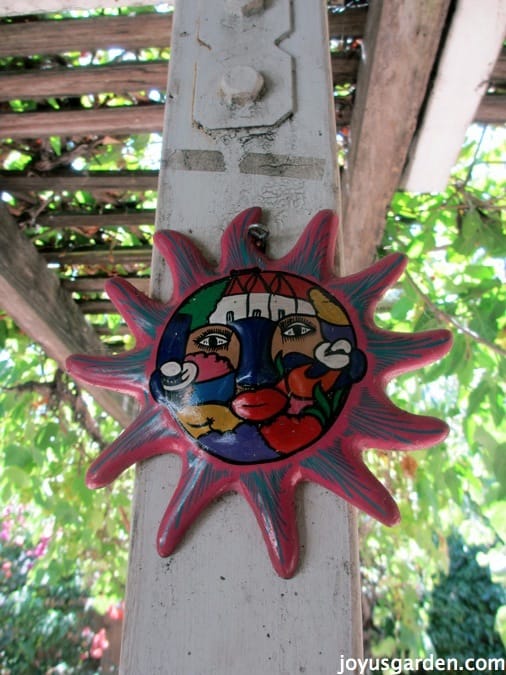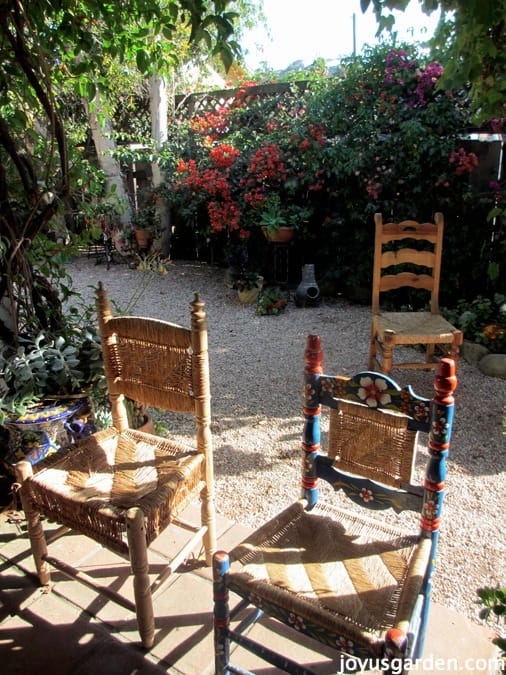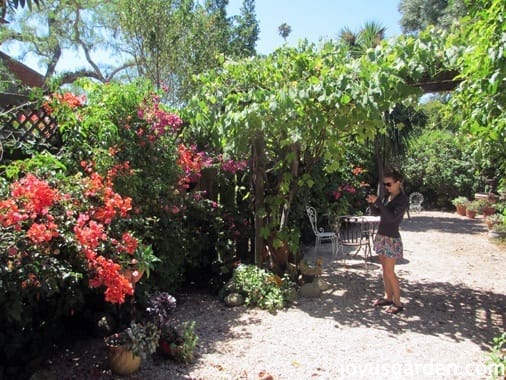 Lucy under the grape arbor
A Few Glimpses of What's Inside the House
The legendary Mexican Calendar Girls
Tiles chose & installed by the current owner
Noche de brujas – witches & healers gather
China poblana skirt – sequins for days!
Oaxacan armadillo
So, if you ever visit our little city by the sea, be sure to put this on your list of things to see. You could hop over to the Mission to see that beautiful structure as well as the Rose Garden in just a few minutes as well as the Santa Barbara Botanic Garden. Or, you could take a short 3-minute walk to State Street and enjoy a margarita or sangria to cap off your Mexican style afternoon.
Casa Dolores website.
This post may contain affiliate links. You can read our policies here. Your cost for the products will be no higher but Joy Us garden receives a small commission. Thank you for helping us spread the word & make the world a more beautiful place!