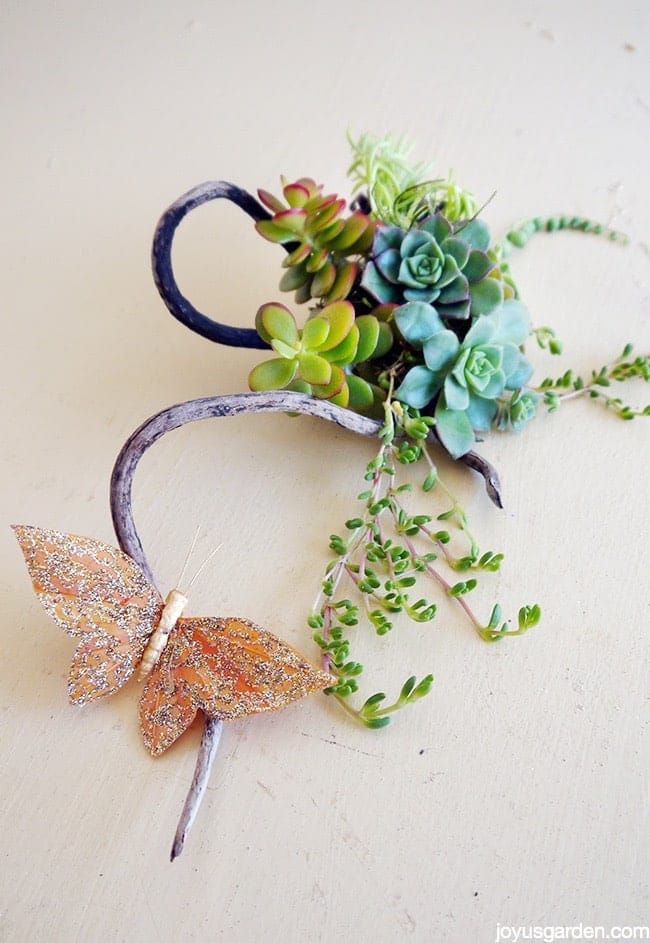 I live 7 blocks from the Pacific Ocean so beach walks are a big part of my outdoor recreating routine.  I always find interesting materials to use for crafting and creating as well as to embellish my garden.  I've used shells and polished rocks as ground cover as well as big chunks of driftwood to add interest in and around succulents.  This wacky sea stick is adorned with a variety of succulents from my garden and is a project that comes together in a snap.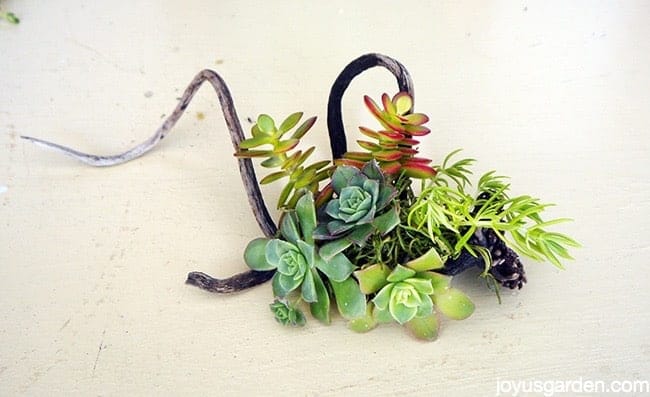 You can see how this crazy "stick thing" lends itself to creating.
What is a wacky sea stick you ask?  I technically don't know what it's called so this is the name I use.  When the kelp washes in, this is what it's attached to.  It's great to use for crafting after it dries.
I love to make creations with plants and flowers, especially if they're grown in my garden.  I did a book devoted to making natural decorations called Mother Nature Inspired Christmas Ornaments and a sea stick gussied up for the holidays is one of the creations you'll find.
Creating with succulents fresh from my garden:
What you'll need for this project:
a stick or piece of wood with interest
succulent cuttings – I used Miniature Jade, Aeonium, Sedum Angelina, String Of Pearls & Miniature Ice Plant (Delosperma).
spanish moss, preserved & dyed green
hot glue
a paper butterfly
I use a hot glue pan but a hot melt and/or cool melt glue gun would be fine.  You could also use E6000 but it takes a bit longer to dry.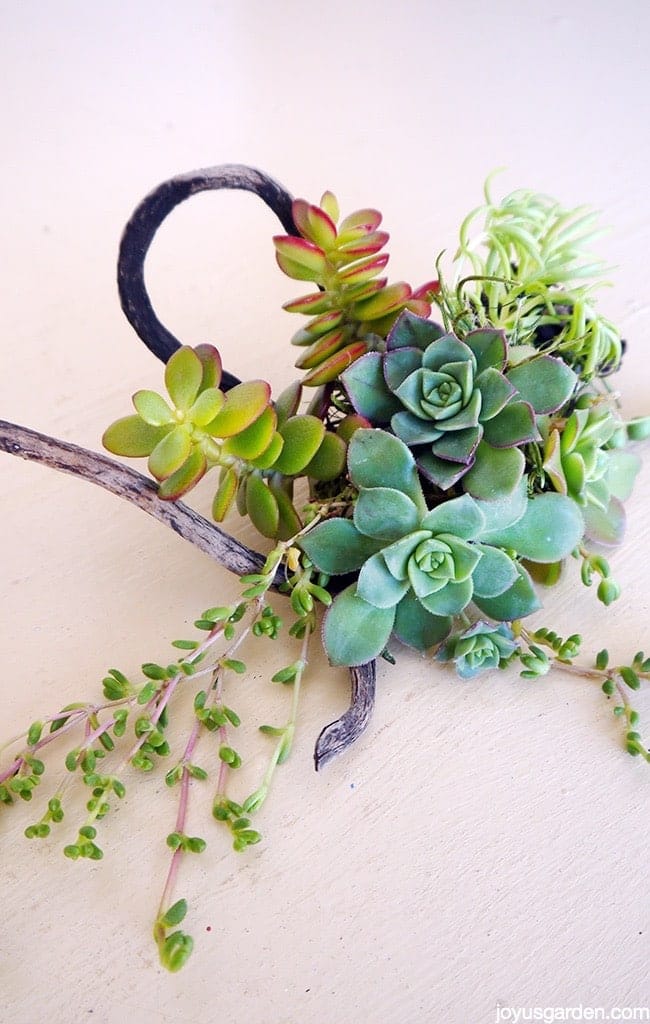 I did this as a temporary piece but if you want to keep it alive for a while, just spray it with water once a week.  The video has more on that for you. If  you wrap moss around succulent mix in the shape of a ball, the succulents will start to root and you'll keep it even longer.  Oh succulents … the ways to create with you are endless!
Happy gardening,
Nell
I've done lots of posts & videos on creating with succulents.  Here a few which may interest you:
An Easy Piece Of Art With Driftwood, Tillandsias & Succulents
This Succulent Arrangement Is For The Birds
A Different Way To Create A Succulent Kissing Ball
You'll find even more on everything succulents here:
This post may contain Amazon affiliate links. You can read our policies here. Your cost for the products will be no higher but Joy Us garden receives a small commission. Thank you for helping us spread the word & make the world a more beautiful place!