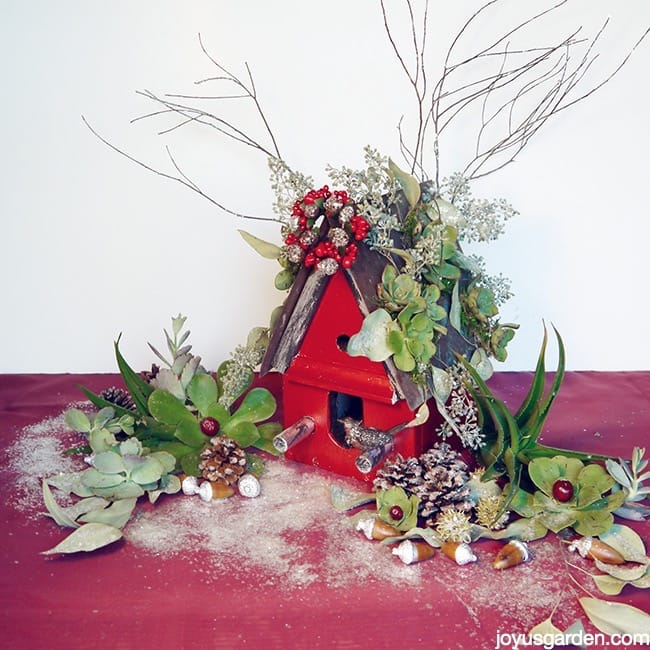 Found objects – to me, they're simply the best. After all, one man's trash is another man's treasure. I fished this birdhouse, with the thought in mind that it was destined to become a Christmas birdhouse, out of a pile of junk on the sidewalk.
I've always loved birds, no matter the season. I grew up in New England and my dad put out quite a few bird feeders in late fall to feed all our feathered friends. I loved seeing the multitude of birds right outside our kitchen window, especially the red cardinals in the snow. This obsession explains why I was hot to trot to do a Christmas table decoration using a birdhouse. And because I didn't have a cardinal, I decided to paint the birdhouse red!
This is the birdhouse how I found it, dirty & a bit beat up but I dug the copper roof. Ah, the crafting ideas started swirling in my head.
I'm at my work table turning the discarded birdhouse in a Christmas table decoration:
Here are the succulents on the roof. As you can see, the roof has quite a steep pitch so I glued on the moss 1st so the succulents would stay on easier.
I used these materials to make this table decoration:
A Birdhouse.
A Bird.
Succulent Cuttings, I used aeoniums, aloes & kalanchoes.
Sheet Moss, broken into clumps.
Seeded Eucalyptus, glittered.
Pinecones, Acorns & Liquid Amber pods.
A Variety of Glitter, vintage snow, diamond dust & iridescent jewels.
The adorned birdhouse, before putting the finishing touches of decor around it.
Here are the steps I took:
1) I cleaned up the birdhouse & then painted it with red metallic Modern Masters. I love this paint because the coverage is great & it easily cleans off with water. I brushed the trim with the silver metallic paint so that it would have some shine, just like icicles in the sun!
2) I brushed pieces of the sheet moss with a little glitter & then glued it to the roof. I then glued the aeoniums, some in clusters, to the moss. Here's a tip: when you're hot (or cool) gluing, be sure to hold the item you gluing down until the glue has set. If you don't it'll fall right off, especially if the surface isn't flat like this birdhouse roof.
3) I tucked in pieces of the Seeded Eucalyptus, touched with glitter, into the moss. They definitely add a sparkly accent!
4) I glued the bird to its perch.
5) I added the final decorating touches – cones, pods, acorns, succulents & vintage snow – around the birdhouse. How much you add of course depends on your taste as well as the size of the table, hutch or buffet you're putting it on.
Here's the finished piece I did with Jaz, who was filming me. It was after 3 when we were shooting this & I was starving because I hadn't had any lunch yet.
A few days later I decided to reshoot another version of the finished piece. For me, lack of food = lack of creativity!
I think this makes an adorable decoration, just like this miniature version of a succulent adorned birdhouse I did a couple of years ago. With the temperatures so temperate here along the California coast, using succulents for this piece just make sense. You can certainly make a switcheroo and use whatever is available like pine, fir, cedar, bay, boxwood or even artificial foliages. The most important thing is to have fun creating your Christmas birdhouse!
A joyous holiday to you,