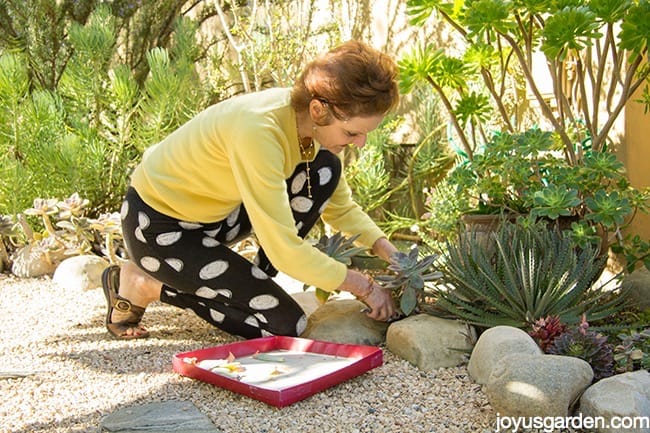 My backyard is my office so I'm home a lot. As a break from the computer or my work table, I'll pick up my Felcos, head out to the garden and snip away for 10 minutes. With all the gardening I do, I have a list of gardening essentials that I rely on for healthy and flourishing plants.
YES, I've been gardening for a LONG time and have used many products over the years. Even when I was a professional gardener I didn't use a shed full of tools. I feel it's important to buy good quality tools and keep them clean and sharp. They're an investment that's worth it.
These 5 (6) items hang out in a metal container on my front porch so they're all set to be grabbed at moment's notice. A true gardener never knows when the urge will strike! If you're just starting out with adventures in gardening, I hope this helps. If you're well on your way, then maybe there's something here that just might catch your fancy.
Where would I be without my trusty pruners? They are my holy grail. I love to prune … as a matter of fact my nickname give to me by fellow gardeners used to be Prunella. Felco #2's have always been my go to pruners. They're as sturdy as can be and the parts are replaceable although I've only had to replace a spring on 1. Not bad at all.
The orange handles make them easier to find if misplaced in the garden. Ummm … I've never done that! I will admit, the green waste barrel has eaten 3 pairs and I'm now down to 2 instead of 5.
By the way, here's how I keep my pruning tools clean & sharp.
Sometimes I use something a little more "delicate" for pruning. These are great for deadheading, harvesting herbs, propagating smaller stemmed succulents and the like where a finer tool is the ticket. I have an older pair than the one pictured above which has lost the spring. Despite the missing part, they still work just fine.
These protect my paws in every way. I love and respect Mother Earth but don't feel the need to get my hands directly in the dirt. The fact these gloves are thin and easy to work in makes me have at least 2 pair on hand at all times.
Whether I'm on one of my gardening marathons or just doing 5 minutes of deadheading, this follows me everywhere. It is super strong and flexible too. I love all the colors they come in (mine is bright red so I can easily find it!) and the fact they're made from recycled materials.
Bottom line – knees are boney! No cushioning to them. I grab my kneeling pad when I heading out to the garden for a 10 minute whirlwind gardening spree. My kneeling pad is ages old and not on the market anymore. The one by Magid that you see here was recommended by a fellow gardener and gets great reviews.
If I'm out for a gardening marathon, then I'll strap on our kneepads. It's much easier to maneuver around without having to carry around a kneeling pad. Plus, if they're attached to your body, you can't lose them!
We're Amazon Associates. You can buy my 5 (6) must-haves for gardening that you see here directly off this page. Simply click on the picture or the name of the product and it will take you right to the page. Click here if you want to see other things I use when playing in the garden. Read through these and then get out in the dirt!
Here's a video, shot in my front garden, showing you these products "up close & personal."
This post may contain affiliate links. You can read our policies here. Your cost for the products will be no higher but Joy Us garden receives a small commission. Thank you for helping us spread the word & make the world a more beautiful place!