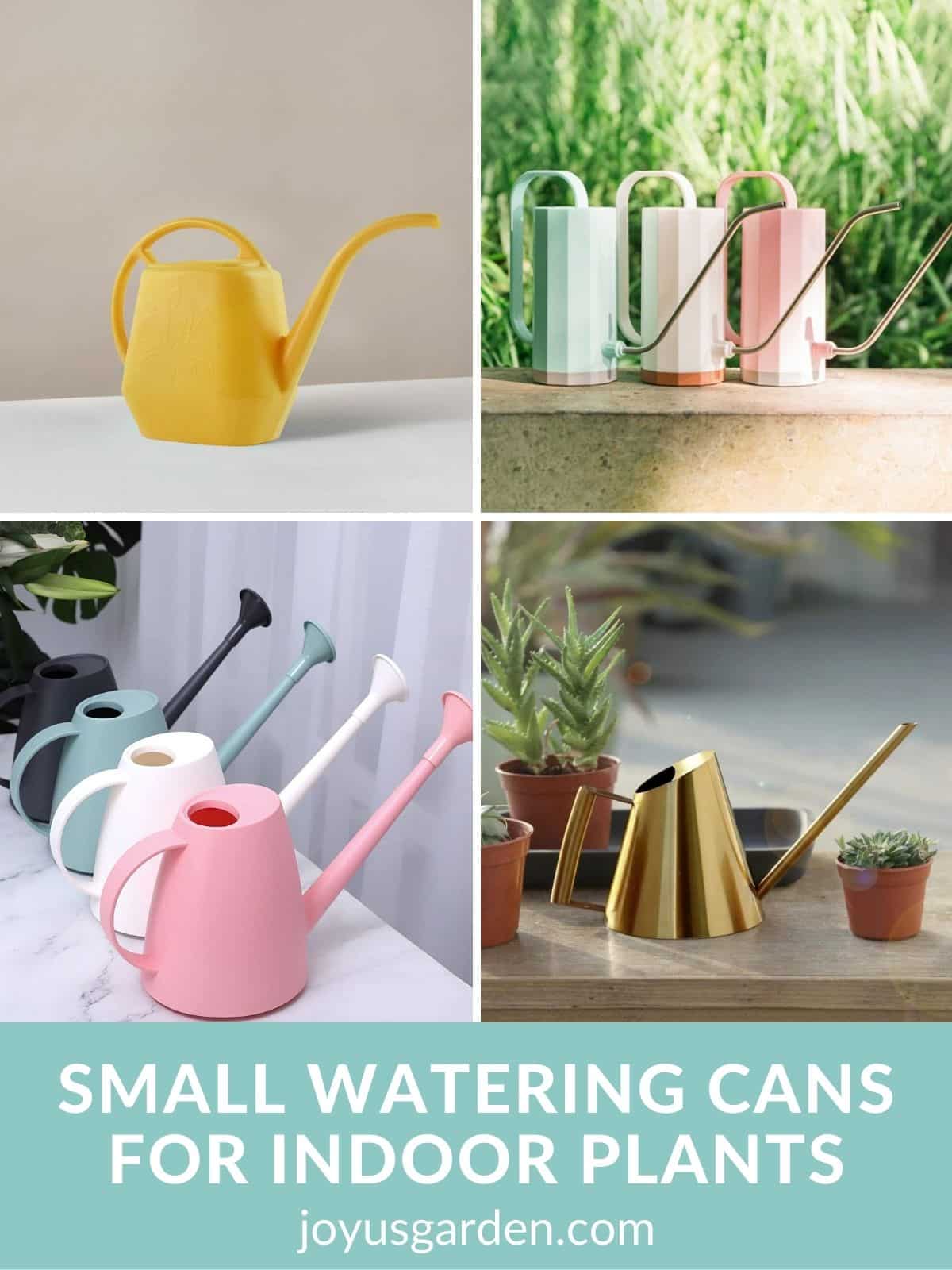 Small indoor watering cans are perfect for people who have just a few houseplants they need to take care of. You might also find one of these small watering cans for indoor plants helpful for watering small succulents and houseplants that are in tiny pots so you don't overwhelm your plants with too much water at one time.
These cute small watering cans also make beautiful home decor and gifts for plant lovers. Here you will find small watering cans with long spouts, small metal watering cans, small watering can with shower head, small plastic watering cans, and small decorative watering cans.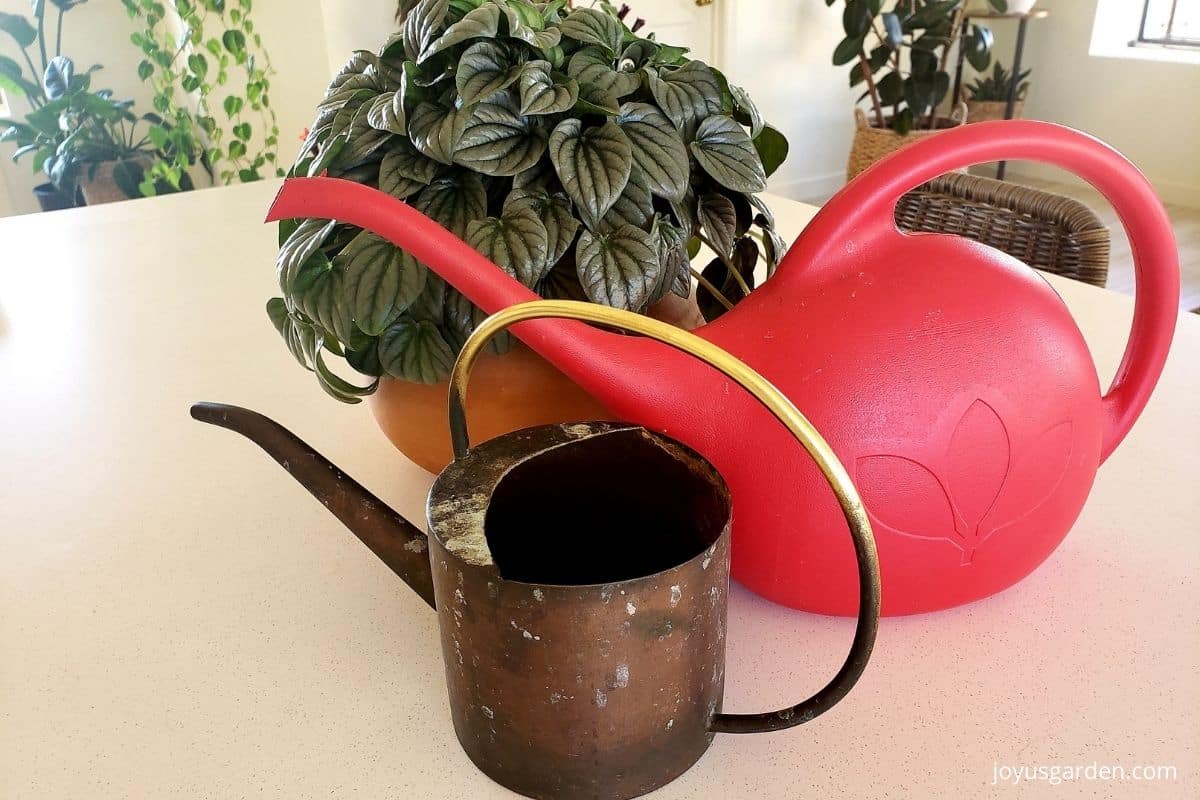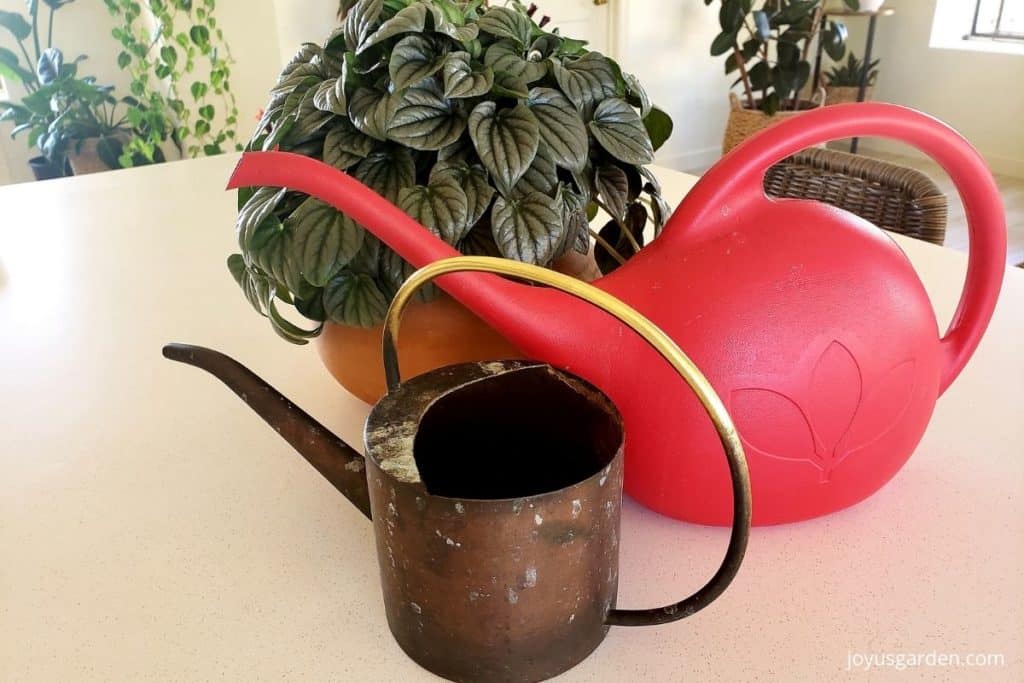 If you're like Nell who has over 50 houseplants of all sizes, then a smaller watering can and a larger one may be in order. She's had both of hers for many years now and they've held up well. An indoor watering can is something you won't have to replace unless you want a new color or style. Some people like to display them and there are plenty on the market to choose from.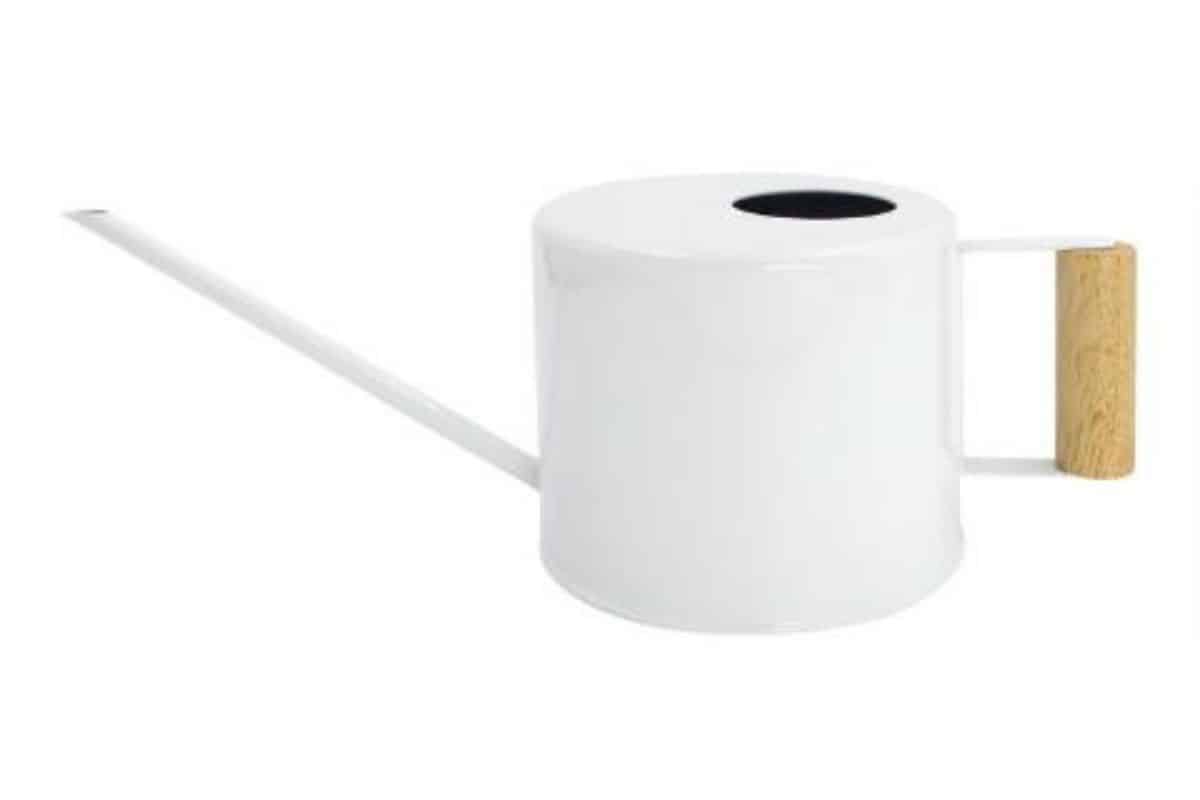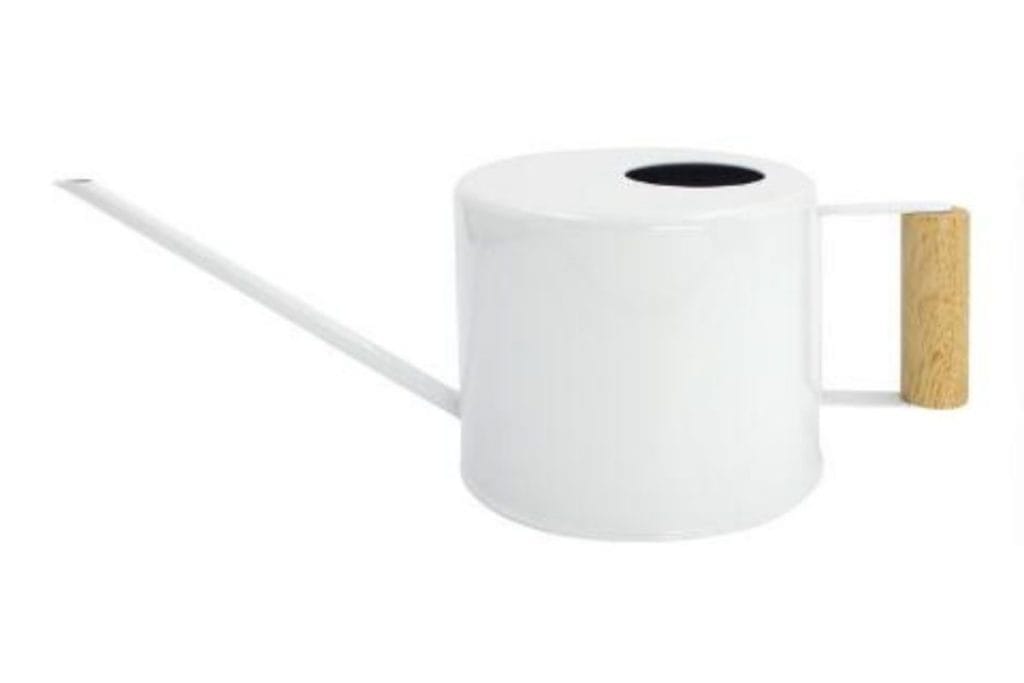 This white watering can with a wood handle is so pretty to look at and it's durable and functional. Its long spout will help you reach around delicate leaves. This indoor watering can has a powder coating to help prevent rusting.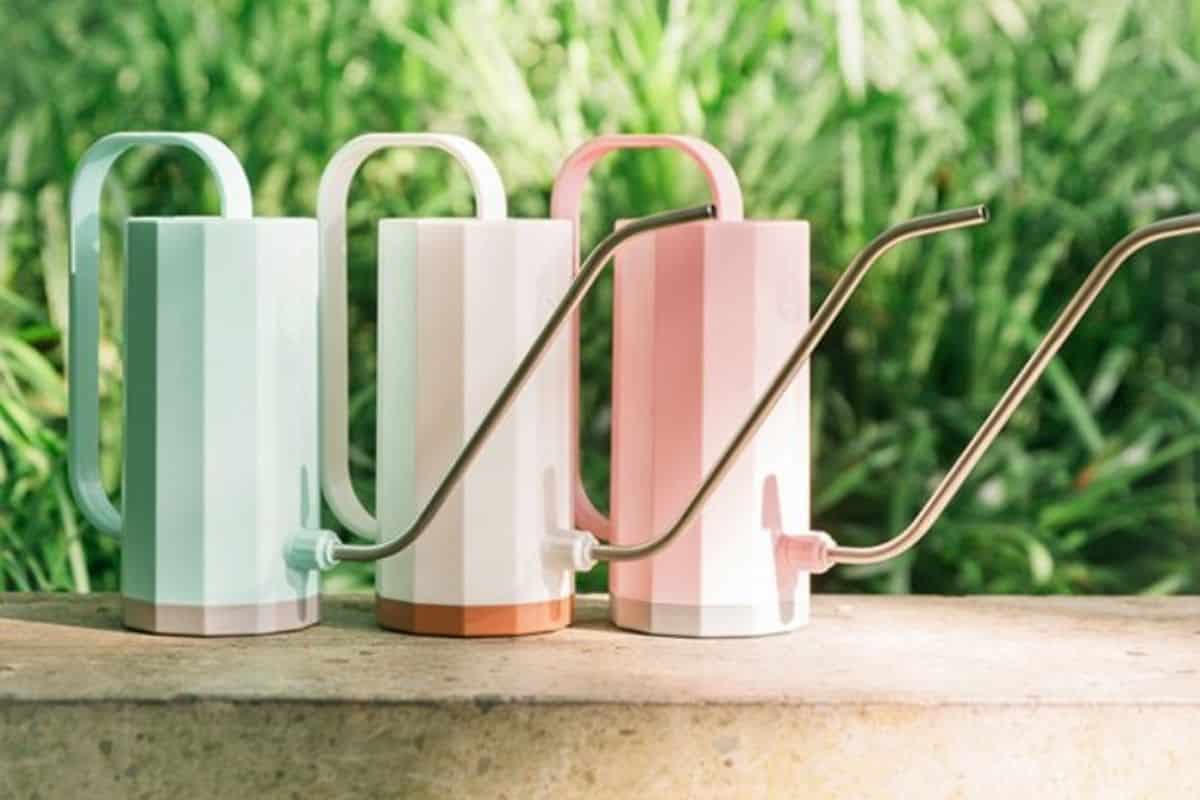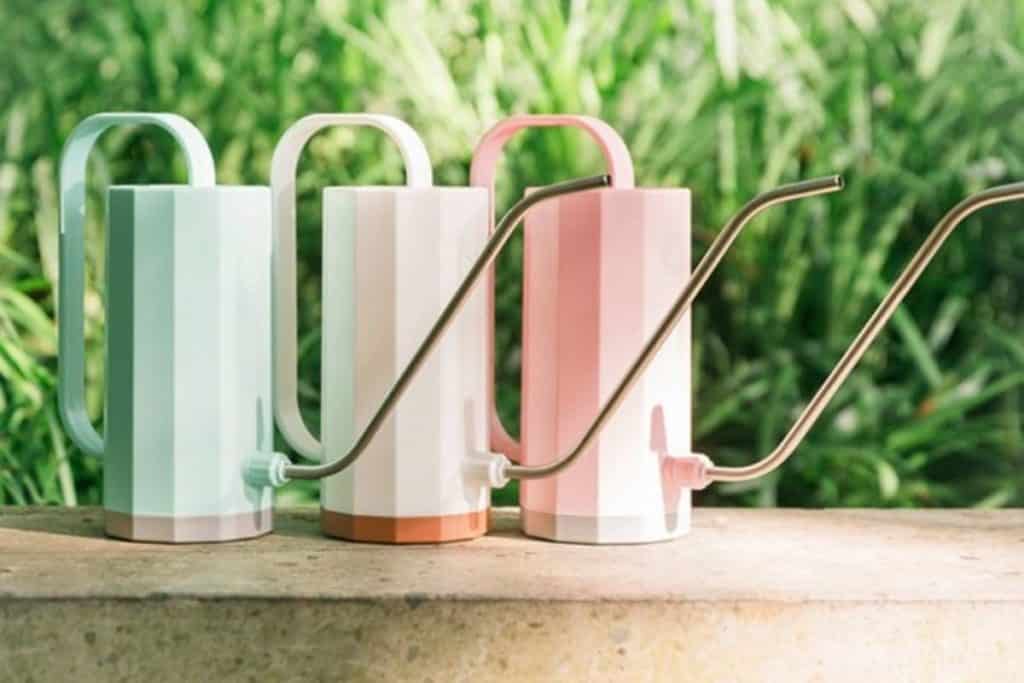 Want a pop of color in your home this Spring? This small long spout watering can comes in two pastel colors, coral and mint; plus it comes in white too. The extra-long spout on this plastic watering can is great for watering hard-to-reach plants, like hanging succulents, pothos plants, or philodendron plants.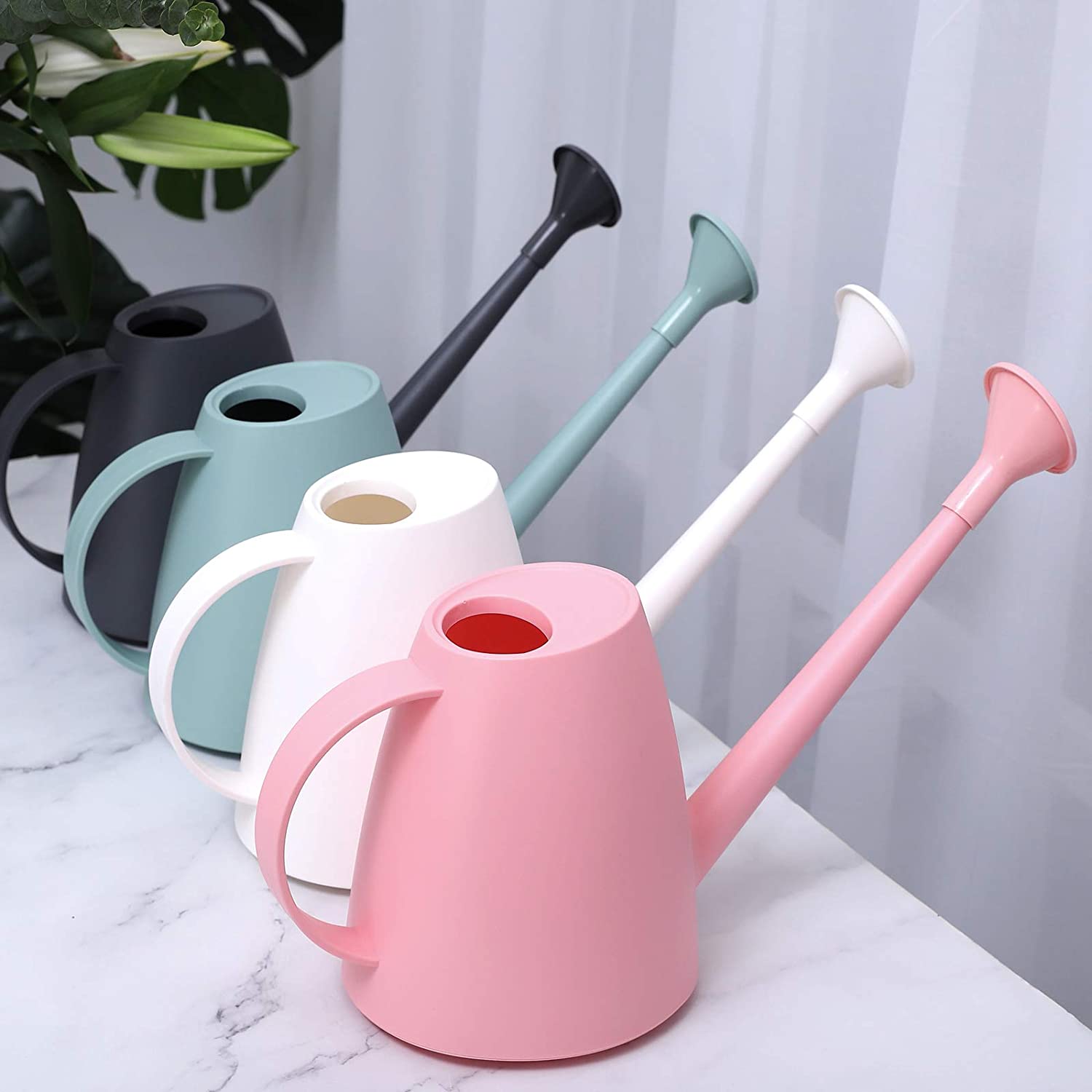 This plastic watering can is super versatile because it comes with a detachable shower nozzle so you can choose between a steady stream of water or a light showering of water for your plants. The long 14-inch spout is perfect for reaching hard-to-reach places. This watering can comes in four colors so there's something for everyone's style. It comes in white, grey, pink, or green.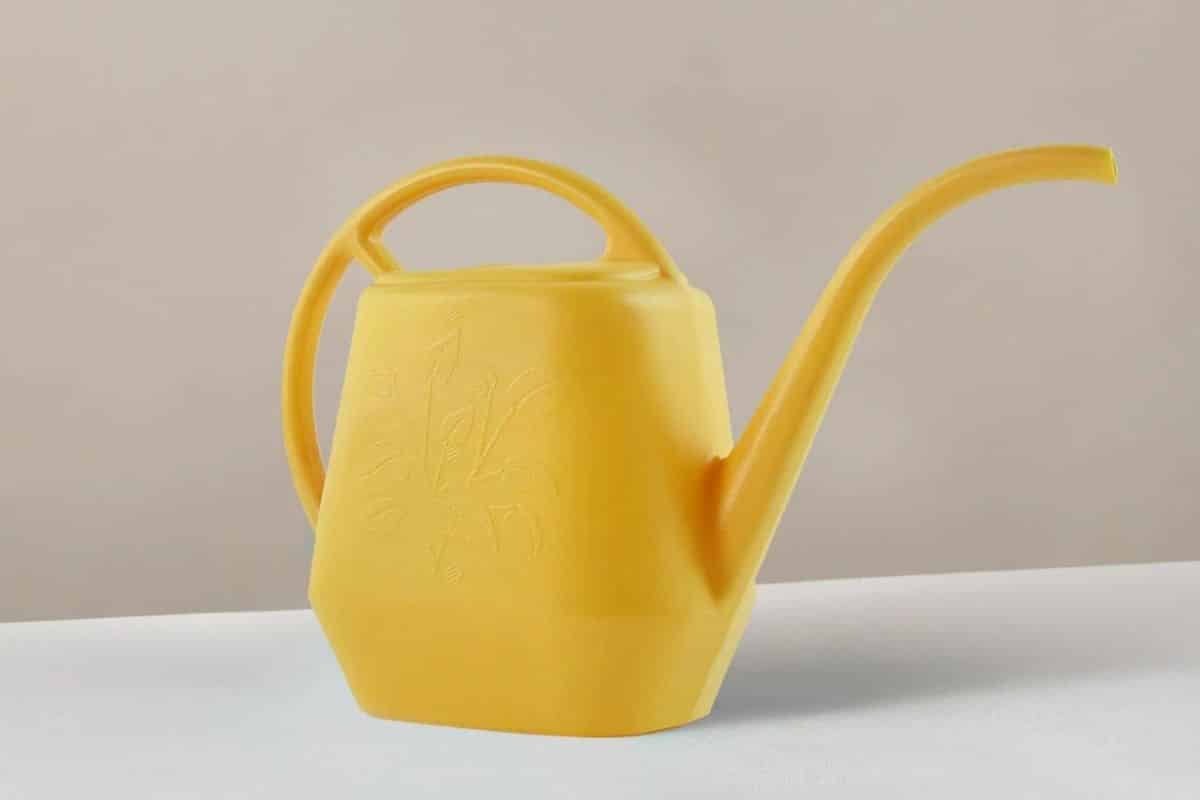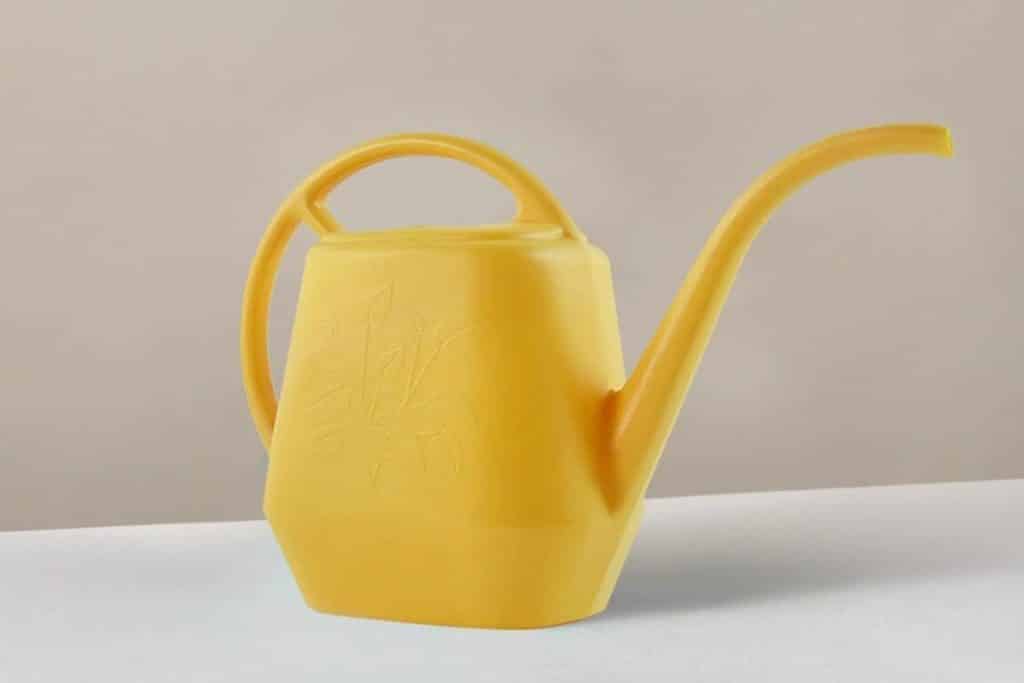 If you're looking for a durable, functional, and cute watering can, this one is for you! This adorable watering can is embossed with a leaf design and comes in two fun, bright colors, yellow and green. This one holds about half a gallon of water, so it's perfect for small plants.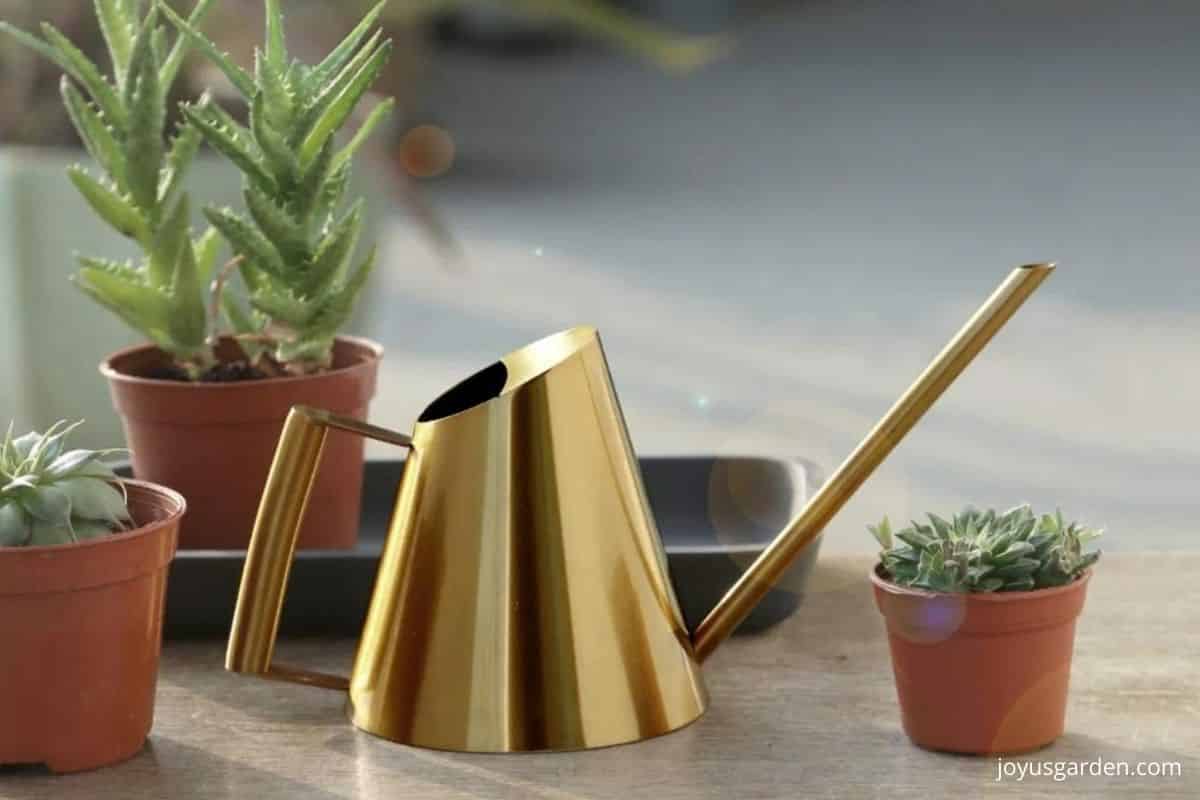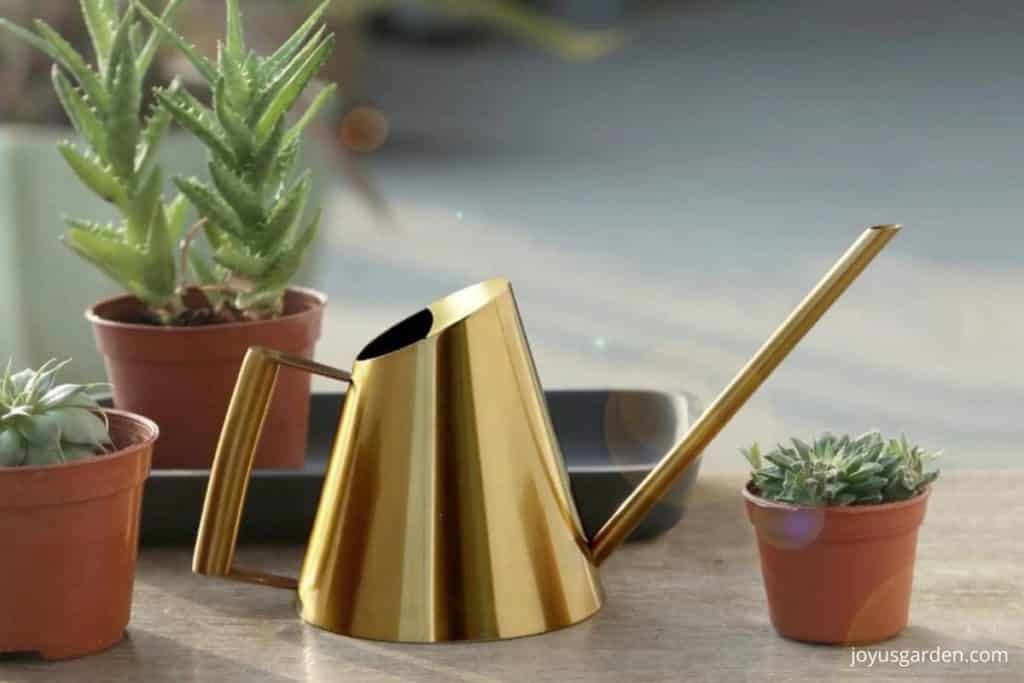 If you love mid-century modern design, you're going to love this gold watering can. The long spout, ergonomic handle, and gold finish make it a beautiful yet functional watering can. This watering can is made from premium quality stainless steel which makes it lightweight and durable.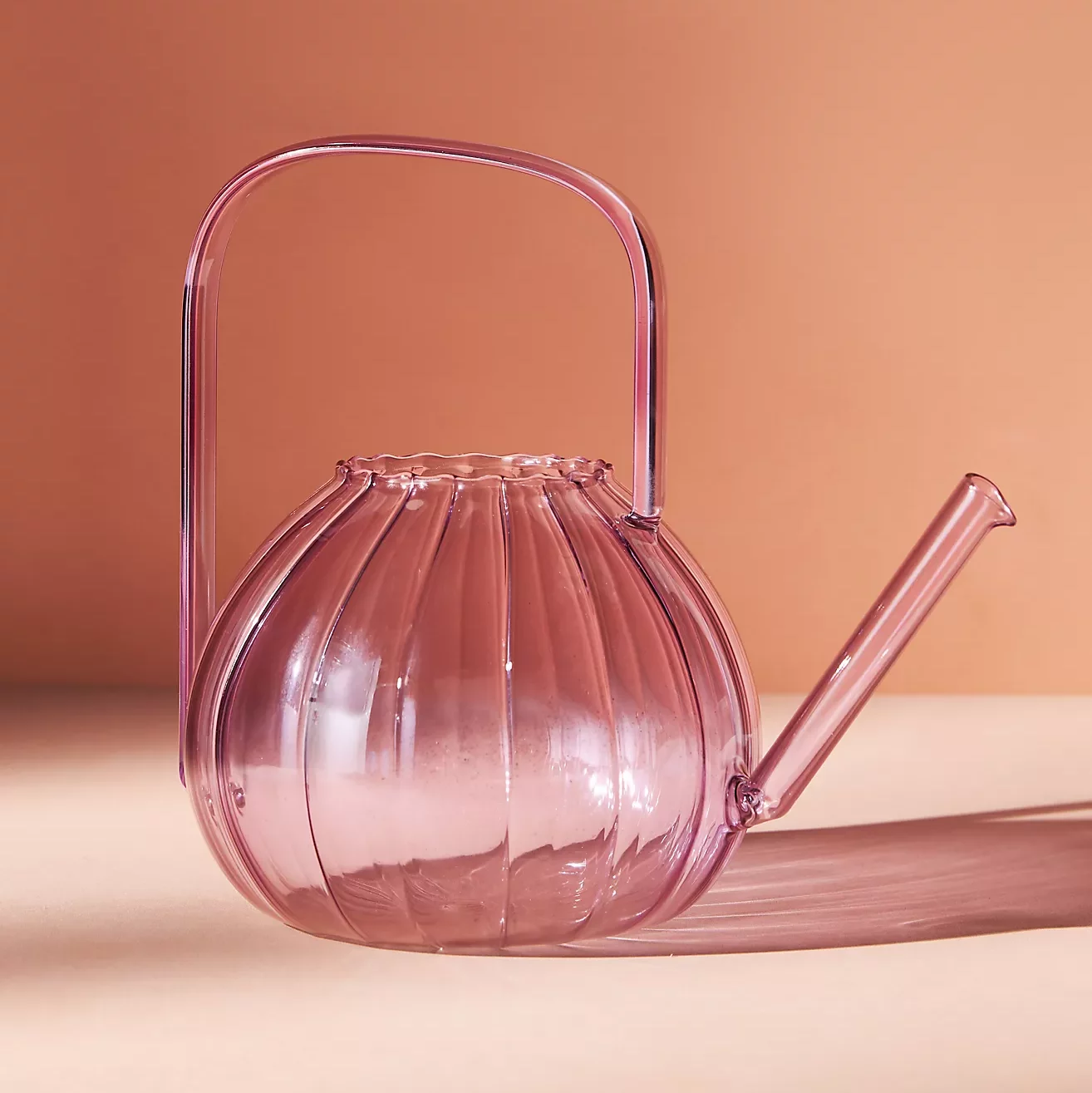 This watering can functions as any other does, but since it's made from glass, you might want to use it as decor as opposed to actually using it for watering houseplants. Or, just take care when using it!
Some Of Our General Houseplant Guides For Your Reference:
As you can see, small watering cans are functional and make great home decor too. I hope this list of the best small watering cans for houseplants helps you out and gives you ideas for the next time you want to purchase a watering can.
Happy gardening,
Brielle
This post may contain affiliate links. You can read our policies here. Your cost for the products will be no higher but Joy Us garden receives a small commission. Thank you for helping us spread the word & make the world a more beautiful place!