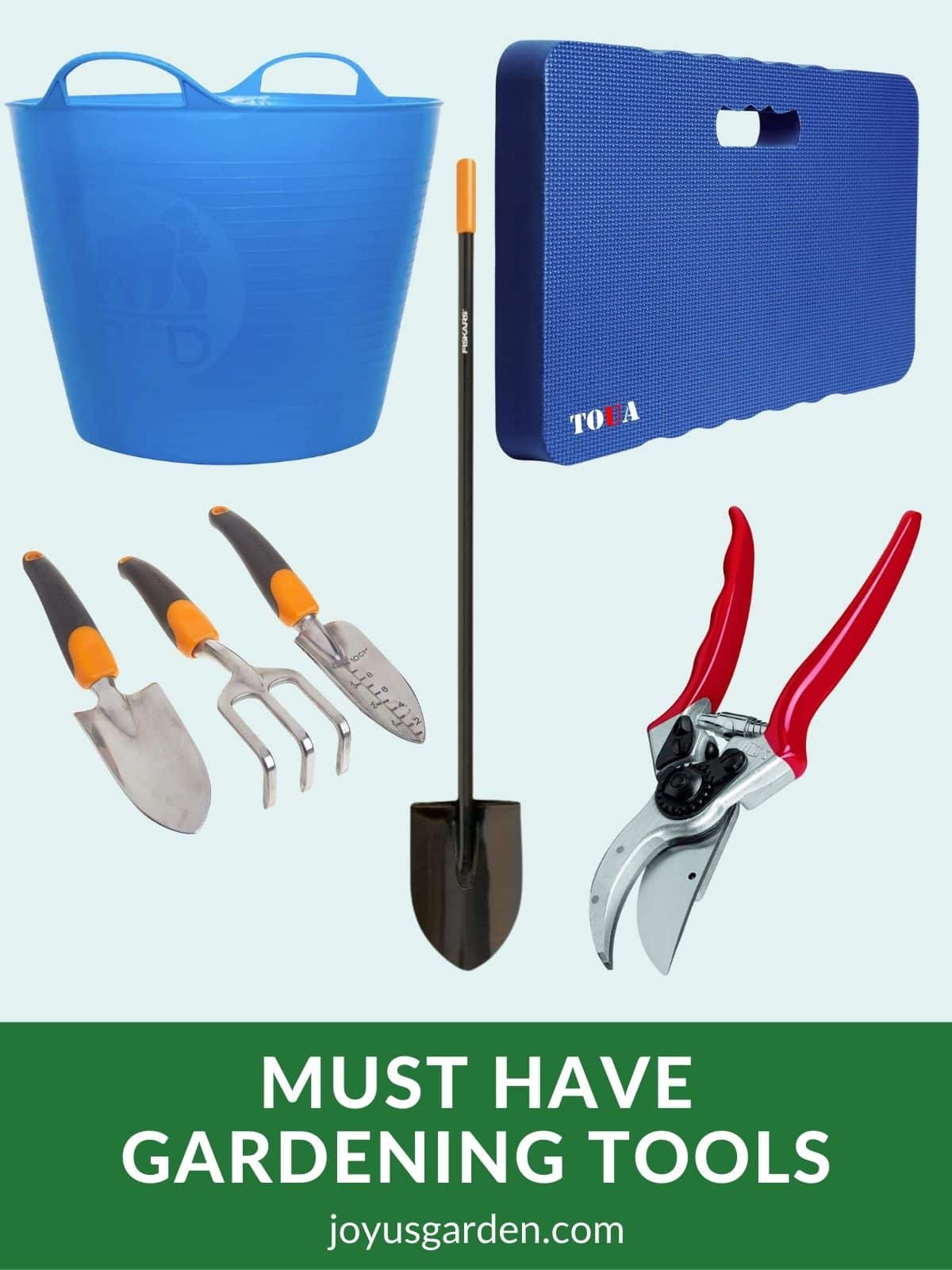 You need the right tools to get the job done! Gardening tools are no exception. They're an investment that's worth it if you want healthy, flourishing plants and a beautiful garden.
Here are five MUST HAVE gardening tools that we think every gardener should have. Whether you're a beginning or an experienced gardener, this list should help you decide on what tools are most important in the garden. Nell has years of experience as both a professional and hobby gardener, so she has shared what's essential and what's not.
She was a professional gardener/garden designer in San Francisco (she used a lot of different gardening tools!) and brought them with her to Santa Barbara, CA to use in her own garden. Many were given away when she made the move to Tucson, AZ a few years ago but she brought the essentials.
If you properly care for and store your garden tools, they'll last a very long time. This shortlist of 5 gardening tools online will help out if you don't have any home improvement or hardware stores nearby. Now let's get gardening!
For a more extensive list, check out these 15 Essential Gardening Tools To Buy On Amazon.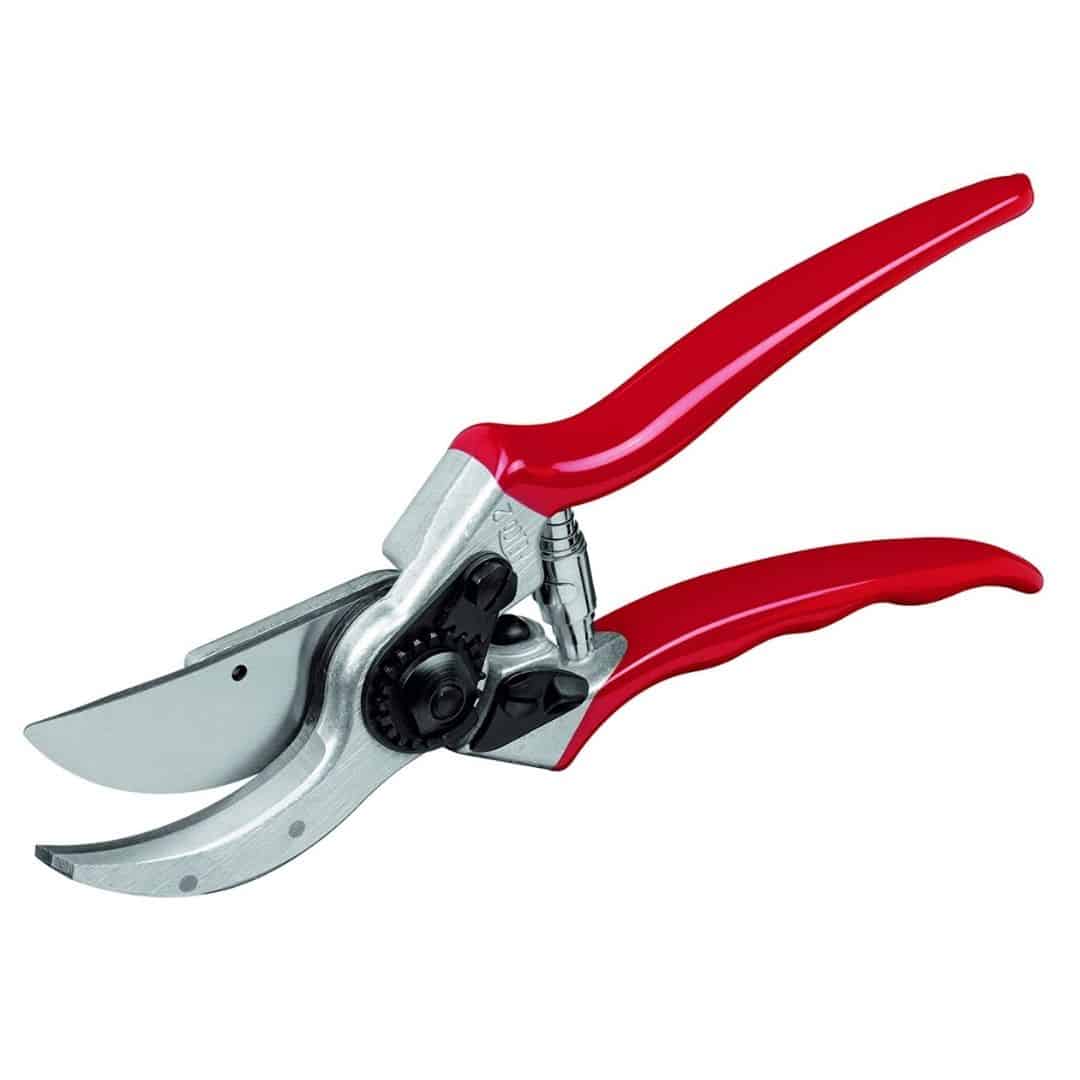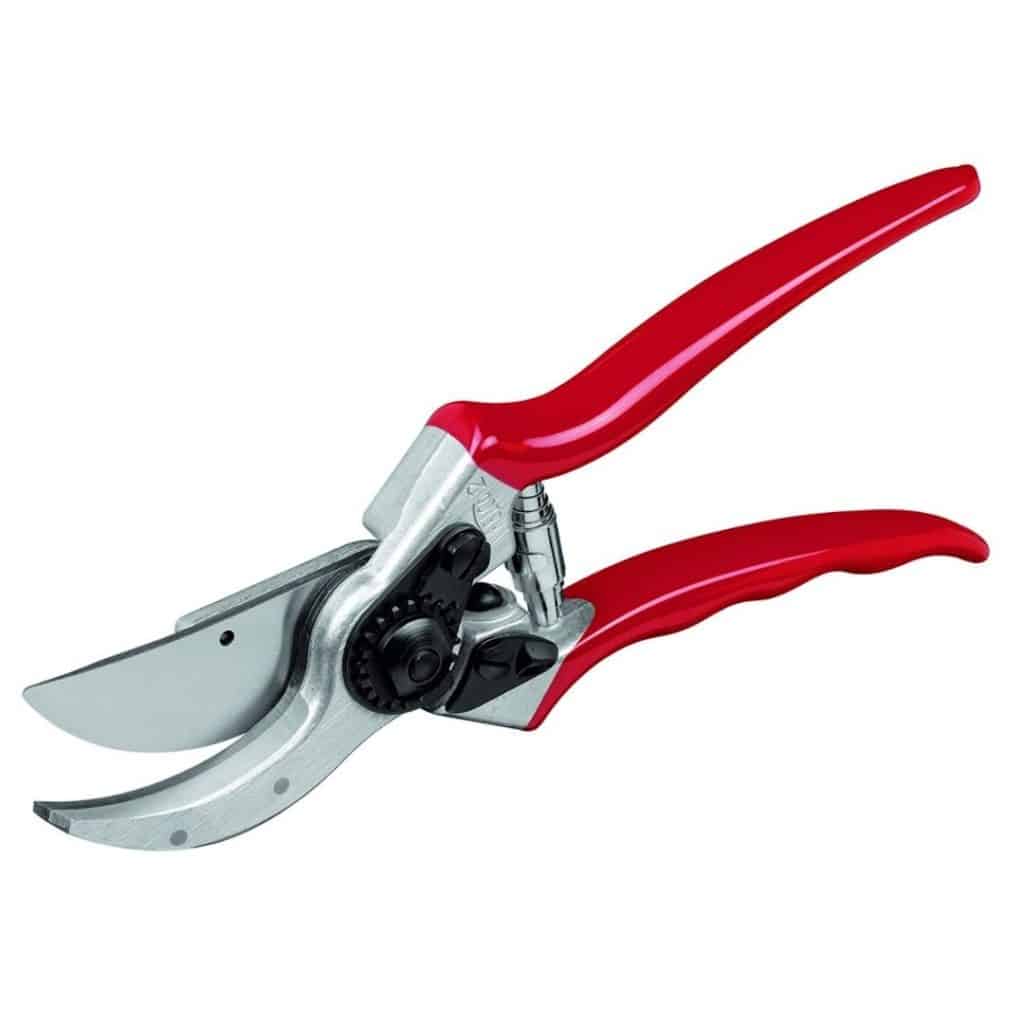 Starting off with Nell's holy grail gardening tool: Felco #2 pruners. Nell bought her pair back in 1997, and she has used them and loved them ever since. They're as sturdy as can be and the parts are replaceable. Plus the orange handles make them easier to find if misplaced in the garden.
These are suitable for every type of pruning with their ergonomic hand-fitting design and hardened steel blades. If you want to take your gardening to the next level, this is a great investment. Plus, they have almost 20,000 5-star reviews on Amazon!
If you're looking for less expensive options, check out this pruning shears set and these bypass shears.
Here's a guide on How to Keep Your Garden Shears Clean & Sharp.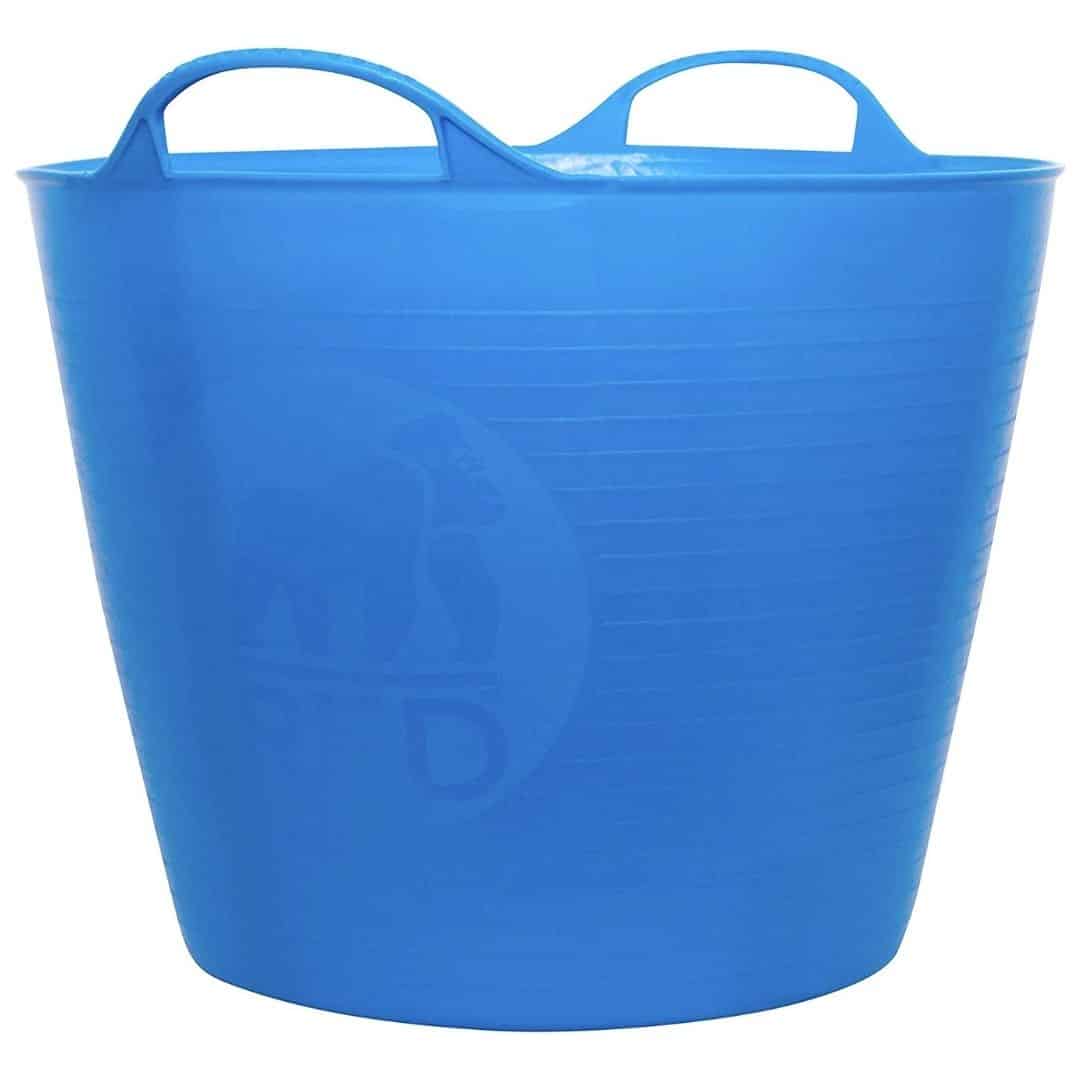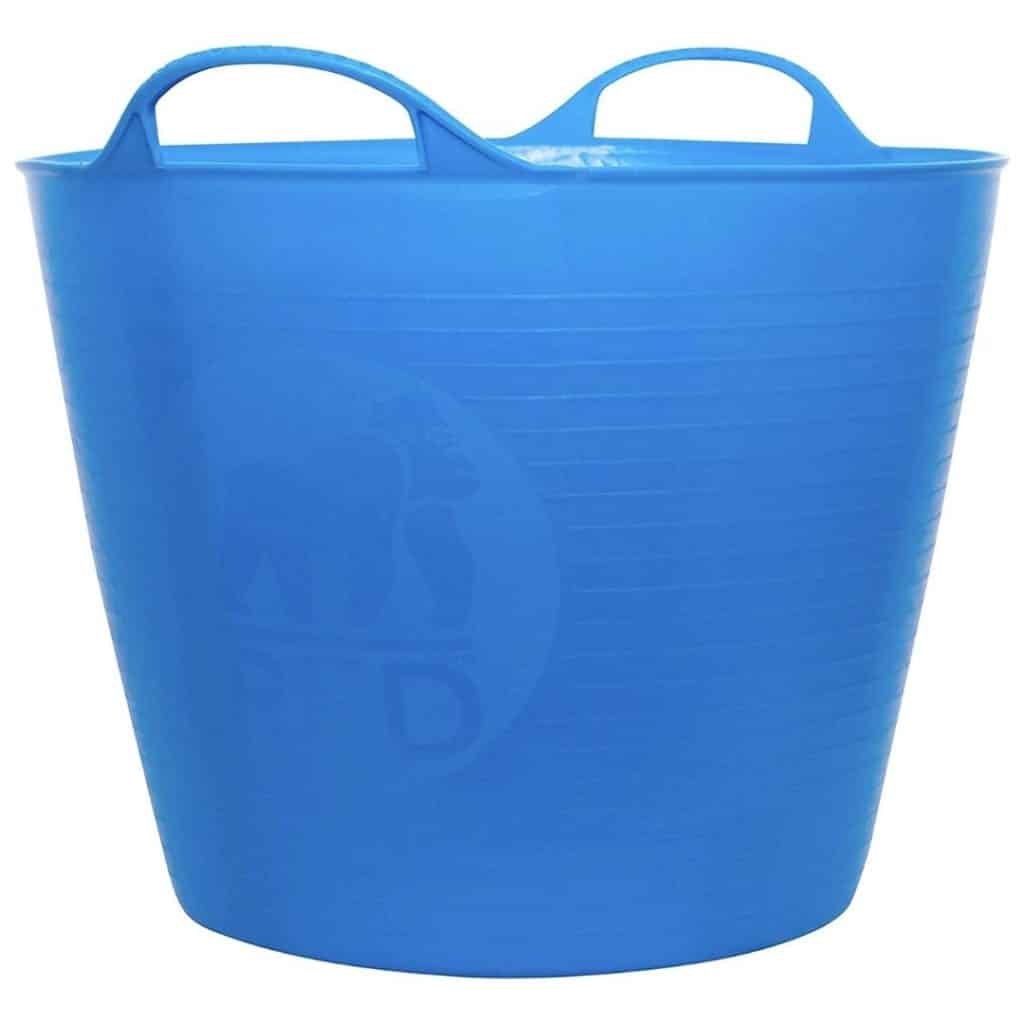 A Tub Trug is ideal to have around the garden to help you clean up trimmings and weeds. This is an essential, whether you are doing some major pruning or just deadheading annuals and perennials. Tub Trugs are super strong and flexible so it's easy to carry around the garden. It's easy to empty out too when it's time to toss your cuttings and debris.
You can also use it to carry small plants around the garden, harvest produce, or mix up a soil blend. Tub Trugs come in a variety of shapes, sizes, and colors so there is something for everyone!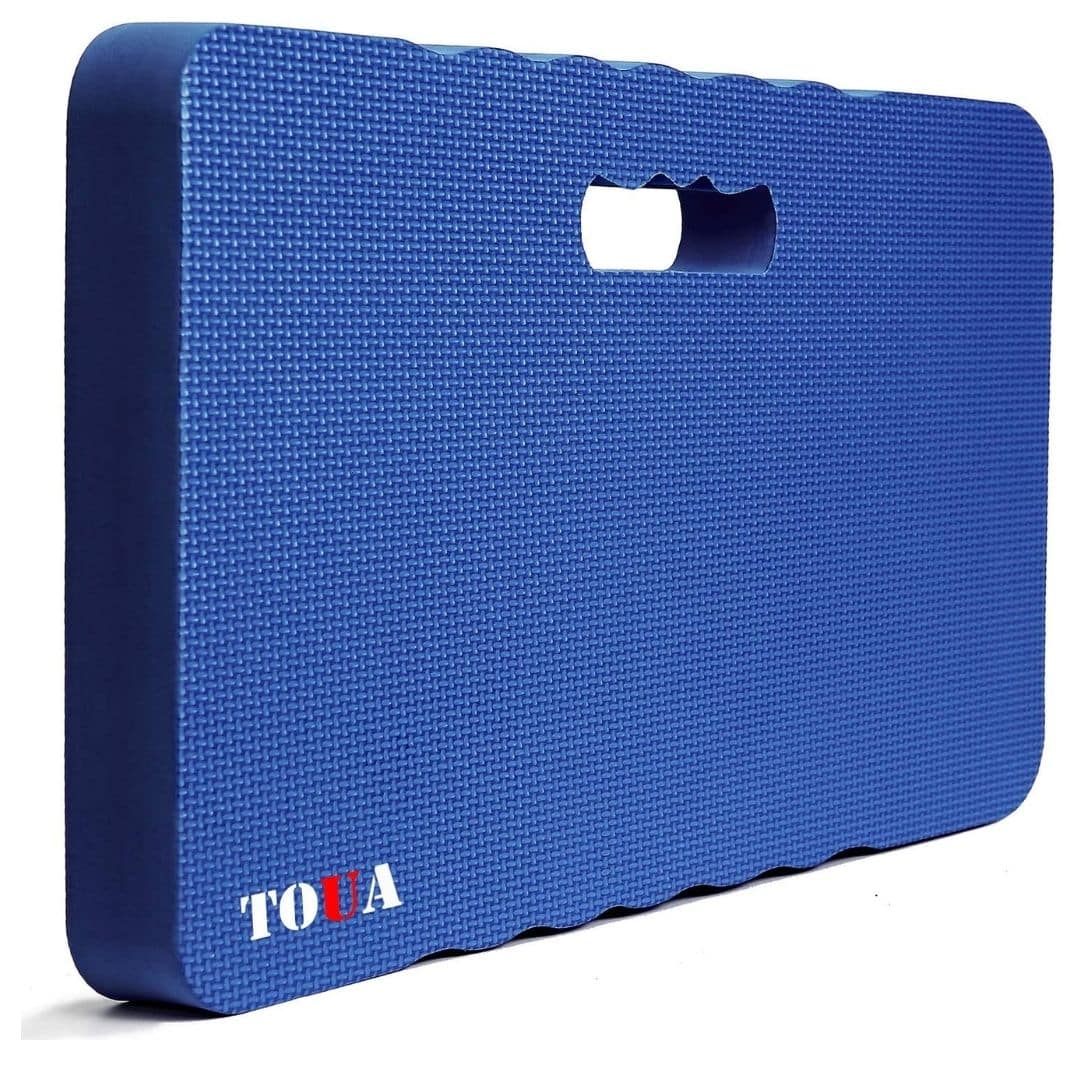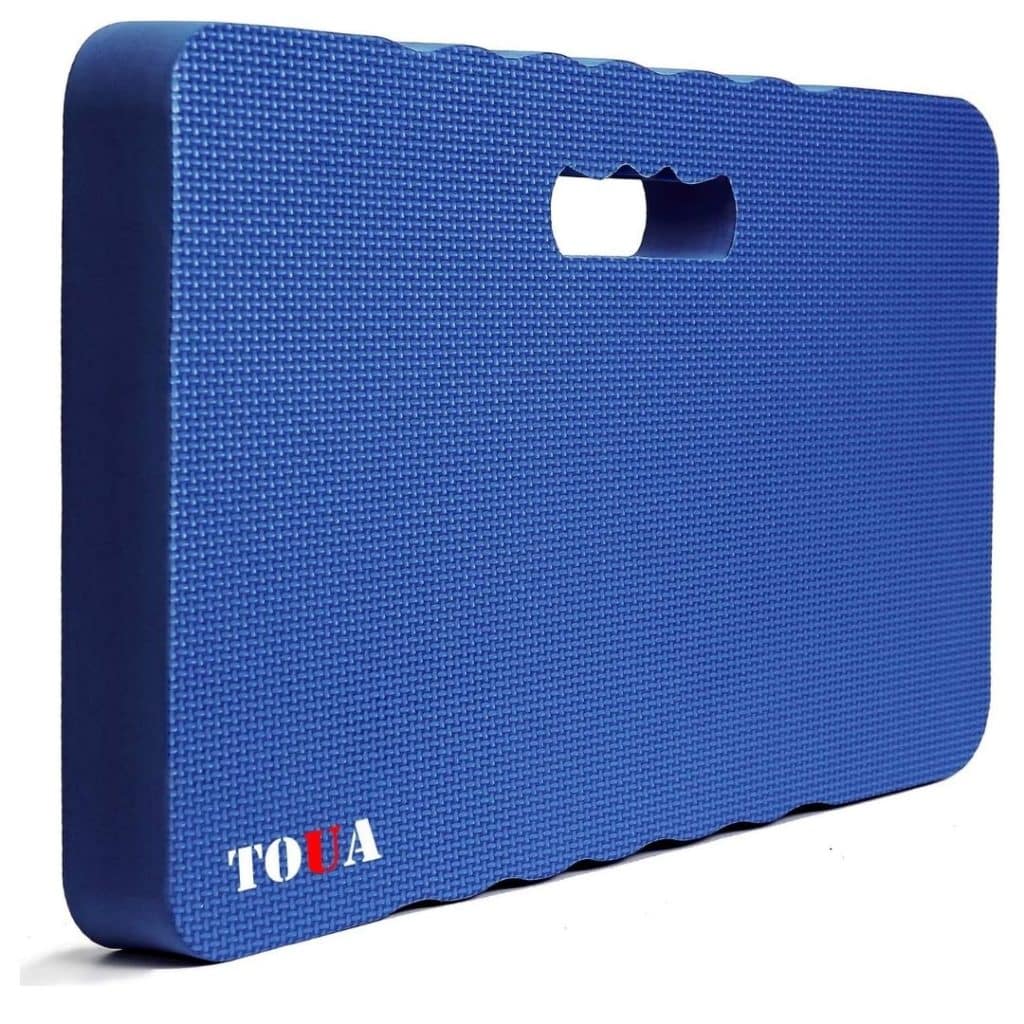 A kneeling pad is essential for gardening since you spend a lot of time on your knees while weeding, planting, pruning, and/or composting. That's a lot of pressure to put on your boney knees!
This specific kneeling pad is super thick, but still lightweight, so it's easy to carry around. It's extra large and 1.5 inches thick so you have a lot of room to move around and get comfy while in the garden. This comes in a variety of colors too.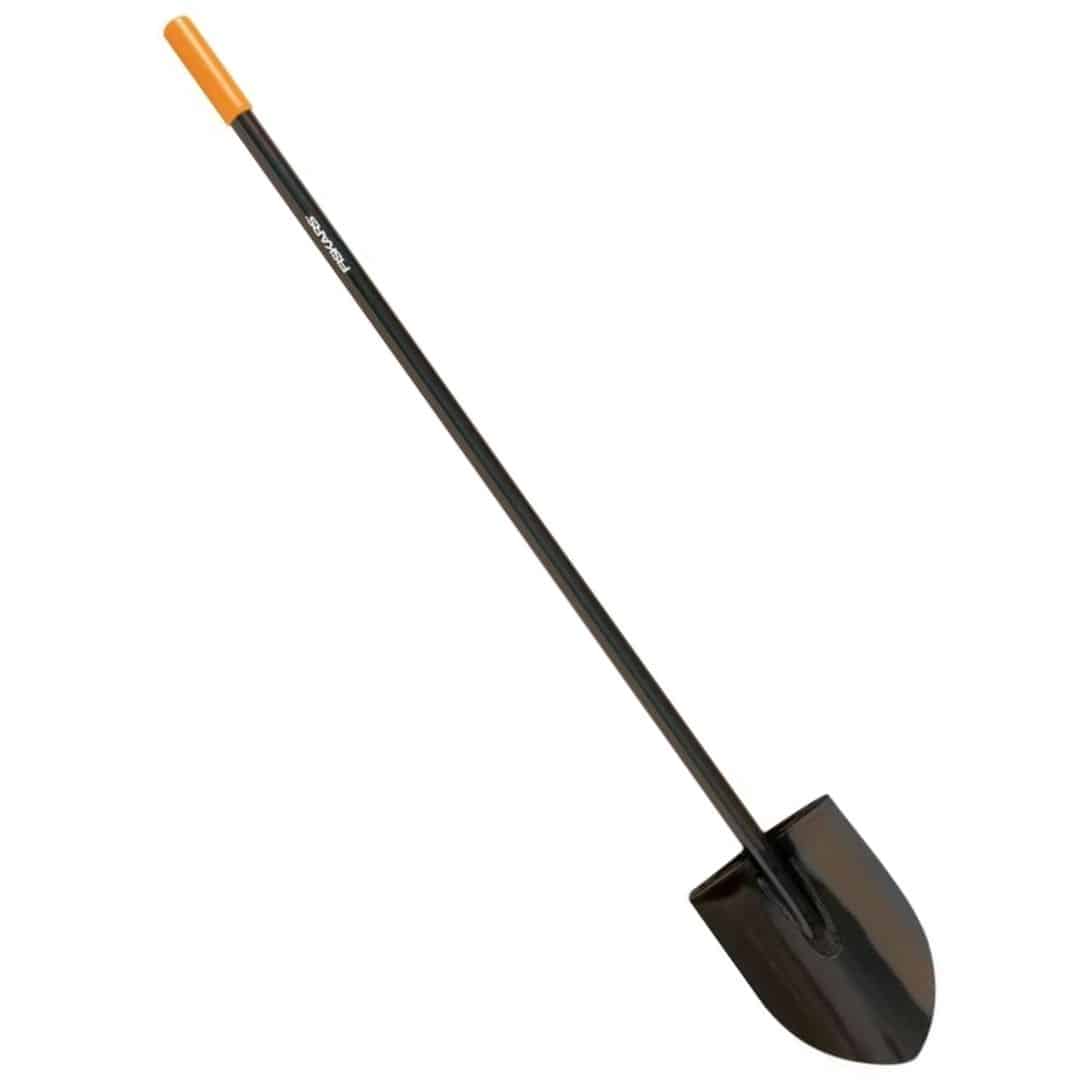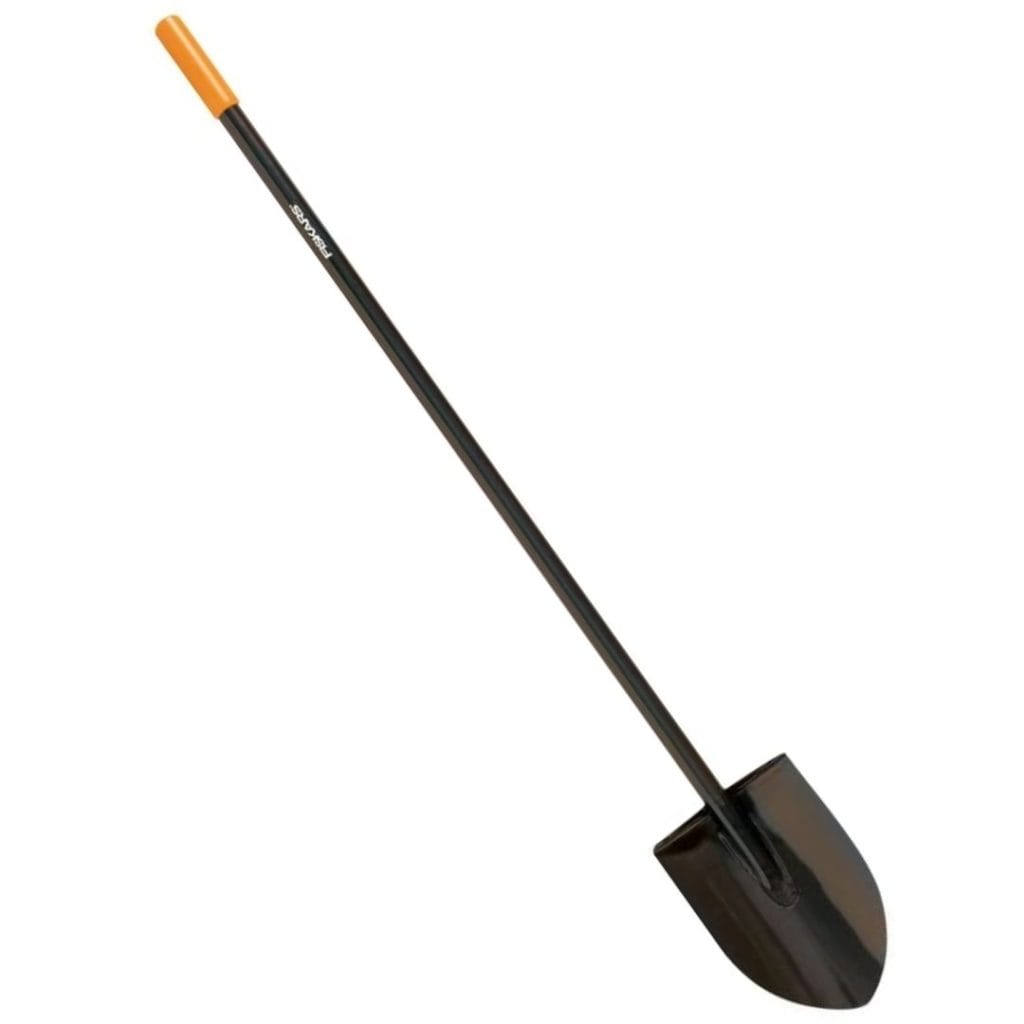 A shovel is necessary for digging and planting larger plants. They come in various sizes and lengths, but this one is 57 inches tall which is a good universal height. The handle and blade are welded together for durability and the blade is sharp, which makes it perfect for cutting through tough soil.
Planting guides: How to Plant Perennials, How to Plant Shrubs, and How to Plant Bougainvillea.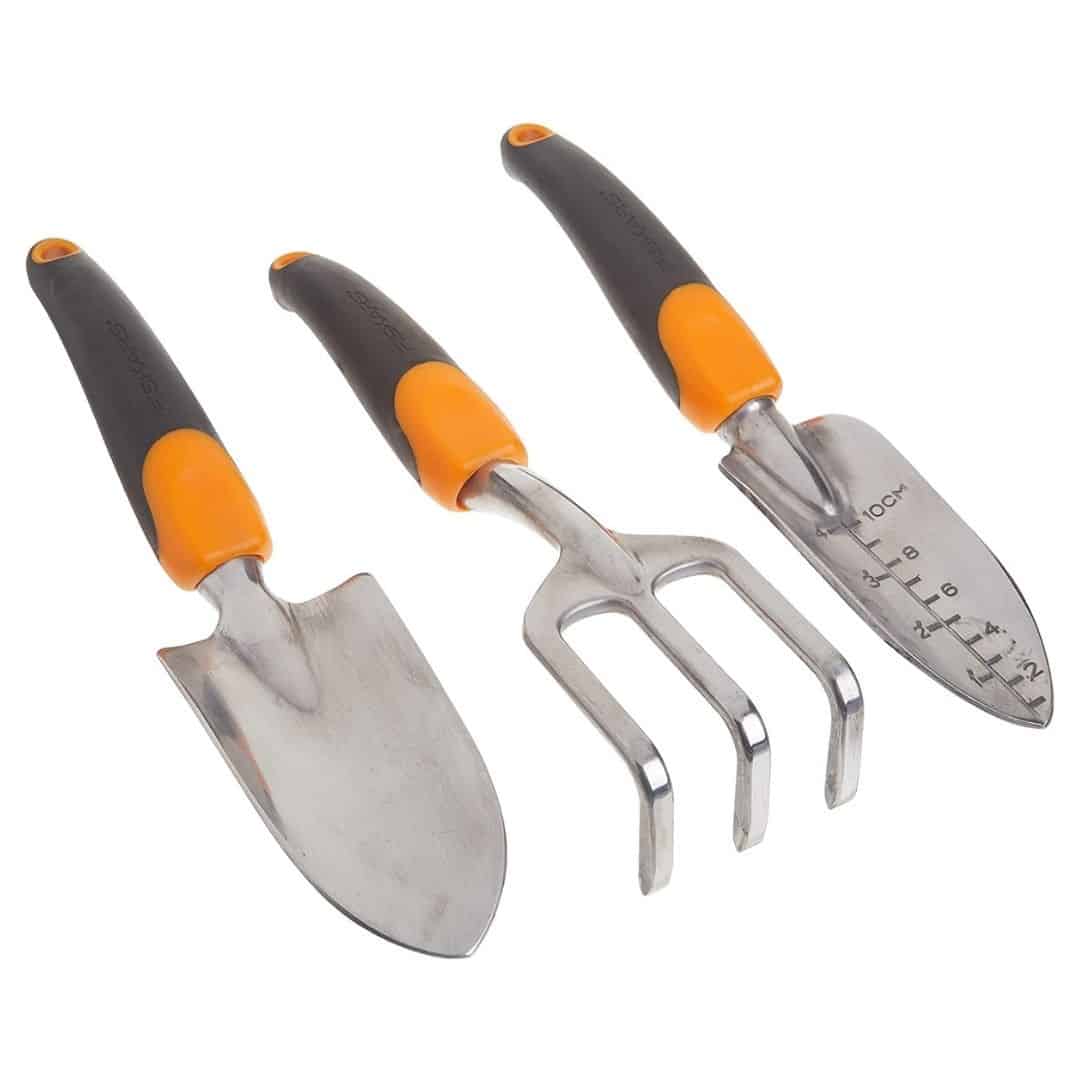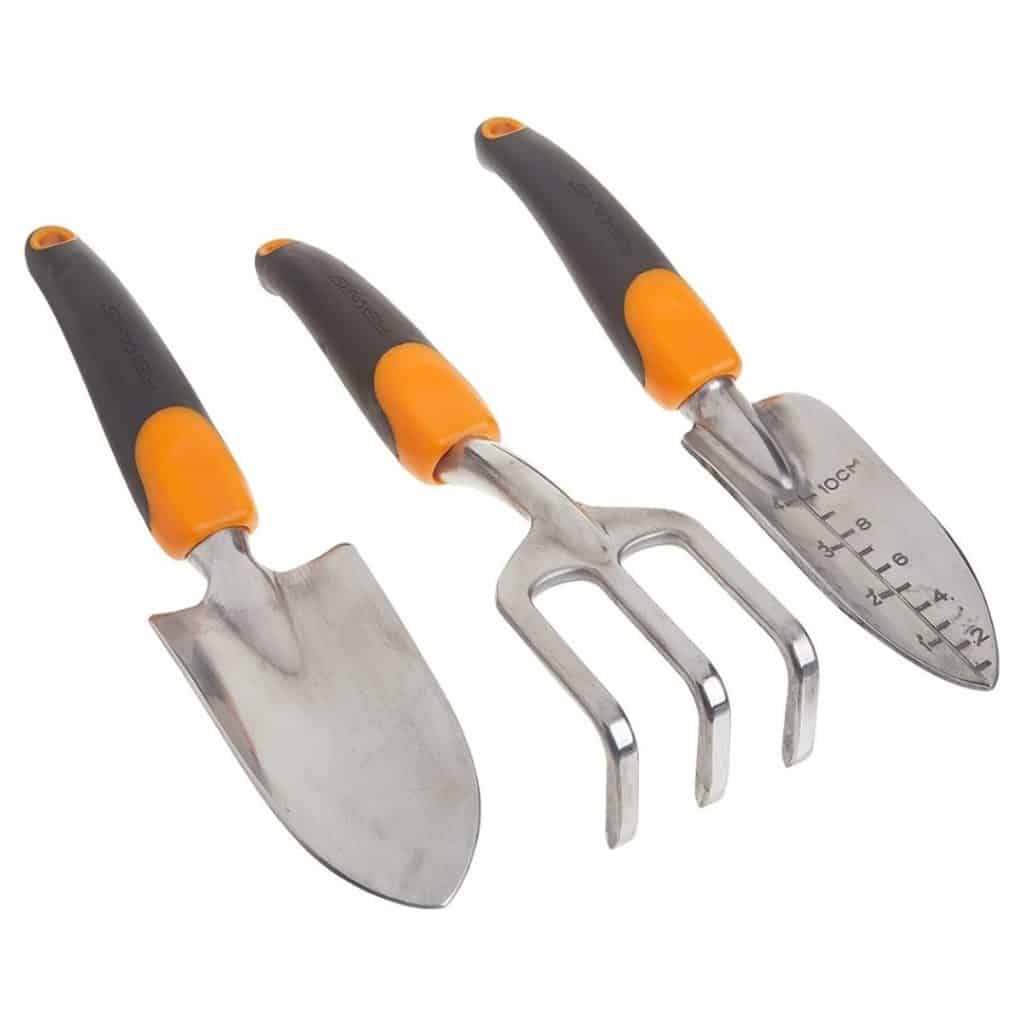 A good quality gardening handset is necessary for planting, repotting, and raking up the soil. This set includes one trowel, one transplanter, and one cultivator for all your gardening needs.
These tools are durable and rust-resistant with their aluminum heads. Everyone needs a hand toolset like this to keep their garden looking gorgeous.
Trowels are especially for container gardening and also planting 4″ annuals and perennials.
Interested in adding color to your garden? Check out 14 Colorful Summer Annuals For Sun.
These 5 tools for the garden are exactly what you need to sustain it even if it's only a few patio containers. You're sure to use these home gardening tools every time there's a new gardening project, whether you're planting new flowers, transplanting perennials, pruning overgrown plants, or pulling those pesky weeds.
Happy Gardening,
Nell and Brielle
This post may contain affiliate links. You can read our policies here. Your cost for the products will be no higher but Joy Us garden receives a small commission. Thank you for helping us spread the word & make the world a more beautiful place!
I'm a life-long gardener who still to this day gets giddy at the thought of a trip to one of the local nurseries. Yes, I actually studied landscape and environmental horticulture and the practical experience I have garnered through the years has served me well. Childhood memories of chicken manure "tea" still float through my olfactory senses to this day. I have always been an organic gardener and always will be. From the Earth … To the Earth. I was born and raised in rural, bucolic Litchfield County, Connecticut and now joyfully live a few blocks from the ocean in beautiful Santa Barbara, California.