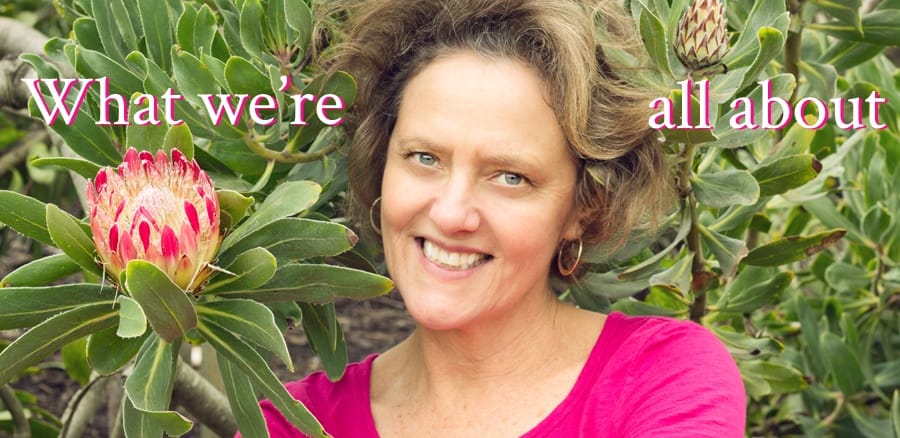 WELCOME TO JOY US  garden
We're here to inspire you.  Our website, blog,  Facebook page, Youtube channel and newsletter are filled with beautiful photos, tips and ideas to enlighten, visually stimulate and help you get your horticultural and creative groove on.  Joy Us garden is all about gardening, gardens, crafting and creating.  We love sharing what we know.
We're based in the garden-lush seaside city of Santa Barbara, California which is inspired by nature every day. Founded in 2010 by Nell Foster, a professional gardener and lover of beauty and style when she realized that every gardener deserves to feel as gorgeous as her most beloved blossoms.
Our products include a line of stylish and sturdy accessories for the savvy woman gardener all made right here on the central coast of California.  We also offer tillandsias which are shipped right from the greenhouse to you.  
Thank you for stopping by.  Now, let's make the world a more beautiful place!
Meet Nell Foster
Nell Foster is the founder of Joy Us garden.  Growing up on a small farm in Connecticut's picturesque Litchfield County, she started gardening at a very young age and a home greenhouse kept her "in the dirt" even in the snowy winter months. "I love looking at gardens and I love being in the garden… it's in my blood."  She graduated from the University of Arizona with a degree in Landscape and Environmental Horticulture.
Her horticultural career has taken her from the East Coast to the West – from Boston and New York City to San Francisco and now Santa Barbara.  She has been employed as an herb propagator, interior landscaper and nursery salesperson.  She owned Nell Foster Designs in San Francisco for 16 years installing and maintaining residential landscapes as well designing and installing commercial Christmas displays – she loves glitter as much as she loves dirt!  For many years she worked on the Annual Macy's Flower Show in San Francisco and the Marshall Field's Flower Show in Chicago. Inspired by nature and all things creative, for Nell, environmentalism is a passion.
Along with keeping busy with Joy Us garden, she also volunteers for various causes.  You can find Nell in her organic, drought-tolerant garden or crafting in her garage in Santa Barbara or perhaps traveling the world looking for inspiration.

Meet LUCY FERREIRA
Lucy handles all of the visual communications for Joy Us garden. The format for the website, newsletter, blog, videos, photographs, social media sites and ads goes through her computer first.  California is now her home but she originally hails from Uruguay which is the second smallest country in South America.  She holds two bachelors degrees in Communications and Film from Uruguayan universities.  As a visual artist, her work has been exhibited in the US, South America, Europe and Russia. She loves to share information in all different media whether it is writing, graphic, videos or photos. At Joy Us garden she gets to combine this passion with her other one: nature.  She answers Nell's cries of technical frustration with a smile and ease – the business couldn't function without her!  Whenever she is away from her computer,  she can be found running, surfing or hiking.