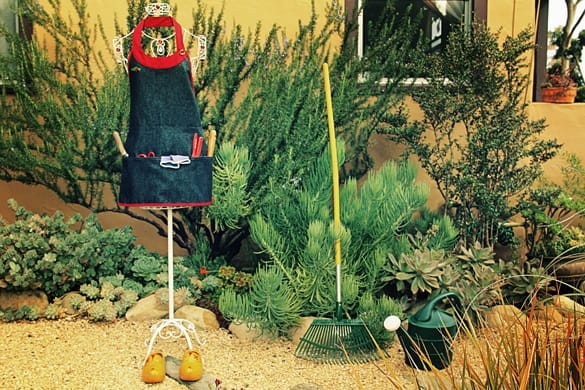 At Joy Us, we believe Mother Earth is a beauty queen – and so are you! We saw a need in the garden industry for stylish and sturdy eco-centric gardening bags and so launched Joy Us with our signature LadyBug Bag.  New products have been added and more are in the works.
Joy Us is devoted to using sustainable and eco-conscious fabrics and notions to create the most stylish, sturdy, and functional gardening apparel and accessories available. Nell has poured her lifetime of gardening experience into designing products that are chic and functional (Need a hidden pocket? She's thought of it!). A lover of blue jeans (what gardener isn't?), she decided that rich, wearable and long-lasting denim would be our signature fabric. We're even seeing them beyond the garden wall, in yoga studios, at farmer's markets and lots of places in between.
We take pride in making sure the materials we use come from companies that care for their employees. We believe that investing in a good team and being in business with people that care is what makes a business successful. We try to work with companies in California and in the USA in order to reduce our carbon footprint. Our  products are manufactured in Ventura, just 30 minutes south of us here in coastal Santa Barbara, CA. Being green is not just about the resources you use, but the importance of promoting and supporting your local economy.
At Joy Us, we keep our working environment green. We use recycled office products, including desks, chairs, and filing cabinets. We recycle any papers and plastics used, and turn off and unplug electronics when not in use. Every and any effort counts!